Texas Abortion Ban at the Supreme Court: What Happened
Three hours of oral arguments—and you'd hardly even know it was about abortion.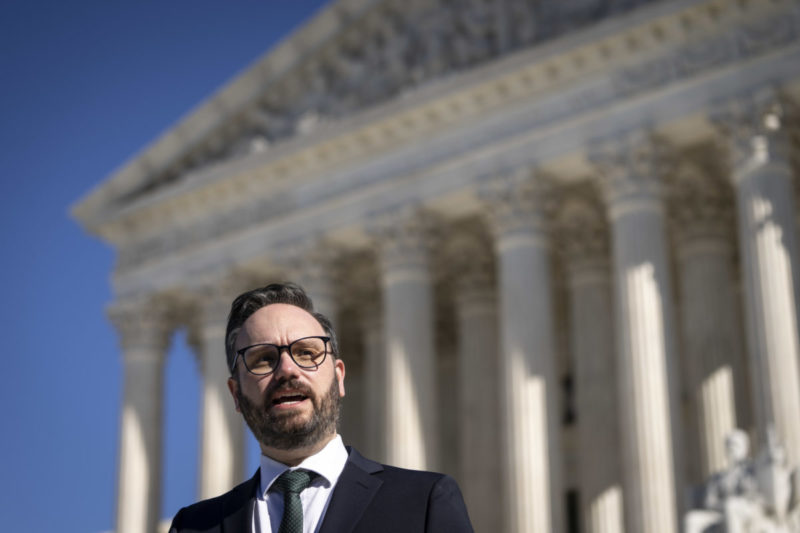 "We hope to have relief from the Court, finally, after the law has been in effect for two months now," said Marc Hearron, the attorney representing Texas abortion clinics and providers challenging Texas SB 8, after oral arguments. Drew Angerer/Getty Images
Rewire News Group is a nonprofit media organization, which means that Boom! Lawyered is only made possible by the support of listeners like you! If you can, please join our team by donating here.
And sign up for The Fallout, a new weekly newsletter written by Jess that's exclusively dedicated to covering every aspect of this unprecedented moment.
The Supreme Court today heard arguments in two cases challenging Texas SB 8, the unconstitutional near-total abortion ban:
Whole Woman's Health v. Jackson, brought by Texas clinics, providers, and abortion funds
United States v. Texas, brought by the Biden administration
Three hours of oral arguments—arguments for days!—and, as Jessica Mason Pieklo points out in this special rapid reaction episode of Boom! Lawyered, you'd hardly even know it was about abortion.
Jess is joined by co-host Imani Gandy to break down all the legalese from the morning's arguments, and to state the obvious: "Meanwhile, there are pregnant people sitting in Texas right now, who need abortion care. And these jackasses are just talking about stuff that is so far beyond the actual critical issues" people on the ground are facing.
Jess and Imani also discuss Justice Amy Coney Barrett and her substantive questions, their ever-growing ire with Justice Stephen Breyer, Texas' hilarious argument that the answer to SB 8 is Congress, and U.S. Solicitor General Elizabeth Prelogar representing the United States on her first day of work.