Inciting Hatred and Violence: Unfortunately, This Is Who We Are As a Nation
As a country, we are more like those we condemn for espousing hatred than most Americans would like to admit.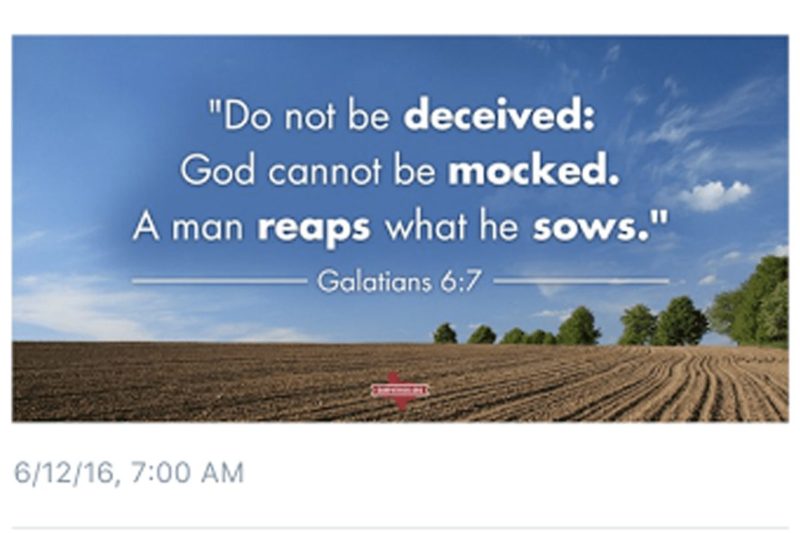 Although Texas Lt. Gov. Dan Patrick's staff says the tweet was prescheduled, for many who saw the poorly timed tweet when it went up (and stayed up for four hours), it translated to: The people killed had it coming because they were gay.
"This is not who we are." "This is not America." These sentiments have become a common refrain in recent years in the response to everything from mass shootings to police abuse of power and police brutality toward protesters, to blatantly racist acts by members of a fraternity. In response to a CIA report describing the extent of torture and brutality used on prisoners in the "war on terror," President Barack Obama asserted "this is not who we are," because torture is "contrary to our values." And in the wake of the mass shootings last year in San Bernardino, California, U.S. Attorney General Loretta Lynch stated that: "Violence like this has no place in this country. This is not what we stand for, this is not what we do."
But these statements are at best aspirational for a country in which the leaders of at least one major political party regularly exploit intolerance, fear, and "morality" to win campaigns, and in which the leaders of the other too often hide behind platitudes and half-measures intended to placate specific constituencies, but not fundamentally challenge those realities. They are at best aspirational for a country in which the beliefs of Islamic fundamentalists are condemned, but the same views when espoused by conservative Christian fundamentalists are given legal and social approval by both parties, because … religion. They are at best aspirational for a country in which women's rights to their own bodies are a subject of ongoing debate, medical professionals are villainized and murdered, and rape and sexual assault are often blamed on the victim. These statements are also aspirational in a country in which we imprison people of color of every age, sex, and gender at rates far higher than whites; actively rip families apart by deporting millions of undocumented persons; and pass laws denying people access to basic human needs, like bathrooms, due to their gender identity.
We are not what we say. We are what we do.
Consider the events of the last 24 hours. A U.S.-born citizen (born in New York, living in Florida) opens fire in a large gay nightclub, killing at least 50 people and injuring at least 53 more. The shooter's father suggested that the rampage was not due to religion but "may" have been incited by his son's anger at seeing two men kissing. His former wife described him as being violent and unstable. He allegedly made a call to 9-1-1 to declare himself a supporter of ISIS. He used a military-grade assault rifle to carry out what is being called one of the deadliest mass shootings in U.S. history.
In the immediate aftermath, even before details were known, the following happened: First, Texas Lt. Gov. Dan Patrick, who has most recently worked strenuously to oppose the rights of transgender students in his state's schools, tweeted and shared on Facebook the biblical quote from Galatians, 6:7, stating that "a man reaps what he sows." Translation: The people killed had it coming because they were gay. (His staff later said the tweet was prescheduled. It stayed up for four hours.)
Before any details were shared by the FBI or Florida law enforcement, Rep. Peter King (R-NY), known for scapegoating Muslim Americans and calling for racial and religious profiling, was on CNN claiming that the U.S.-born shooter was "from Afghanistan."
In short order, Sen. Marco Rubio (R-FL) joined the fray by appearing on CNN. According to the transcript:
"If in fact this terrorist attack is one inspired by radical Islamic ideology, it is quite frankly not surprising that they would target this community in this horrifying way, and I think it's something we'll have to talk about some more here, across the country," he said.

Rubio [also] said it's not yet clear what the shooter's motivations were, but that if radical Islamic beliefs were behind the shooting, "common sense tells you he specifically targeted the gay community because of the views that exist in the radical Islamic community with regard to the gay community."
Rubio would appear to share those views "with regard to the gay community." He is against same-sex marriage and made that opposition a key issue during his recent run for the GOP presidential nomination. He opposes legislation to make employment discrimination on the basis of gender or sexual orientation illegal, supports "conversion therapy," and is against the rights of gay persons to adopt children.
What, exactly, is the difference between the hatred spewed by radical Islamists and that by conservative Christian fundamentalists in the United States? How can any less responsibility be laid at the feet of the U.S. politicians and their supporters for violence and terror when they espouse the same forms of hatred and marginalization as those they blame for that terror? Why are we so quick to connect the lone gunman in Orlando with Islam and so unwilling to connect the "lone wolves" like Robert Dear, Angel Dillard, and Scott Roeder with the Christian right, or to hold young white star athletes accountable for the violence they commit against women? Why are we so loath to talk about rational limits on an AK-47 assault rifle, a weapon of war, when mass murders have become routine?
It may not be pretty and it may be hard to acknowledge, but as a country we are more like those we rush to condemn than we are willing to admit. We are a country founded on and fed by a strong historical current of patriarchy, white supremacy, systemic racism, misogyny, discrimination, and scapegoating, all of which in turn feeds hatred, violence, and terror. That is part of who we are as a nation. Pretending that is not the case is like pretending that your severely dysfunctional family is just fine, and that the violence you experience daily within it is just an aberration and not a fact of life.
But it is not an aberration. Christian fundamentalist hatred is not "better" than Islamic fundamentalist hatred. White American misogyny is not "better" than Islamic fundamentalist misogyny. Discrimination and the abrogation of rights of undocumented persons, people of color, LGBTQ people, or any other group by U.S. politicians is not different morally or otherwise than that practiced by "other" fundamentalists against marginalized groups in their own country.
We are what we do.
We like to act the victim, but we are the perpetrators. Until we come to grips with our own realities as a country and take responsibility for the ways in which politicians, the media, and corporate backers of both help bring about, excuse, and otherwise foster discrimination and hatred, we can't even begin to escape the violence, and we certainly can't blame anyone else. We must aspire to do better, but that won't happen unless we take responsibility for our own part in the hatred at the start.
Editor's note: This piece has been updated to clarify the details around the Texas Lt. Gov. Dan Patrick tweet.