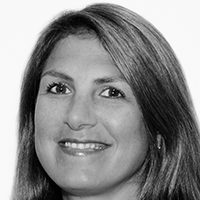 Julie Rabinovitz
In January of 2011, Julie Rabinovitz became the President and CEO of California Family Health Council (CFHC), an organization with a budget of nearly $30 million that champions and promotes quality sexual and reproductive health care for all.
Julie provides strategic leadership to maximize the growth and impact of CFHC's umbrella of services including advanced clinical research, provider training, patient education and consumer awareness, public policy and clinic support initiatives. As the lead California administrator of the Title X federal family planning program, CFHC partners with a diverse Title X provider network that collectively serves nearly one million individuals annually at more than 340 health centers in 38 of California's 58 counties.
Prior to joining CFHC, Julie served as the Senior Vice President of Business Operations at Planned Parenthood of Illinois (PPIL). During her six years at PPIL, Julie led all aspects of clinical operations at 17 health centers providing reproductive health care services to thousands of women, men and teens in Illinois. Additionally, she has held important roles in several notable women's health organizations including: Administrative Director of the Comprehensive Family Planning Program at the University of Illinois's Chicago Medical Center; Program Director of the Office for Women, Family and Community Programs at Brigham and Women's Hospital in Boston; Program Administrator of Harvard Medical School's Center of Excellence in Women's Health, and Legislative Advocate for Planned Parenthood League of Massachusetts.
Julie earned a Master of Public Health in Health Management and Policy from the University of Michigan School of Public Health and a Bachelor of Arts from Northwestern University. Julie served on the Board of the National Family Planning & Reproductive Health Association (NFPRHA), from 2005-2012 and was Board Chair from 2009-2011. Julie is the current Chair of the Family Planning Councils of America Board of Directors and a member of the Board of Direct Relief.