Recounts Triggered for Florida Gubernatorial and Senate Races
Recounts were triggered late afternoon Thursday in races for Florida's governor, U.S. Senate, and Commissioner of Agriculture.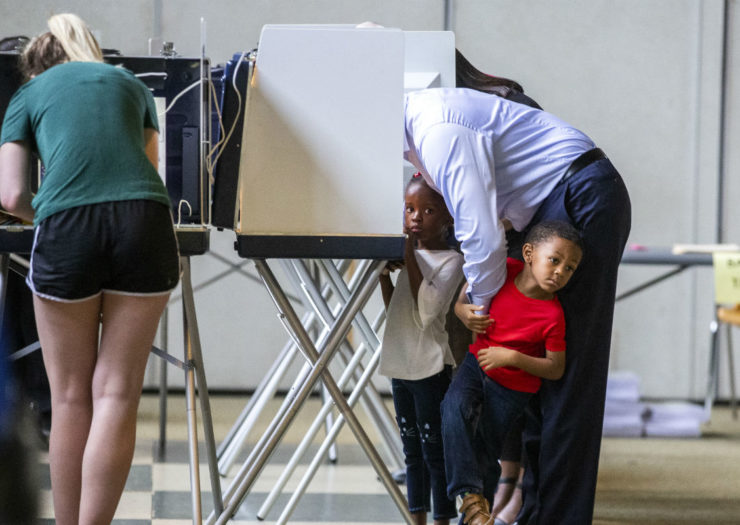 Late afternoon Thursday, razor-thin vote margins triggered automatic recounts in Florida's gubernatorial, U.S. Senate, and commissioner of agriculture races.
"On Thursday afternoon, the latest tally in the governor's race had the two candidates separated by 0.47 percent. In the Senate race, there was 0.22 percent difference," reported Stephen Hobbs, Larry Barszewski, and Anthony Man at the South Florida Sun Sentinel. 
Democratic Tallahassee Mayor Andrew Gillum conceded the governor's race on Election Night, but concession speeches are not legally binding. And while networks and media outlets all rush to be the first to call a race, thousands of outstanding ballots may change the initial "apparent" outcome of a close election.
Former U.S. Rep. Ron DeSantis' lead over Gillum is narrowing as more votes are counted. As of Thursday morning, "Gillum has 49.1 percent, or 4,023,124 votes, while DeSantis has 49.6 percent, or 4,066,059 votes, for a margin of just under 43,000," reported Ali Vitali with NBC News. By evening, it was down to 39,000 and continues to shrink.
Roe is gone. The chaos is just beginning.
Follow Rewire News Group on Twitter to stay on top of every breaking moment.
Florida law requires that margins this narrow trigger a recount. Sen. Bill Nelson (D) is already within the .25 percent margin for a hand recount of his race against Republican Gov. Rick Scott, and Gillum may land there as well.
An unknown number of ballots are still outstanding in "two voter-rich counties," wrote Steve Contorno for the Miami Herald. One is Broward, where Nelson received 68.9 percent of the votes so far. Still uncounted there are thousands of ballots from early voters, people who voted by mail, and even Election Day ballots. Vote-by-mail ballots are still being counted in Palm Beach County, where Nelson already has received 58.4 percent of the vote.
"If the breakdown of these pending ballots is anything close to the results so far, Nelson should pick up more votes than Scott," Contorno wrote.
Some 30,000 ballots make up the "undervotes," ballots on which votes have been cast for some state-wide races but not others. Contorno explained: "In Broward County, 695,799 people turned in ballots. But only 665,688 voted in the Senate race. That's a 30,000 difference, a remarkable disparity given the stakes in this race and the name-recognition of these officials. It's a degree of undervote that is non-existent in the other statewide races on the ballot. For example, more than 690,000 people voted in the governor's race. If the results as they stand are accurate, more people voted for Agriculture Commissioner than U.S. Senate."
Marc Elias, the attorney for Sen. Nelson, told the South Florida Sun Sentinel that "it's highly unusual that more people would vote in races for attorney general and chief financial officer than for the U.S. Senate race." The most likely explanation for these undervotes are machine problems or problems with marking ballots.
"I am pretty confident what you are going to see are markings that were not picked up by the machines or a calibration issue that was not registering that part of the ballot," he said. Counting these ballots is both critical and tedious. "Broward Supervisor of Elections Brenda Snipes said workers in her office counted ballots until 2:30 a.m. Thursday," reported Hobbs, Barszewski, and Man. "They were given a few hours off to get some rest before resuming the counting." Cynthia Busch, chairwoman of the Broward Democratic Party, told them that frustration was mounting but that "everyone needs to be patient." The ballots are long and complex and have to be scanned and tabulated.
"You can only process them so quickly. They have to go through a machine. It's 10 pages. They'll get them done," Busch said.
Yet to be counted are ballots sent from overseas, particularly from members of the military, which in Florida often lean Republican. Also, yet to be counted are provisional ballots in several counties, which usually favor Democrats because they often are cast by people whose access to voting on Election Day has been restricted by one or another barrier. According to Contorno, there are, however, only a few thousand provisional ballots not yet tallied based on information from various counties.
The deadline for all 67 Florida counties to submit their first set of unofficial returns and trigger an official recount is Saturday at noon Eastern time, according to the secretary of state's office. Election results in Florida must be certified by November 18.
Broward County was the ground zero of a dramatic and heart-wrenching recount in the 2000 presidential election between then former Governor of Texas George W. Bush and former Vice President Al Gore. As was the case then, many organizations—such as the League of Women Voters and the Lawyers Committee for Civil Rights, and newer ones like New Florida Majority—are providing resources to help oversee the process and make sure it is fair.
Hanging chads, anyone?