Third Pennsylvania Judge Rules Juvenile Sex Offender Registration Unconstitutional
Judges from York, Monroe, and Lancaster counties have now all written opinions stating that the law fails to take juveniles' greater capacity for reform into account.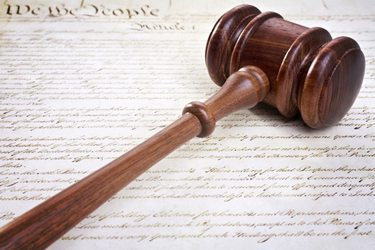 Under current Pennsylvania law, juvenile sex offenders have to comply with lifetime registration requirements. But this month, a third Pennsylvania judge ruled that law unconstitutional, setting the stage for the issue to be addressed by the state supreme court.
Judges from York, Monroe, and Lancaster counties have now all written opinions stating that the law fails to take juveniles' greater capacity for reform into account. As Lancaster County Court of Common Pleas Judge David R. Workman wrote in his opinion earlier this month:
Statistics demonstrate that juvenile sex offenders have lower recidivism rates than adult sex offenders. This is due, in part, to the fact that juveniles sexually offend for different reasons than adults. For instance, juveniles lack maturity and impulse control, behaviors which lead to the original offense, but which will not exist once the juvenile reaches adulthood. … During adolescence a juvenile's brain is amenable to substantial change and develops considerably in areas associated with reasoning and emotion … As a result recidivism rates for juveniles are low and strikingly less than that for adults.
The registration rules for juveniles are the same as they are for adults: For initial registration, they must submit photographs, DNA samples, and fingerprints, along with information verifying all physical details such as hair style, hair color, tattoos, and piercings, as well as descriptions of what car they drive, any family cars they may occasionally drive, the names of schools attended broken down by classroom location, employer's addresses, and Internet monikers. Following initial registration, they must appear in-person at a pre-approved registration site every 90 days to re-confirm this information and be photographed again. If anything changes, such a new hairstyle, job, or car, they must report the change in-person within three days.
Roe is gone. The chaos is just beginning.
Follow Rewire News Group on Twitter to stay on top of every breaking moment.
And like adult offenders, juveniles who fall out of compliance are subject to mandatory incarceration for three to five years, with no opportunity to provide a defense.
Aside from the fact that the onerous and expensive system has not been proven effective at making children safer and has been mandated by the federal government, it is very possibly unconstitutional, as the three county-level judges in the state have ruled.
The York County judge cited the work of Dr. Michael Caldwell of the University of Wisconsin, co-author of "An Examination of the Sex Offender Registration and Notification Act as Applied to Juveniles: Evaluating the Ability to Predict Sexual Recidivism" and an expert in juvenile justice issues, as evidence of the disparity in recidivism rates.
From the York County opinion:
In what Dr. Caldwell describes as "the most extensive" research study to date, a meta-study of over sixty-three studies and over 11,200 children "found an average sexual recidivism rate of 7.09% over an average 5-year follow-up." These rates are compared with a 13% recidivism rate for adults who commit sexual offenses.
Authors of a Human Rights Watch report point out that the concept of sex offender registration relies on the notion that children must be most protected from strangers. They note that 93 percent of sexually abused children are assaulted by family members, close friends, or acquaintances, according to the justice department.
Juvenile assailants are sometimes acting out a cycle of abuse.
"Many of the kids that we represent were sexually abused themselves and were acting out based on what was done to them," says Riya Saha Shah, attorney at Philadelphia's Juvenile Justice Center, the organization representing youth on the registry. "Or it was inappropriate sexual contact between siblings. Some of these kids [are] intellectually disabled. It's not like that stranger rape or adult-predator child molester situation that you may think of when you think of adults on the sex offender registry."
For particularly heinous crimes, a juvenile age 14 and older who commits crimes that would be felonies if an adult, or use a weapon in the course of a rape, can be tried in court as an adult in Pennsylvania.
The law requiring registration, known as the Pennsylvania Sex Offender Registration Notification Act (SORNA), has only been in effect since 2012. Like states across the country, Pennsylvania passed SORNA in order to comply with the Adam Walsh Child Protection and Safety Act, which was signed into law by President Bush in 2006. States must comply with the act or risk losing federal funding for "essential criminal justice services," including pre-trial diversion projects for non-violent offenders.
More than 100 Pennsylvania juveniles have been put onto the registry since the law went into effect, according to Shah. Most of them committed acts prior to the law's implementation, but were forced onto the registry after the law was passed.
The stated goal of SORNA is that "registered sex offenders will perceive that the authorities' knowledge of their identities, locations, and past offenses reduces the chances that they can avoid detection and apprehension if they reoffend, and this perception may help to discourage them from engaging in further criminal conduct."
The Human Rights Watch report argues that the real psychological effect on young registrants was profound isolation.
From the report:
They are stigmatized, isolated, often depressed. Many consider suicide, and some succeed. They and their families have experienced harassment and physical violence. They are sometimes shot at, beaten, even murdered; many are repeatedly threatened with violence. Some young people have to post signs stating "sex offender lives here" in the windows of their homes; others have to carry drivers' licenses with "sex offender" printed on them in bright orange capital letters. Youth sex offenders on the registry are sometimes denied access to education because residency restriction laws prevent them from being in or near a school.
Shah told Rewire that the Pennsylvania Supreme Court is scheduled to address the state's appeal of the York County ruling, the first of the three, in late March, though it could be postponed if the state also appeals the Lancaster and Monroe County rulings and the cases are consolidated.
Meanwhile, Shah is hearing anecdotal reports that district attorneys and judges reluctant to place kids on lifetime registry are avoiding doing so by offering pleas to non-SORNA offenses or downgrading charges—for example, charging a juvenile for indecent assault, as opposed to aggravated sexual assault.
"That still provides them with the necessary treatment and supervision, but it removes that huge imposition and punishment of the registry," said Shah.
If the state supreme court rules SORNA unconstitutional, then Pennsylvania will no longer be subject to financial penalties for non-compliance. The other states with SORNA legislation are Alabama, Delaware, Florida, Kansas, Louisiana, Maryland, Michigan, Mississippi, Missouri, Nevada, Ohio, South Carolina, South Dakota, Tennessee, and Wyoming.
Many states haven't passed a SORNA law because the cost of implementation is higher than the penalty for non-compliance.