Meet the Providers Aiming to Make Fertility Care More Accessible
In underserved areas of Pennsylvania for fertility care, these doctors are "creating ways that we can do the work more effectively."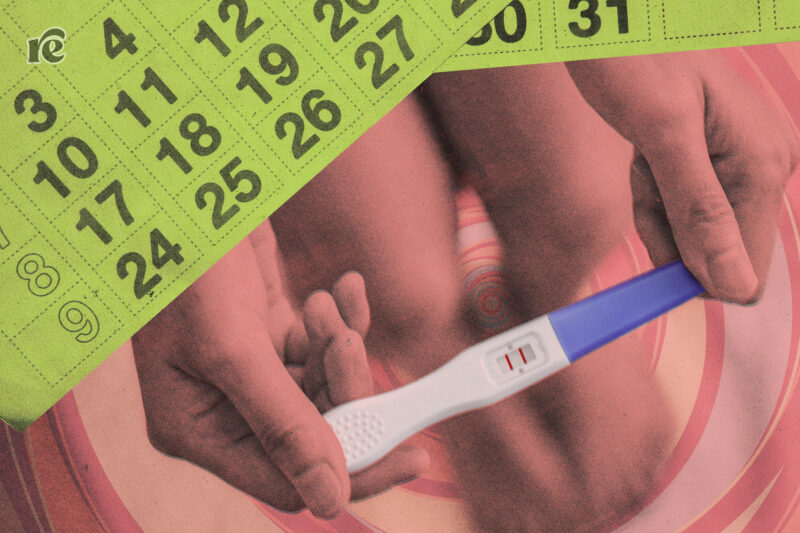 A standard IVF cycle can cost anywhere between $10,000 and $25,000, which is often paid out of pocket. Genetic testing adds thousands more dollars. Cage Rivera/Rewire News Group illustration
Jessica's second-trimester abortion was the day of the 2016 presidential election. Earlier that year, she was diagnosed with polycystic ovary syndrome, which was causing her body not to ovulate. Jessica's doctor referred her to a nearby fertility practice in Connecticut, which thankfully took her insurance. After a battery of tests, the medical team triggered her ovulation, then sent her home to try and conceive. Two weeks later, Jessica was pregnant.
"Well, that was easy," Jessica thought, and she continued to go to her fertility appointments until she graduated from the practice at about ten weeks pregnant. Then her obstetrician referred her to a maternal-fetal medicine doctor for her 13-week scan and bloodwork. When those tests showed concerning markers for trisomy 21, or Down syndrome, Jessica went back for more testing: a self-read DNA test, which again pointed to trisomy 21, and finally an amniocentesis and another ultrasound. She remembers being at about 15 weeks by the time all the tests were done.
Her doctors counseled her on the wide spectrum of possible prognoses for a fetus with Down syndrome. Then, they told her the abortion ban in Connecticut started at 24 weeks, so she had some time to decide whether she wanted to continue the pregnancy or terminate it.
After the counseling, Jessica and her husband drove home. They pulled the car into the garage, which is when she remembers looking at her husband and saying, "I think we have to let him go." The next day she called to schedule an abortion.
"I'm not saying it was an easy decision, but it was a quick decision," she told me.
Because of the stigma surrounding abortion for Down syndrome across the political spectrum, Jessica wanted me to know that there were other abnormalities with the pregnancy: The fetus had multiple organ and growth problems that are common comorbidities of Down syndrome. One fact that stuck out to Jessica from her counseling was that many fetuses with Down syndrome never make it to term (roughly 25 percent of Down pregnancies spontaneously abort). The thought of waiting to miscarry horrified her.
The procedure was scheduled for November 6 and 7, at Jessica's hospital with her own care team, where it would be covered fully by her insurance, just as her fertility care had been.
"I went to the polls, I voted for Hillary, and I went to get seaweed put in my cervix," she said about laminaria used for dilation. "Then the next day I woke up, I saw the news [about Trump] and went, 'Well, I cannot deal with this today.'"
Then she went to the hospital to finish the two-day abortion procedure.
"I always talk about how it was the worst day of my life," she said. "But everyone was very compassionate. Everything was arranged for me."
Even so, while her physical recovery was smooth, mentally she was "a mess," and is still dealing with grief and trauma seven years later.
Accessing care
Fertility care and abortion care are intimately linked. While abortion care is more stigmatized, marginalized, and criminalized than fertility care, both are difficult to access and impacted by systemic racism and classism. Fertility care, like abortion care, is rarely covered by insurance: the most common barrier to fertility care reported by participants in a 2021 study was insurance coverage. A standard in vitro fertilization (IVF) cycle can cost anywhere between $10,000 and $25,000, which is often paid out of pocket. Genetic testing adds thousands more dollars.
Black and Latinx women, regardless of income, are less likely to access fertility care and, when they do, less likely to have a successful treatment cycle than the rest of the population. Meanwhile, half of abortion seekers live below the federal poverty line and abortion patients are disproportionately Black and Latinx. The central tenet of reproductive justice—to be free to parent, or not, in a time and manner of your choosing—is stymied whether you are starting a pregnancy or ending one.
If a person can access fertility care at all, however, they are by definition accessing a kind of early pregnancy care the rest of the population is often denied. Traditional prenatal practices typically won't see patients until eight to 12 weeks of pregnancy. Yet the most common complication of pregnancy—early pregnancy loss—happens in that two- to three-month window. Fertility clinics follow patients from conception to that point, then hand them off to an obstetrician, just like Jessica's doctor did.
Dr. Cori Schreiber founded the Pregnancy Early Access Center (PEACE) at the University of Pennsylvania in part to give pregnant people in those first eight to 12 weeks a place to receive care besides the emergency room.
"The counseling and technical skills for managing unintended pregnancy and abortion are very similar to what's required for patients who may be concerned about miscarriage or have an early pregnancy loss diagnosis," she said. PEACE fills that gap in early pregnancy care, while also providing abortion care to 24 weeks of pregnancy.
Schreiber said miscarriage is rarely a true emergency in the United States, but the fact that early pregnancy loss is not a life-threatening emergency does not mean patients do not deserve timely care.
Providing care
While emotionally devastating, Jessica's ease in accessing both fertility and abortion care was shockingly unusual. Dr. Sheila Ramgopal, CEO and medical director of Allegheny Reproductive Health Center in Pittsburgh, wants to change that.
Ramgopal's clinic is majority queer people of color led and staffed, and Ramgopal said they are proud to reflect the people they serve. Still, they feel frustrated at the ever-more defensive stance of abortion care after the Supreme Court overturned Roe v. Wade in June 2022.
"I think what's so hard is that this could all fucking be different," Ramgopal said. "I feel like the movement is always in a defensive position. So, how do we actually become proactive and actually create ways that we can do the work more effectively?"
For Ramgopal, part of the answer was to offer fertility care as part of their clinic's services. Since 2017, the Allegheny center has offered basic fertility care within their scope of practice: intrauterine and intracervical insemination, basic fertility testing, and ovulation induction. But in 2020, Ramgopal met Traci Keen, the CEO of Mate Fertility, and started discussing how to make IVF a reality at Allegheny. Mate focuses on offering lower-cost fertility care in geographically underserved areas of the country. They also explicitly welcome LGBTQ+ clients, which not all fertility practices do.
Ramgopal thought the match was solid. Allegheny would own the practice and perform the procedures, while Mate would handle hiring and provide access to specialists, training, and quality control services. In exchange, Ramgopal would pay Mate a portion of the proceeds from fertility care on a monthly basis. Ramgopal also plans to partner with Posterity Health to provide additional services for male fertility, an underserved area in fertility care.
Mate Fertility is a young company that has closed multiple successful rounds of venture capital funding. The company has partnered with a clinic in Oklahoma City and two clinics in California, one in San Luis Obispo and one in Fresno. Pittsburgh, where Ramgopal's clinic is located, would continue Mate's interest in what Keen describes as underserved "secondary and tertiary markets" for fertility care.
Keen said her company wants to lower the barriers to fertility care for all people. To that end, Mate has been working on partnering with abortion clinics in states that ban abortion, to repurpose their spaces for fertility care. When asked if Mate had any concerns about providing fertility services in states with staggering maternal mortality rates and no access to abortion, Keen said, "I think I'd be remiss if I didn't say that it's concerning just as a human being when you're in the business of getting people pregnant." Mate, however, has no formal plans to help clients access abortion services in the event they need this health care in a state that bans abortion.
"We haven't encountered any patients who are paying to get pregnant and then wanting to get an abortion," Keen said.
Ramgopal is putting about three-quarters of the clinic's savings into opening a full services fertility clinic. They anticipate roughly $2.2 million total, of which about $1.8 million is just for the buildout of the new facility. But finding a new physical space has proven most challenging.
"I'm trying to find places to lease where they actually are comfortable with leasing to an abortion facility," Ramgopal said. As of late September, they still had not secured a location. When asked if the clinic had a GoFundMe for the new space, Ramgopal directed me to Western Pennsylvania Fund for Choice.
Impacting care
Keen expressed a general lack of concern with the anti-abortion movement insofar as it might impact fertility care.
"It's hard to argue pro-life and then not support IVF," Keen said. Yet Risa Cromer, author of Conceiving Christian America: Embryo Adoption and Reproductive Politics, disagrees.
"I'm not interested in fanning the flames of fear at all," Cromer, who has written for Rewire News Group, said. "But there has been clear critique of IVF from the anti-abortion movement since before Roe. Since IVF became non-experimental in 1978, there has been anti-abortion pushback against it." However, Cromer noted that IVF never became a strategic site of anti-abortion political advocacy in the United States.
Cromer also said President Ronald Regan's neoliberal administration aligned with reticence from Democrats to regulate fertility services, lest such regulations impact abortion care. Fertility care became deregulated.
"Eventually it became politically untouchable," Cromer said. It would remain that way until the advent of human embryonic stem cell research, when the anti-abortion movement put pressure on President George W. Bush to regulate this new field of science.
"This looks like it has nothing to do with abortion," Cromer said. "But it really does."
While Cromer noted that IVF is not a current target, the internal logics of the anti-abortion movement remain hostile to IVF and fertility care more generally, particularly when it becomes accessible to non-cishet, affluent, nuclear family structures: the precise people Mate and Ramgopal are trying to help.
When Jessica originally contacted me, she wanted to put her last name on the record. But as we spoke, the stigma of an abortion after undergoing fertility treatment, particularly an abortion for Down syndrome, even and especially among her progressive colleagues, worried her.
"I've been told what I did was eugenics," she said.
Cromer tied Jessica's discomfort to the overarching appropriation of disability rights rhetoric by the anti-abortion movement.
"There is a deep history of conservative movements appropriating progressive rhetoric to use it for their own political gains," Cromer said.
She highlighted Dagmar Herzog's book Unlearning Eugenics, which shows how the modern anti-abortion movement came to embrace a pro-disability logic in Germany, specifically around Down syndrome. Though with different historical antecedents, disability rights and reproductive rights have also intentionally been made to compete in U.S. politics.
At the end of the day, Jessica neither wanted to opt into parenting a child with complex medical needs, nor undergo the remainder of what was now a high-risk pregnancy.
"I still feel funny saying this," Jessica said. "But we [pregnant people] matter too."