Anti-Trans Activists Are Trying to Scare Gender Care Providers Away
They're following the anti-abortion violence and intimidation playbook to a T. Will the outcome be the same?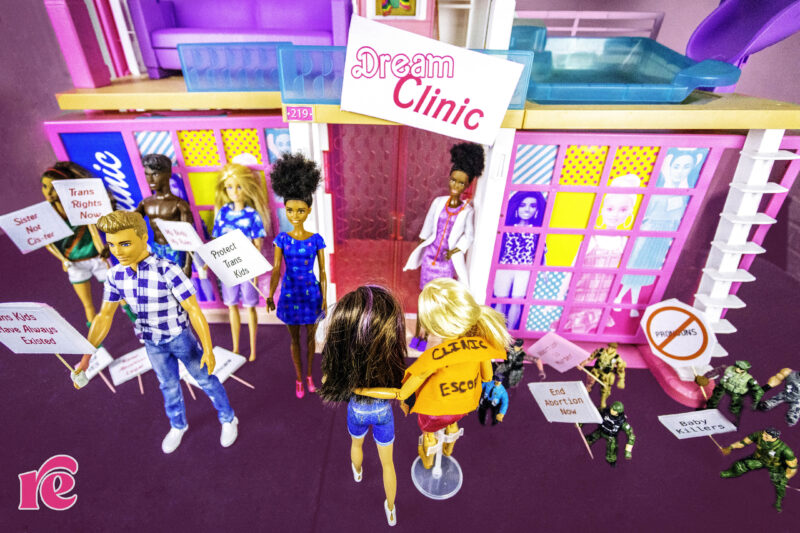 For just as long as anti-abortion operatives have used laws to chip away at abortion access, they have also used harassment and violence to intimidate abortion providers into quitting, or hiding what they do. All photos by Austen Risolvato/Rewire News Group
For related stories, check out our special issue, "They the People."
According to the Human Rights Campaign Foundation, 3 in 10 trans youth live in states that have passed bans on gender-affirming care. Lawmakers aren't stopping there: States including Oklahoma, South Carolina, and Texas have already considered bans on care for trans adults.
Even in states where gender care remains legal—and legally protected, no less—options are dwindling. That's because anti-trans activists are threatening gender-affirming care providers with violence, and their actions are getting results.
The recent wave of anti-trans legislation—everything from outright bans on gender-affirming care to earlier "bathroom bills" and attacks on trans student athletes—closely follows the anti-abortion playbook. In fact, putting it that way isn't sufficient. It's the same people and groups doing exactly the same thing. Déjà vu.
And legislation was never the only tool in the anti-abortion toolbox. For just as long as anti-abortion operatives have used laws to chip away at abortion access, they have also used harassment and violence to intimidate abortion providers into quitting, or hiding what they do. They've also resorted to murder to get their way, at least 11 times.
Now, the anti-trans and broader anti-LGBTQ+ movement is unleashing the same violent and threatening tactics in many spaces where queer and trans people exist in public: pride parades, drag story hours, and gay bars. They're also beginning to target providers of gender-affirming care in the same way they've long targeted abortion providers, including pickets outside of medical facilities, harassing messages, bomb threats, death threats, and more.
"It feels like no amount of rational discussion or education has any effect, so all we can do is hunker down and try to protect one another and protect our patients," said one former abortion provider and current provider of gender-affirming care in the Midwest, who chose to remain anonymous due to safety concerns. "To me, as somebody who has worked in both worlds, it feels exactly the same."
Kieran Mailman, chief research analyst at Reproaction, said threats and violence are creating a "culture of fear" for patients and providers.
"We're seeing increased fear from providers that they will be directly targeted for their work, that they could be killed for their work, and that their families could be negatively impacted," Mailman said. "And patients are now increasingly facing the same fear that abortion patients have, which is being harassed or attacked on their way into the clinic, or being in the clinic at the time when violence takes place."
And that culture of fear is creating new barriers to gender-affirming care, which is already incredibly difficult to access in the United States. Gender care providers from across the country told Rewire News Group that over the last several years, they've seen colleagues make changes to keep their services more under the radar, in some cases moving away from providing certain types of care or leaving the field entirely. They're worried about the effect this has on patients, who are already facing long wait times and significant barriers to care.
"Right now, especially if you're seeking a gender-affirming surgery, you're already looking at a waiting period of usually one to two years," Mailman said. "As providers start to back away, those waiting periods are only going to get longer, which is going to contribute to increased mental and physical distress for trans people, especially trans youth who are being denied access even to puberty blockers."
A recent study published in the Journal of Adolescent Health found that, in a survey of 117 gender-affirming care providers, 70 percent said "either they, their practice, or their institution had received threats specific to delivering gender-affirming care." Interestingly, within that sample, behavioral health providers and nurse practitioners were more likely to have experienced harassment than physicians. The most common forms of harassment were threatening social media posts and phone calls to the clinic, though about a quarter of the behavioral health providers and one-fifth of the physicians reported protesters physically picketing outside their facilities.
For decades now, demonstrations like this have been a fixture outside abortion clinics. And while they prefer to frame their actions as religious devotion or "sidewalk counseling," anti-abortion activists and groups have longstanding ties to dangerous, violent people—specifically, white supremacist and Christian nationalist organizations.
'A huge amount of anxiety and fear'
Abortion providers and clinics are targeted with thousands of violent acts per year, including vandalism, arson, assault, bomb threats and attempted bombings, death threats, clinic invasions and blockades, and more. There were over 136,000 such incidents in 2022 alone. According to the Journal of Adolescent Health study, gender-affirming care providers are beginning to experience similar threats and harassment, including death threats and bomb threats.
An earlier report from the Human Rights Campaign detailed how this real-world violence often stems from hate-fueled online disinformation campaigns. For example, last summer the incendiary right-wing account Libs of TikTok started a harassment campaign against Boston Children's Hospital. What began as a barrage of hateful comments online ultimately resulted in the hospital being placed on lockdown following multiple threats of bombs and mass casualty attacks.
The attack on the hospital was part of a spree: Libs of TikTok creator Chaya Raichik and other right-wing provocateurs targeted at least 20 children's hospitals on social media last summer and fall—eight of them in under a week.
Another key driver of the hate directed at gender-affirming care providers is Matt Walsh, a commentator at Ben Shapiro's right-wing news site the Daily Wire. (Recently, Walsh tricked at least three people into participating in his transphobic film What Is a Woman? Multiple providers who spoke with Rewire News Group for this story said they were hesitant to speak with the media as a result.) In fact, stirring up hate and panic surrounding trans people and the doctors who care for them is a favorite pastime of the Daily Wire.
Dr. Adam Bonnington is an OB-GYN who initially thought his career path would take him into complex family planning. But after being exposed to caring for transgender patients during his residency at the University of California, San Francisco, he shifted focus. Now he exclusively works with trans patients at the San Francisco practice MoZaic Care, which specializes in gender-related genital and pelvic surgeries.
MoZaic featured prominently in one of the Daily Wire's "investigations," which took specific aim at surgeries offered for patients who are nonbinary or gender-diverse and may not want a more traditional or binary outcome from their surgery. For example, a vaginoplasty without removal of the penis.
The article—which has over 250 hateful comments—prompted MoZaic to rethink its security practices and develop a plan for what to do should the clinic be targeted in some way. Doors that used to open with just the push of a button now require a key, for example. And temporarily, MoZaic took down photos of the procedures mentioned in the article, though it didn't stop providing them. A patient who had had one of those surgeries noticed, Bonnington said, and asked about it.
"She felt like, 'Why aren't you representing our surgeries anymore?'" Bonnington said. "She was super understanding when we explained what was going on, but whatever we go through is a fraction of what these patients have to go through day to day. And so if we take on a little bit of that, it doesn't even compare."
Losing access to care harms patients, but so does seeing their care politicized and stigmatized.
"People are exhausted, just exhausted. Emotionally, psychologically, and energetically," the Midwest provider said. "You cannot turn on the TV or log onto social media without hearing about another attack, either legislatively or physically, on a trans person. There's a huge amount of anxiety and fear."
What hospitals need to do
Children's hospitals are often the only places in any given state or region where trans children, adolescents, and sometimes adults can receive interdisciplinary medical care. And since late 2020, when this campaign of harassment against gender care providers started in earnest, children's hospitals have borne the brunt of in-person protests. A STAT News investigation found at least 17 children's hospitals have removed or altered information about gender-affirming care on their websites amid this climate.
In the Journal of Adolescent Health study, a small number of providers said they had limited or changed the way they provide care as a result of harassment. However, none reported that they had stopped providing care entirely unless their hospital or practice forced them to.
And some hospitals have stopped providing gender-affirming care—or at least certain procedures—altogether. In 2021, two years before Texas banned gender-affirming care for minors, a Dallas gender care program known as GENECIS, jointly operated by Children's Medical Center Dallas and UT Southwestern Medical Center, closed entirely after becoming a target of conservative ire.
More recently, after Utah banned gender-affirming care for minors, Intermountain Health, one of the state's major hospital systems, also canceled appointments for gender-affirming surgeries for adults. Children's Hospital Colorado announced in July that it would stop providing gender-affirming surgeries for adults, as well (like most hospitals, it never provided gender-affirming surgeries to children).
The stakes of each one of these decisions is incredibly high. Anti-trans activists "claim they aren't trying to force trans people out of public life. But if you're not going to let us access the procedures that in some cases make our lives feel livable, you're forcing us out of public life," Mailman said.
Plus, hospitals have more resources to withstand harassment than independent providers and clinics. Typically, they already have security on site. They're housed in bigger buildings, which makes it harder to single out individual providers or departments for harassment or, in a worst case scenario, attack.
"In general, it's not a good look to stage violent protests in front of medical facilities," Mailman said. "Communities tend to not love that, and fewer people may be willing to join these anti-trans harassment efforts because they don't want to be seen as negatively impacting the safety of a hospital setting."
To see hospitals, with all of their resources, backing off providing care for trans patients is deeply hurtful for patients and providers.
"The bare minimum that hospitals need to be doing is presenting a unified front with their gender-affirming care providers," Mailman said. "If you are a hospital administrator and you are not speaking up for your gender-affirming care providers, you are not only putting those providers at risk, but you're putting your patients at risk."
If hospitals increasingly abandon gender-affirming care, Mailman said, the medical field risks replicating exactly what happened with abortion care: It becomes siloed away from the rest of the medical system, accessible only in freestanding clinics. Those clinics then become easy targets for worsening harassment, violence, and overregulation.
In fact, because many abortion clinics have also been leaders in providing gender-affirming care, many trans patients already know what it's like to seek care in precisely that type of environment.
"For me personally, even though there are a few different abortion clinics in my area that offer gender-affirming care, I can't go to any of them, because I already know that there are people who protest out there regularly, and I know that I would be putting myself at increased risk if I went there," Mailman said.
These attacks and the lack of support from powerful institutions are personal for providers who care deeply about their patients—especially those who are queer and trans themselves.
"It does feel so personal," said Dr. Lin-Fan Wang, who provides gender-affirming care through the telemedicine practice QueerDoc and is also an experienced abortion provider. "One difference I see compared to abortion care is the rhetoric. It gets to the point where they are calling for genocide. They don't care if trans people die. Especially for my trans colleagues, it's layers of challenge for them because it is also a personal attack."
Every major medical society supports gender-affirming care, notes Dr. Crystal Beal, QueerDoc's founder. The American Medical Association's Code of Ethics, they added, tells physicians that "in exceptional circumstances of unjust laws, [a physician's] ethical responsibilities should supersede legal duties."
In other words, there are circumstances in which it's acceptable for physicians to defy unjust laws. Beal believes gender-affirming care bans are such a circumstance. And even if physicians feel they have to comply with bans, Beal said they've seen too many examples of what they call "patient abandonment." For example, doctors refusing to order lab tests for patients whose medications require regular blood tests for monitoring
"That is not providing gender-affirming care," Beal said. "We have a totally separate diagnostic code for that. It's therapeutic monitoring of drugs. And so these people did not have to re-prescribe that medication. They did not have to talk to this patient about their gender, but they were supposed to do labs six to eight weeks after starting that medication."
This, too, echoes closely what happened to abortion care in the face of restrictions and bans. Larger organizations took, and are still taking, conservative legal stances. They're the first to back away from care instead of the last ones standing, leaving smaller practices like Beal's to absorb the flood of patients with nowhere else to go.
As just one example, Beal said, prior to Florida's sweeping ban on gender-affirming care for minors—which also has provisions that affect adults—their practice averaged about one transfer of care from doctors in Florida per month. Now, they see between three and five per week.
Beal recognizes that, as a physician living in Washington state, they are more protected than physicians elsewhere. That's exactly why hospitals and other major medical organizations need to step up and take the heat.
"If you are a large institution and your legal team has said, 'We're not going to do this because it's a liability,' shame on you," they said. "Please remember our lessons from the AIDS crisis and from pre-war Germany. You are on the wrong side of this issue. But you have an opportunity to reevaluate that."
"We are on the road of replicating what happened in abortion. We are not on the road of doing something different," Beal continued. "Take a hard look at yourself and your values and decide if that's really what you want to happen to trans people."