Anti-Abortion and Fascist Violence Are One and the Same. Clinics Are Paying the Price.
How can clinics stay safe as the anti-abortion movement—with its deep ties to white supremacy and Christian nationalism—becomes more aggressive?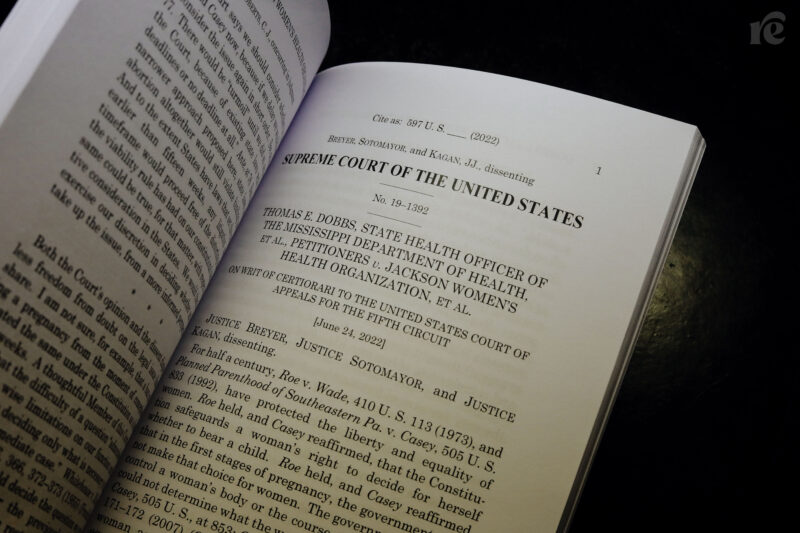 "After the Dobbs decision came down, we really noticed an uptick in [protesters'] aggressiveness in terms of going after cars," a Planned Parenthood volunteer clinic escort in Columbia, South Carolina, said. All photos by Austen Risolvato/Rewire News Group
For more, check out our special issue.
Many abortion providers from across the country tell a similar story: On January 6, 2021, the scene outside their clinics was eerily quiet. Gone were the anti-abortion protesters who normally scream at patients as they enter the building, take photos of doctors' license plates, and heckle volunteer clinic escorts. It was a mystery—until news of the insurrection broke.
As clinic workers tuned into television coverage of the pro-Trump rally outside the Capitol and subsequent invasion of the building, they picked out one familiar face after another. For most, this came as no surprise: Smaller-scale versions of both the absurdity and violence that played out at the Capitol that day have been the norm at abortion clinics in the United States for decades.
Since 1977, the National Abortion Federation (NAF) has counted 11 murders, 42 bombings, 200 arsons, 531 assaults, and thousands more violent acts directed at abortion clinics and providers. And while certain types of violence and disruption became less common after the 1994 enactment of the Freedom of Access to Clinic Entrances (FACE) Act, overall instances of disruption, picketing, and violence at abortion clinics continued to trend upward more or less consistently through time. That is, until 2016, when instances of disruption—and in 2017, instances of violence—began to skyrocket.
Clinics reported an increase in major events like arson, death threats, bomb threats, stalking, suspicious packages, and burglary.
Many abortion providers trace this phenomenon to perhaps the most obvious events of 2016 and 2017: The election and inauguration of Trump, which they say emboldened anti-abortion extremists. On the campaign trail, Trump promised to ensure the overturn of Roe v. Wade. As soon as it became clear that he would indeed deliver on that promise, abortion providers began to warn that where patients traveled for abortion care, anti-abortion extremists would follow. They predicted a surge in harassment and violence at clinics in states where abortion would remain legal.
According to NAF's 2022 Violence and Disruption Report, that's precisely what has happened. Nationwide, clinics reported an increase in major events like arson, death threats, bomb threats, stalking, suspicious packages, and burglary. For the first time in more than a decade, there were also several anthrax and other bioterrorism threats.
Despite a decline in the overall rate of assault and trespassing—which NAF attributes to the rapid rate of clinic closures in states that have banned all or most abortions—states that protect abortion saw a notable rise in assault and battery, along with increases in picketing and hoax devices or suspicious packages. The most alarming jumps in those states were cases of stalking, up 913 percent from eight incidents in 2021 to 81 in 2022, and bomb threats and obstruction, which increased by 113 percent and 538 percent, respectively.
"After the Dobbs decision came down, we really noticed an uptick in [protesters'] aggressiveness in terms of going after cars," said Coleman, a volunteer clinic escort at a Planned Parenthood clinic in Columbia, South Carolina, who asked to be identified by his first name only. In an incident in nearby North Carolina last year, anti-abortion demonstrators actually opened the doors of patients' cars and climbed in, according to NAF.
The trend has continued into 2023: As one example, the planned site of a new Black-woman-owned clinic in Danville, Illinois, has been subject to multiple attacks, including an attempted arson that involved a suspect ramming his car into the building, and a subsequent incident where a vandal tore down repairs. Federal authorities made an arrest in the attempted arson in late May.
Repeat offenders are driving a return to the past
As more patients have traveled in from out of town due to abortion bans in their home states, so too have anti-abortion "tourists," Coleman said. This type of "tourism" is a well-known phenomenon among abortion providers and clinic escorts—who, in addition to supporting patients, serve as a clinic's eyes and ears outside the building. They tend to have an encyclopedic knowledge of various anti-abortion groups and activists.
Sometimes, these tourists are church groups from a few hours away. But often, they're leaders in the anti-abortion movement who travel across the country, keying up the intensity of protests and harassment as they go. These activists hold celebrity status within their movement and are particularly fond of more extreme—some might say retro—tactics like clinic blockades and invasions, which were a favorite of the openly militant anti-abortion movement of the 1980s and '90s. Nowadays, nearly all these incidents are perpetrated by repeat offenders, who are so proud to flout the law that they often live stream themselves doing it.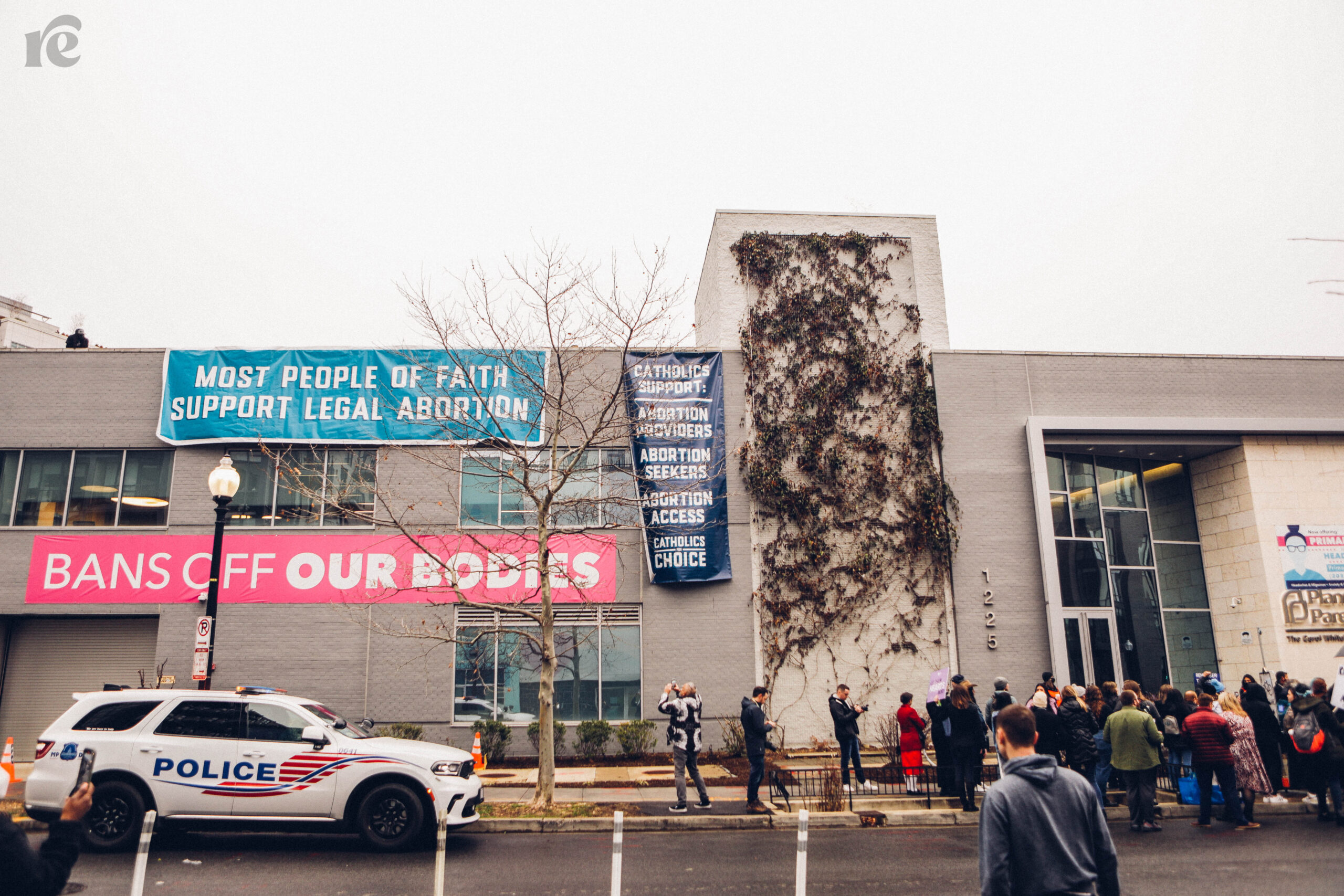 NAF has tallied over 1,500 clinic blockades and invasions—in which staff and patients are prevented from entering and exiting clinics entirely, or where protesters force or sneak their way in—since 1977. In the '80s and '90s, when most of these events took place, blockades often involved crowds of hundreds or thousands. The most notable example of this is the so-called Summer of Mercy in 1991, when tens of thousands of anti-abortion activists effectively shut down the three abortion clinics in Wichita, Kansas for over a week.
It was in response to the Summer of Mercy, as well as the 1993 murder of Dr. David Gunn and attempted murder that same year of Dr. George Tiller, that Congress passed the FACE Act in 1994. (Tiller, whose clinic was one of the chief targets of the Summer of Mercy, was shot to death in church in 2009.)
The FACE Act was an exercise in bothsidesism from the start. It introduced criminal and civil penalties for "violent, threatening, obstructive and destructive conduct that is intended to injure, intimidate or interfere with persons seeking to obtain or provide reproductive health services." But it also applied the same protections to "places of religious worship." In other words, the law equated abortion clinics, patients, and providers with the very churches and church members who were fomenting violence against them.
Still, the FACE Act did effectively put an end to mass clinic blockades. The penalties—up to one year in prison and a $100,000 fine for first-time criminal offenses and civil fines of $10,000 to $15,000—were enough to give the less militant members of the anti-abortion movement pause. Invasions, too, dropped off steeply once the FACE Act went into effect.
However, the number of invasions and blockades started to creep back up in the mid-2010s. Between 2016 and 2017, it nearly doubled. And while the number of clinic blockades has fallen somewhat since 2017, the number of invasions remains high.
This clinic invasion renaissance was largely led by a group called Red Rose Rescue, which claims its activities are nonviolent. That's not always the case, though—in one 2020 incident, members of the group allegedly injured a nurse while forcing their way inside a clinic. After that, they used chains and rope to seal the doors. In another particularly chilling incident last year, an invader walked around inside a clinic calling out the doctor's name.
The threat of gun violence
Given the anti-abortion movement's longstanding ties to white nationalists and other fascist groups, it's impossible to ignore the similarities between these events and a number of anti-government actions in recent years—the 2021 attack on the Capitol, the 2016 occupation of a federal building led by members of the Bundy family, and the 2020 occupation of the Michigan state Capitol, which many now see as a rehearsal for January 6. The more recent trend of attacks and armed protests outside drag shows also follows an eerily similar blueprint. For abortion providers, this raises another fear: that the next time someone forces their way inside a clinic, they could be armed.
The last time there was a shooting at an abortion clinic was in 2015, when Robert Dear allegedly shot and killed three people at a Planned Parenthood in Colorado Springs. But gun violence, and the threat of it, persists at abortion clinics as it does in so many other areas of American life.
Two weeks after participating in the January 6 insurrection, authorities say a man named Mark Thomas Reno shot at the door of a Planned Parenthood in Knoxville, Tennessee. He was also charged with burning the clinic down less than a year later. Around the same time, a police officer in Louisville—armed and in uniform—joined anti-abortion protesters on their picket line outside a local clinic. (After being disciplined for his actions, he sued the city and won a settlement.)
In Michigan, a man carrying an AR-15 rifle and a handgun has been showing up to one of Northland Family Planning's three clinics nearly every week for more than three years, said Lara Chelian, NFP's vice president of external operations.
The double standard
Clinic blockades and invasions—along with trespassing, vandalism, and most other forms of harassment and violence—aren't only violations of federal law. They're also typically violations of municipal law, and numerous states have their own versions of the FACE Act as well. But abortion providers say that enforcement of all these laws varies widely between jurisdictions.
For example, NFP's clinics, which are all located in the Detroit metro area, have been the site of multiple "Red Rose Rescues," and in 2020, their Sterling Heights clinic experienced a blockade. Local police allowed demonstrators to block all doors to the clinic for more than an hour that day before they began to make arrests. Staff and patients were trapped inside, and protesters harassed other patients who were waiting in their cars. The "rescuers" live streamed the entire thing and even captured police officers expressing sympathy for them.
Patients and staff alike were "traumatized" by the blockade, but it was also "traumatic because we were being treated so disrespectfully," Chelian said. "The police wouldn't even speak to us. They were just hanging out with the protesters, chit-chatting away."
"I'm not asking them to be inappropriately supportive of us," she continued. "But we are a tax-paying business that's been there, and taken care of people, and employed people in the city for a very long time. We deserve respect."
By contrast, NFP's clinic in Southfield experienced an invasion just over a year ago. The perpetrators there have already been charged, tried, sentenced, and served time in jail. So far, authorities in Sterling Heights have declined to move forward with criminal charges in the 2020 blockade.
The FACE Act and "Jane's Revenge"
On the federal level, FACE Act enforcement fell dramatically under George W. Bush. There was a renewed, if not particularly forceful, push under Barack Obama, but unsurprisingly, the Department of Justice pursued only a handful of FACE cases under Trump.
However, following President Joe Biden's promise of a "whole-of-government effort" to address the abortion access crisis, providers say they have noticed a difference. The DOJ has initiated more FACE cases and pursued them more aggressively. For example, the DOJ recently indicted the accused perpetrators of the 2020 blockade at NFP's Sterling Heights location. They will be tried next month.
In May 2022—just weeks after the leak of Justice Samuel Alito's opinion in Dobbs v. Jackson Women's Health Organization—Wellspring Health Access, a new Wyoming abortion clinic, was seriously damaged in an arson that delayed its opening by nearly a year. No one was injured, but the fire also endangered people in the apartment building next door. A suspect was finally arrested in March, after police increased the reward for information leading to an arrest from $5,000 to $15,000 thanks to a pledge from an anonymous community member.
Though the investigation—which was a collaborative effort between federal and local authorities—took almost a year, "I was quite pleased with the engagement from all different branches of law enforcement. I felt like there was a real commitment to solving this crime," said Julie Burkhart, Wellspring's founder and president.
"I have definitely had a variety of experiences with law enforcement, in different states, and at all different levels over the years," she added. Prior to founding Wellspring, Burkhart founded and ran Trust Women, which operates clinics in Oklahoma and Kansas. Before that, she worked with Dr. Tiller and saw firsthand how he struggled to get protection from federal law enforcement even after surviving the first attempt on his life.
However, in renewing its commitment to the FACE Act, the DOJ has provoked the ire of many in the reproductive rights and justice space by aggressively pursuing suspects accused of vandalizing "crisis pregnancy centers" (CPCs).
Following the Dobbs leak and decision, there were a number of highly publicized vandalisms and arsons at anti-abortion centers. A group calling itself Jane's Revenge took public responsibility for most of these incidents, though many question the extent to which they were actually part of an organized effort. Conservative media and lawmakers latched on to the story, demanding federal investigations. The DOJ complied and has even charged some of the suspects under the FACE Act.
"The FACE Act is not about abortions," reads a page on the DOJ website. "The statute protects all patients, providers, and facilities that provide reproductive health services, including pro-life pregnancy counseling services and any other pregnancy support facility providing reproductive health care."
Chelian, who has a law degree, said she can—begrudgingly—see some value in this approach. "My legal brain is happy to see blanket application across the board. The law has to be applied equally for it to hold any water," she said. "But I struggle with that because I know that [CPCs] are not true medical facilities."
Not only that: Anti-abortion centers contribute directly to the chaos and violence outside abortion clinics. It's often their volunteers, seeking to intercept and misdirect patients, who do things like climb into cars, follow patients, and antagonize their companions.
David S. Cohen, a professor of law at Drexel University and a legal expert in this area, echoed Chelian's sentiment.
"I have been less critical of the DOJ for this move than maybe some other people who do this work," he said. "I think that the more the law is used, and the more broadly it's used, the more it becomes legitimized. It fights the abortion exceptionalism that harms our movement so much."
Cohen added that applying the FACE Act to CPCs could help give the DOJ "political cover" to pursue FACE violations at abortion clinics more aggressively.
Still, it would be difficult to look at the fierceness with which the DOJ has pursued people accused of attacking CPCs and not see a double standard. For example, one suspect who is charged with firebombing the offices of an anti-abortion organization in Wisconsin was arrested after police pulled his DNA from a discarded burrito.
"If the DOJ is using aggressive and innovative investigatory tactics only with respect to the fake clinic charges, then that's a serious problem," said Cohen. "If that's a pattern, that's really concerning." The DOJ did not respond to a request for comment.
Is law enforcement the answer?
Clinic escorts who spoke with Rewire News Group also raised questions about whether increased law enforcement attention will help, or whether it's something the reproductive rights and justice movement should pursue at all.
For one—as evidenced by the police officer who joined anti-abortion picketers in Louisville and the sympathetic officers who responded to the Sterling Heights blockade, to mention only a few examples—police often sympathize with or even openly align themselves with anti-abortion activists. And given the rising threat of abortion and pregnancy criminalization, seeing police outside a clinic makes many people, especially people of color, feel less safe, not more.
Many clinic defenders, including members of NYC for Abortion Rights, say the whole point of defense is to keep anti-abortion demonstrators away from clinics and patients.
The most committed activists remain undeterred by criminal charges anyway. Longtime clinic escort Jessie Losch currently volunteers at a Planned Parenthood in Washington, D.C., which is the home turf of Progressive Anti-Abortion Uprising, a group whose members are deeply involved with Red Rose Rescue and several of whom are among the most prolific clinic invaders in the country.
"They talk gleefully about how many FACE Act violations they have, and all the places they're not allowed to go," Losch said.
"If the FACE Act is being used in this way [to criminalize people accused of vandalizing CPCs], then it probably was never solid to start with," said one member of NYC for Abortion Rights. Three members of the collective spoke with Rewire News Group on the condition of anonymity. "I don't think we should have the FACE Act," they continued. "We should have more clinic defenders and more clinics that are open to having people who are experienced in community safety and community defense."
Clinic defense—which is essentially counterprotest—is controversial. Many argue it makes the experience worse for patients by adding to noise and confusion outside clinics. However, many clinic defenders, including members of NYC for Abortion Rights, say the whole point of defense is to keep anti-abortion demonstrators—and the noise and harassment that come with them—away from clinics and patients.
"A bunch of us are abortion patients and are supportive of clinic defense," added a second NYC for Abortion Rights member.
Clinic defense was a more common strategy in the '80s and '90s, when it arose in response to mass blockades. For example, when the anti-abortion group Operation Rescue descended on Buffalo, New York in 1992, intending to replicate the 1991 Summer of Mercy, crowds of clinic defenders prevented them from shutting down a single clinic.
NYC for Abortion Rights has organized clinic defense actions since 2017. Once a month, Catholics from the Basilica of St. Patrick's Old Cathedral march to the Planned Parenthood Manhattan Health Center, which is down the street from the church. Members of NYC for Abortion Rights try to block their progress. If they can't stop the marchers, they turn back.
Members of the collective said that in recent years they've seen members of fascist groups like the Groypers and the American Nationalist Initiative attend the march, welcomed by the church. Police have also responded more aggressively—in order to protect the church. A recent report from the Intercept revealed that U.S. Marshals spied on pro-abortion activists in the wake of Roe's overturn, including people attending NYC for Abortion Rights' actions.
"I think there are far too many nonprofits and clinics out there whose first instinct when something goes wrong is to call the cops, not considering the fact that cops are the same people who criminalize patients and providers," said a third member of NYC for Abortion Rights. "I think there is a need for more mainstream and liberal reproductive rights groups to make the connection between policing and bodily autonomy."