It's Ketanji Brown Jackson!
We're celebrating the good news of Biden's historic Supreme Court nomination.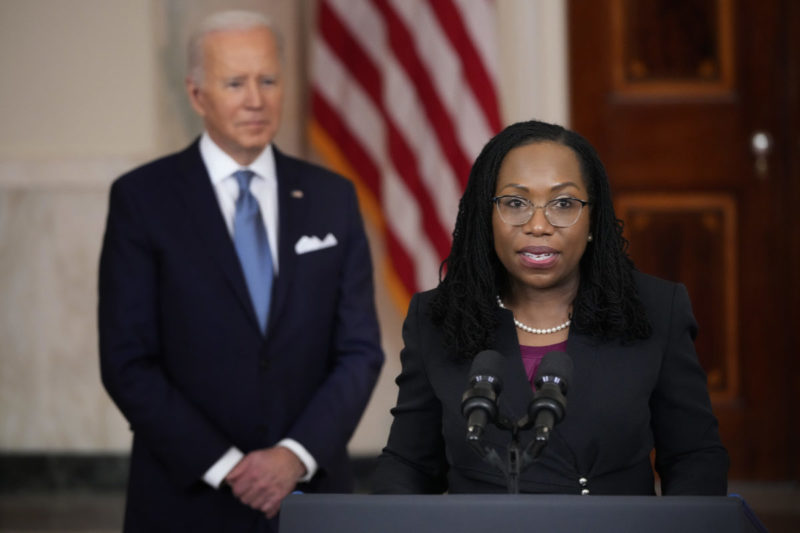 President Joe Biden nominated Judge Ketanji Brown Jackson to the Supreme Court. Drew Angerer/Getty Images
To use a Biden-ism, "this is a big fucking deal!"
President Joe Biden officially announced Judge Ketanji Brown Jackson is his nominee to replace Justice Stephen Breyer on the Supreme Court.
Once confirmed, she'll be the first Black woman to sit on the highest court of the United States. Jackson would also be the first public defender on the Supreme Court, bringing a much-needed, long-overdue perspective to the bench.
In this rapid reaction episode of Boom! Lawyered, co-hosts Jessica Mason Pieklo and Imani Gandy bring you everything you need to know about this historic moment. So get your celebratory treat of choice, and tune in with our experts.
Rewire News Group is a nonprofit media organization, which means that Boom! Lawyered is only made possible by the support of listeners like you! If you can, please join our team by donating here.
And sign up for The Fallout, a weekly newsletter written by Jess that's exclusively dedicated to covering every aspect of this unprecedented moment.
(Transcript coming soon)