Meet the Black Trans-Led Group Offering Care Amid Alabama's Anti-Trans Bills
The Knights and Orchids Society works to fill the gaps in the rural South by providing affirming reproductive care, health care, and more.
When COVID-19 hit the United States, the Knights and Orchid Society shifted to delivering supplies and food they would normally give out at their food pantry. Photo courtesy of the Knights and Orchids Society
Amid a deluge of attacks on LGBTQ+ and reproductive rights, a Black trans-led organization in Selma, Alabama, is doing the work of uplifting and mobilizing communities in the rural South. Systemic health and economic disparities leave many rural Black LGBTQ people behind, and so the Knights and Orchids Society (TKO) meets people where they are and provides holistic services to help them thrive and become self-sustaining.
TKO's work has been especially critical lately, as Alabama lawmakers take aim at trans youth health care and sports in a year when a record number of anti-trans bills have been filed across the country. One of the state's most aggressive anti-trans bills, the misleadingly titled Vulnerable Child Compassion and Protection Act, would have made it a felony for health-care providers to provide gender-affirming care to trans youth.
The bill, HB 1, passed the Alabama Senate but ultimately failed when the legislative session came to an end before the house could vote on it. However, the legislature was able to pass HB 391, a measure banning trans girls from participating in school sports that reflect their gender. Republican Gov. Kay Ivey signed the bill into law in April.
Organizing against a barrage of antagonistic legislation, racism, transphobia, and homophobia has been especially difficult, said TC Caldwell, TKO's arts and communications director.
"The problem for the folks fighting for trans and reproductive rights is that everyone wants to lead instead of build, from policymakers to community organizers," Caldwell told Rewire News Group. "Not to mention the Black TGNC [trans and gender nonconforming] voices are missing from the rooms and conversations where they could create the most impact."
TKO provides members of its communities with holistic care and resources, including primary health care, hormone replacement therapy and other gender-affirming care, HIV prevention, arts and cultural enrichment, fresh food, job opportunities, and more.
When COVID-19 hit the United States, TKO shifted to delivering supplies and food they would normally give out at their food pantry. The pandemic exacerbated houselessness and income instability as well, Caldwell said.
"The pandemic added another barrier to a system that is already hard for TGNC folks to navigate," they said. "On the other side of that, more folks were ready to transition and live as themselves." Caldwell, for example, said they've been on testosterone for over a year now. "The pandemic showed many of us, including myself … that we don't own tomorrow."
Alabama has the lowest COVID-19 vaccination rate in the country, and infections and hospitalizations are rising due to the spread of the delta variant. While Caldwell and some other TKO team members are vaccinated, they understand people's hesitancy to get the shots.
"When we discuss vaccinations in Alabama, we have to bring up the Tuskegee experiment," they said. "We have to bring up sterilization of Black women in this state. We have to discuss racial disparities many of our folks faced then and now." Caldwell pointed out that lack of access to resources like transportation and education, as well as hospital and clinic closures in rural areas, help keep vaccination rates low.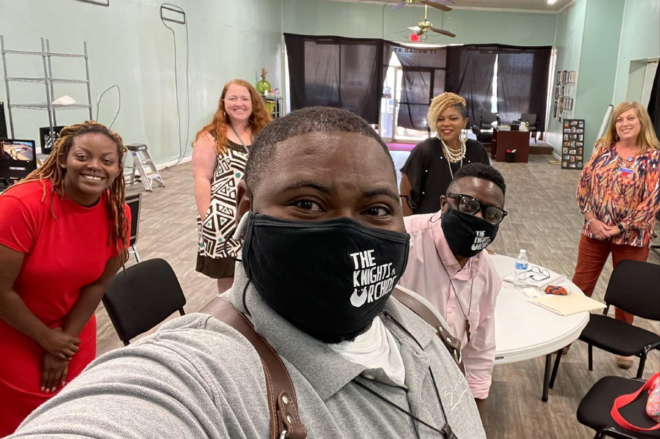 Founded in 2012, TKO has been building power for Black LGBTQ+ folks in the South through its four main programs: FAITH, which promotes sexually transmitted infection awareness and prevention; Reproductive Justice, which provides reproductive and family care services; Coffeehouse Arts, which fosters cultural enrichment through the arts and storytelling; and a community garden used to feed people and provide job opportunities for formerly incarcerated community members.
TKO emphasizes bodily autonomy and choice for its clients who seek health care, making sure that they "can come in whole and leave whole after a primary care visit with the doctors in our network," Caldwell said.
The organization was founded in response to another ongoing pandemic—HIV.
"Many of our friends were being diagnosed with HIV," Caldwell said. "I remember our co-founder, Quentin Bell, losing a friend years ago who was only 22. So the push came from a place of wanting more for our people and also getting resources to our people. We frequently say that our people don't need saving, they just need resources. They can live whole and full lives when access to those resources are available."
Along with partner organizations like Margins: Women Helping Black Women, Queer Med, and Alabama Arise, TKO works to fill the gaps left by the state by providing affirming reproductive care, health care, and economic empowerment to marginalized communities. TKO has also extended its network across neighboring states including Mississippi, Tennessee, South Carolina, and Georgia, and seeks to broaden its reach. The group aims to open satellite offices in Montgomery and Birmingham in the next couple of years, and to expand its services into providing housing to LGBTQ+ homeless youth.
The organization's slogan, "nurturing through nontraditional care," also speaks to the many ways it cultivates joy and togetherness within its community, understanding that Black trans joy is just as essential a resource as food, funds, or medical care. They host park events, virtual open mics, Pride and Juneteenth celebrations, and meetings called "Diva 2 Diva" for Black trans women to be in community with each other.
"The erasure of Black trans femmes is an area that needs more attention. The media speaks on their deaths more than their living. Show them thriving. Normalize thriving instead of dying," Caldwell said.
"We have much more to share than just stories of harm and death, but because our rights are constantly under attack we rarely get to share that side, and that takes a toll on our mental health as well as our ability to fight back in ways that are more effective."
Revolutionary formations like the Knights and Orchids Society—the name stands for Knowledgeable Noble Independent Gifted Honorable Tenacious Soldiers (Knights) and Overcoming Racism Classism Heteronormativity and Injustice Down South (Orchids)—are rewriting the story.