Protecting 'Roe' Takes Center Stage in State Legislatures
New state-level Democratic majorities will push to protect abortion rights as the U.S. Supreme Court's conservative majority could strike at Roe v. Wade.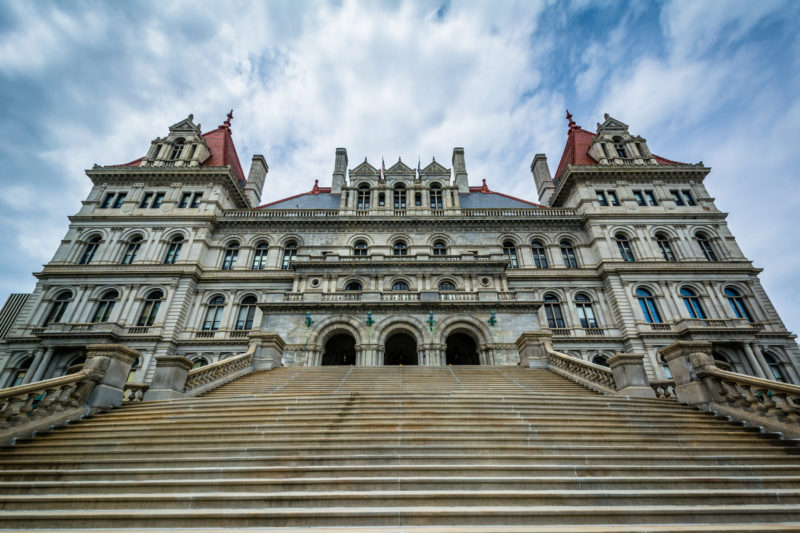 Democratic lawmakers in New York could soon pass the Reproductive Health Act, which would remove abortion from the state's criminal code. Jon Bilous
With major pro-choice gains in 2018, lawmakers in New York and Rhode Island are prioritizing abortion rights protections in 2019 legislative sessions. But they aren't the only ones.
Legislatures across the United States are gearing up to protect abortion rights, faced with a more conservative U.S. Supreme Court that could threaten the landmark 1973 Roe v. Wade decision that cemented abortion as a constitutional right.
That right is at the highest risk in 22 states that could ban abortion outright, and it appears secure in 21 states, according to a breakdown by the Center for Reproductive Rights. The risk level takes into account how progressive or conservative the state legislatures are, whether the state protects abortion through its constitution or statutes beyond Roe, and if the state has anti-abortion laws on the books.
With many states stepping up to protect reproductive rights, 2019 is expected to be a "watershed year for abortion-related legislation," Elisabeth Smith, chief counsel for state policy and advocacy at the center, told Rewire.News in an email. "States that enact legislation solidifying or expanding the right to abortion will ensure that abortion remains legal in those states, despite what happens at the Supreme Court. Legislators in red, purple, and blue states have publicly spoken about their plans to introduce or support reproductive rights bills in 2019. For example, legislators in Texas have pre-filed the Whole Women's Health Act, which would guarantee the right to an abortion in state law."
Texas' GOP-dominated legislature has historically been at the forefront of restricting access to abortion care, but an August poll indicates 62 percent of voters in the state support Roe, the Houston Chronicle reported. 
Rhode Island Democrats recently pre-filed the Reproductive Health Care Act (RHCA) which would affirm the right to abortion care. It's on the Rhode Island General Assembly's legislative agenda, but activists fear the bill is likely to be blocked again by anti-choice Democrats, who have long opposed abortion rights in the most Catholic state in the nation.
The Womxn Project, an advocacy group formed two years ago to push for the RHCA, is urging Rhode Island voters to keep pressure on senate President Dominick Ruggerio (D) and house Speaker Nicholas Mattiello (D), who have the power to block the bill—again.
"This is not about politics. It is about our health and the ability to control our own futures," Jordan Hevenor, co-director of the Womxn Project, said in a statement. "With the mounting attacks on Roe v. Wade at the federal level, activists from across Rhode Island are making it clear that for us protecting the right to seek an abortion is a critical priority. We are concerned that the leadership is out of touch with the needs and the views of Rhode Islanders."
More than 70 percent of Rhode Island voters support passing the law, according to an October 2018 poll.
With changed leadership in Albany, New York's 2019 legislative priorities also include the long-thwarted Reproductive Health Act (RHA), which would remove abortion from New York's criminal code. Gov. Andrew Cuomo (D) has called on the senate to pass the bill, and it is among the assembly's legislative priorities this month.
"The people of New York elected a Democratic State Senate with an overwhelming majority—the largest in more than a century—and a majority that is 100 percent pro-choice," state Sen. Liz Krueger (D-Manhattan) said in a statement after the November elections. 
With progressive wins in last year's midterm elections, Democrats in New Mexico and Connecticut are poised to protect Roe in 2019. Massachusetts lawmakers last year removed archaic reproductive health barriers from its books. New Mexico has a similarly archaic law that pre-dates the Roe v. Wade decision, and lawmakers there have announced legislation to repeal it.
State laws are important because if Roe is overturned, access to abortion will be determined by state law, giving governors and legislatures power over the rights and health of abortion patients. If that happens, people in nearly half the states in the country would be at risk of losing access to abortion services.
Only nine states have laws guaranteeing access to abortion, according to the Guttmacher Institute: California, Connecticut, Delaware, Hawaii, Maine, Maryland, Nevada, Oregon, and Washington. Nine have pre-1973 bans in place that Roe made unenforceable. If Roe falls, those bans could be revived. Four states have trigger bans in place that would spring into effect as soon as Roe is overturned, and 21 states have pre-viability abortion bans, according to the Center for Reproductive Rights.
"With the shift in the Supreme Court, the right to abortion is more threatened than ever before. We see a number of states that are going to do everything they can to eviscerate access to abortion care and the right to abortion," said Jessica Arons, senior advocacy and policy counsel for reproductive freedom at the American Civil Liberties Union.
Lawmakers in some states have already taken steps to criminalize abortion even as states like Rhode Island and New York prepare to protect reproductive rights. On December 21, Ohio Gov. John Kasich (R) signed a bill to make performing a dilation and evacuation abortion a felony, after Republican lawmakers pushed it through in the lame-duck session. Eleven other states considered similar measures last year that would effectively outlaw abortion past 14 weeks' gestation.
Ohio Republicans also pushed through the so-called heartbeat abortion ban that they have been trying to pass since 2011;  Kasich vetoed the heartbeat ban, as he did in 2016, and the state legislature failed to override the veto. Iowa, meanwhile, enacted a fetal heartbeat abortion ban in May that has been challenged in the courts. Ten other states last year considered measures to criminalize abortion when a fetal heartbeat is detected.
Heartbeat abortion bans—which amount to near-total abortion bans—have been pre-filed in Kentucky, Missouri, and South Carolina. Constitutional amendments granting rights to fetuses have been proposed in South Carolina and Texas. And Oklahoma lawmakers are aiming to pass a total abortion ban punishable by life imprisonment for providers and patients.
The midterms helped change the makeup of legislatures like Colorado and New Mexico, but "we still need to be cautiously optimistic; I never take a win for granted," Arons said.
With chambers swept in many states and Democratic trifectas formed, the moment is right for those who have advocated for Roe protections, Arons said. "They've laid the groundwork, they've done the public education and now they have champions on their side, and they have what they need to get across to the finish line," Arons said. "We are in this unique moment with Justice Kennedy having been replaced by Brett Kavanaugh and people realizing that there is this threat."