Senators Demand Investigation of Labor Secretary's Deal With Accused Sex Abuser
Alexander Acosta is facing questions over his handling of a sex trafficking case while he was a U.S. attorney.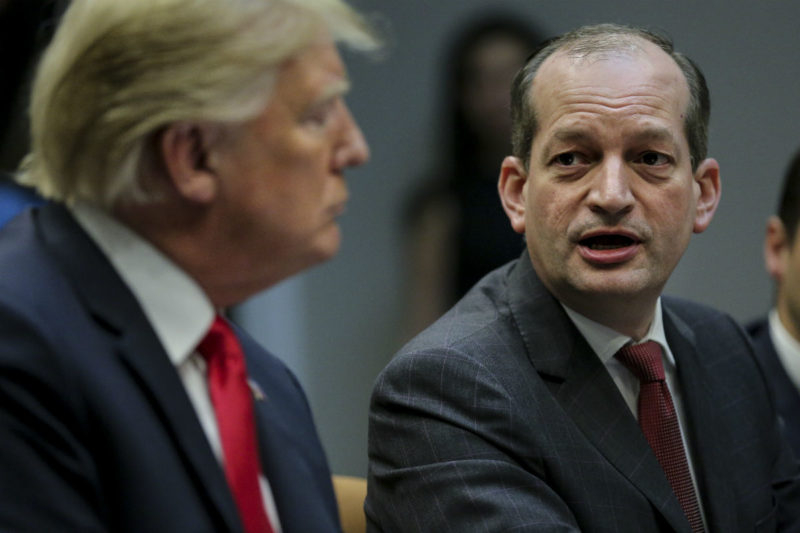 Sens. Marco Rubio (R-FL) and Ben Sasse (R-NE) have also called for a DOJ investigation into the labor secretary. Pool/Getty Images
More than a dozen U.S. senators on Thursday called for an investigation into U.S. Secretary of Labor Alexander Acosta's handling of a 2007 child sexual abuse case in a letter to the U.S. Department of Justice (DOJ) inspector general.
Led by Sens. Patty Murray (D-WA) and Tim Kaine (D-VA), 16 Democratic senators outlined their concerns following last week's Miami Herald investigation detailing how the former U.S. attorney cut "the deal of a lifetime" with accused sexual predator and billionaire Jeffrey Epstein. Congressional calls for an investigation into Acosta have grown over the past week.
"While it is important that federal prosecutors are provided flexibility to strike plea bargains that serve the interests of justice and make our nation both safer and more fair, such negotiations and agreements must comport with federal law and DOJ policy, including ethical guidelines, and must be struck on terms that are beyond reproach," the senators wrote. "Our justice system is predicated on the fundamental value that no individual is above the law, and to that end, it is essential that plea agreements involving well-connected individuals not only follow the law and standard practice, but also stand up under scrutiny."
The senators expressed concern about whether Acosta's agreement with Epstein complied with the Crime Victims' Rights Act, which gives victims the right to be informed of plea bargains and deferred prosecution agreements. As the letter notes, there are "reported interviews with a number of Mr. Epstein's victims who deny being informed."
The senators shared two other concerns: Epstein's plea agreement granted immunity to unindicted co-conspirators, and Epstein was allowed to avoid federal prison by serving out his sentence in county jail, where he was given a work release unavailable to other sex offenders.
Murray, the ranking member of the Senate Health, Education, Labor, and Pensions (HELP) Committee, noted that she opposed Acosta's nomination as labor secretary from the start. "I opposed Secretary Acosta's nomination because in reviewing his record, it was clear he's willing to bend to political pressure even when peoples' lives and safety are at stake—whether that pressure came from President Trump or from big-shot lawyers while he was working on the Epstein case," Murray said in a statement to Rewire.News. "Secretary Acosta's handling of this horrific case was a clear indicator to me that he wasn't fit to serve in his current role and a reason why I fought to make sure as many senators voted against him in committee and on the floor as possible."
Sens. Marco Rubio (R-FL) and Ben Sasse (R-NE) have also called for a DOJ investigation into the labor secretary. The DOJ did not respond to requests for comment from Rewire.News  last week. "This matter has been publicly addressed previously, including during confirmation hearings," a Department of Labor (DOL) spokesperson told Rewire.News last Thursday. She referred questions to the U.S. Attorney's Office for the Southern District of Florida, which has not responded to requests for comment.
Kaine asked Acosta about his handling of the Epstein case at his confirmation hearing last March; Acosta responded that the agreement was a "broadly held" decision at the time within the Southern Florida U.S. Attorney's office. Details have since emerged thank to the Herald's report, prompting advocacy group UltraViolet to call for Acosta's impeachment and some members of Congress to call for an investigation.
Among those calling for an investigation is Rep. Bobby Scott (D-VA), ranking member of the House committee that oversees the DOL. "I join my House and Senate colleagues in calling for the Department of Justice to review Mr. Acosta's handling of a child sex trafficking case during his time as U.S. Attorney for the Southern District of Florida," said Scott in a statement. "Given the serious questions raised through recent press reports, I believe a transparent and independent review must take place to determine whether Mr. Acosta is entitled to continued public confidence." Scott is in line to chair the congressional committee in the new session, but he has not indicated whether the committee might investigate Acosta.
Another committee member, Rep. Frederica Wilson (D-FL), signed onto a letter last week from 15 House Democrats calling for a DOJ investigation into the Epstein deal. That letter criticized the secrecy around the details of the Epstein deal. "It also appears that numerous related case files are heavily redacted, well beyond the reasonable protections accorded to victims and confidential informants," reads the letter. "This lack of public transparency further necessitates an internal review."