An Open Letter to All White Women Seeking Redemption
Facing the atrocity of our government's attack on brown children at the border, will you continue to support Trump and his racist policies, or will you take this opportunity to redeem yourselves?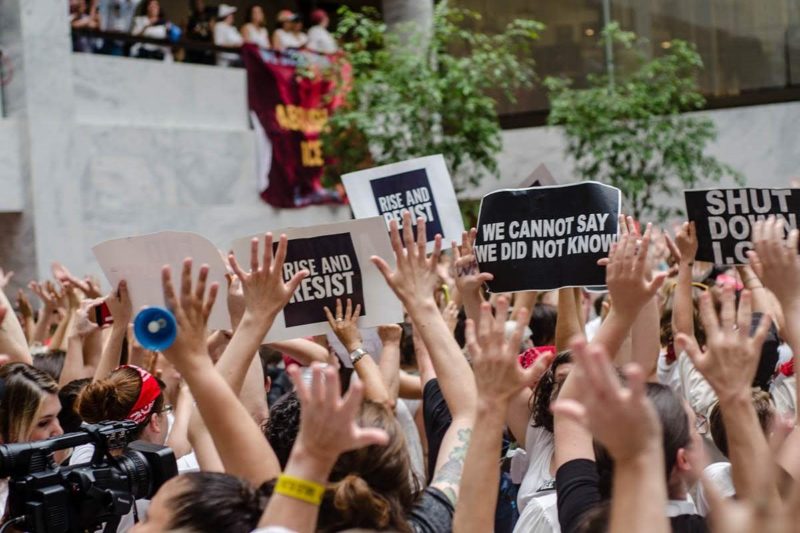 A group of people stand with their hands raised during the #WomenDisobey protest in D.C. on June 28. Lauryn Gutierrez / Rewire
Dear white women,
The final weeks of June truly were among the worst of times for our country, especially for women and our families. We watched immigrant babies being torn from their mothers—and fathers—per the order of the Trump administration. We watched a Black teen being shot dead by a cop as he ran away from a car empty handed in Pennsylvania. We watched as Trump placed a transgender ban on military service, robbing trans service members of the dignity to serve their country. The U.S. Supreme Court sucker-punched us with terrible rulings on women's reproductive health, discrimination against Muslims, and our right to join together in unions. And then, Justice Anthony Kennedy announced his resignation, almost certainly the final death knell for legal abortion. All of this followed by another mass shooting, this time targeting journalists—not surprising given the hateful rhetoric on mainstream media.
And the assaults are not over.
We continue to see heartwrenching coverage of caged children crying and begging to see their mothers and fathers, as more than 2,000 remain separated from their parents. While public outcry was strong enough to get Trump to backpedal on his obscene family separation policy, our government now is caging entire families. And there is no clear plan to reunite children with their parents.
The summer months promise to be rife with contention as we begin the battle over the appointment of the next Supreme Court justice. Trump and his supporters are salivating as they ponder who they will pick to finish dismantling our rights. Simultaneously, they are working on their to-do list of rights and protections to eliminate:
Voter protections
Bodily integrity and autonomy
Religious freedom
Immigrant protections
Environmental protections
Pay equity
Free press
The list goes on and on. The future does feel bleak, save one thing: We are fighting back. And women—especially women of color—are leading the resistance. The same Women's March movement that challenged Trump following his inauguration organized. #FamiliesBelongTogether marches and rallies throughout the country were held this past weekend in support of immigrants. We are seeing a record number of women running for elected office, promising to protect all of our rights. The good news is that women can save our country because there are enough of us to turn the tide.
But will we? The white women of the Trump administration—Sarah Huckabee Sanders, Kirstjen Nielsen, and Kellyanne Conway—took center stage to explain why it was necessary to rip children from their parents' arms. They cited the Bible, a non-existent law, and, yes, President Obama, as their justification. The White House rolled out a story of Ivanka Trump softening her father's stance enough to move him to change the family separation policy, ignoring the fact that it was his policy in the first place. Then they sent Melania Trump to the border to see the problem for herself. And the media wondered whether her "I really don't care. Do U?" jacket was a fashion faux pas or a deliberate commentary of callous disregard for the plight of these children.
But the women in the Trump administration are not alone. Fifty-two percent of white women voted for Donald Trump. They ignored his racist statements about immigrants, Latinx, and Black people, and his admissions of sexual assault to cast their vote for a man who never held public office before. And that's nothing new. Historically, white women have supported conservative candidates, including those affiliated with the Ku Klux Klan and white supremacy. Under the guise of "traditional" morals and Christian values, the majority of white women overwhelmingly backed Roy Moore, an alleged child molester, in Alabama's special election this year.
While women of color are building the resistance—with some white sisters—we have to pause to ask all white women to take a long, hard look at the path our country is traveling down. Facing the atrocity of our government's attack on brown children at the border, will you continue to support Trump and his racist policies, or will you take this opportunity to redeem yourselves? Is he correct that his inhumane stance regarding these young children is a winning electoral issue?
Trump's horrible legacy has already affected Supreme Court decisions, as we saw with the decisions to uphold the xenophobic travel ban, to attack women's access to reproductive health services, and to undermine workers' rights. With the impending retirement of Justice Kennedy, Trump now has a chance to disrupt the balance of the bench for decades to come and continue to implement his racist, sexist policies without any judicial safeguards. Policies that hurt us, women of color, the most. Will white women continue to stand by?
Women of color understand—and foresaw—the horror of Trump's policies and the burden they place on families. We know firsthand the horrors of mass incarceration on our communities whether from the police, Homeland Security, or Immigration and Customs Enforcement.
That's why we see the current fight to protect families and human rights as ours. That's why we will use our voting clout to help change the political landscape this November. That's why we are leading the movements to stop the wholesale assault on our human rights.
The burden cannot fall on us alone. While our strength and leadership are great, women of color cannot do it all alone. We need all women to stand up so we can truly reclaim our country from the horrible nightmare we are collectively living. Sisterhood is only powerful when all women—including all white women—stand together.
The big question is, will you?
In sisterhood,
Marcela Howell, executive director, In Our Own Voice: National Black Women's Reproductive Justice Agenda.
Jessica González-Rojas, executive director, National Latina Institute for Reproductive Health
Sung Yeon Choimorrow, executive director, National Asian Pacific American Women's Forum