Advocates Set Sights on Indiana Abortion Restrictions in New Lawsuit
A federal lawsuit filed Thursday in Indiana argues many of the state's abortion laws are unconstitutional, in the latest test of the strength of the abortion rights win in Whole Woman's Health v. Hellerstedt.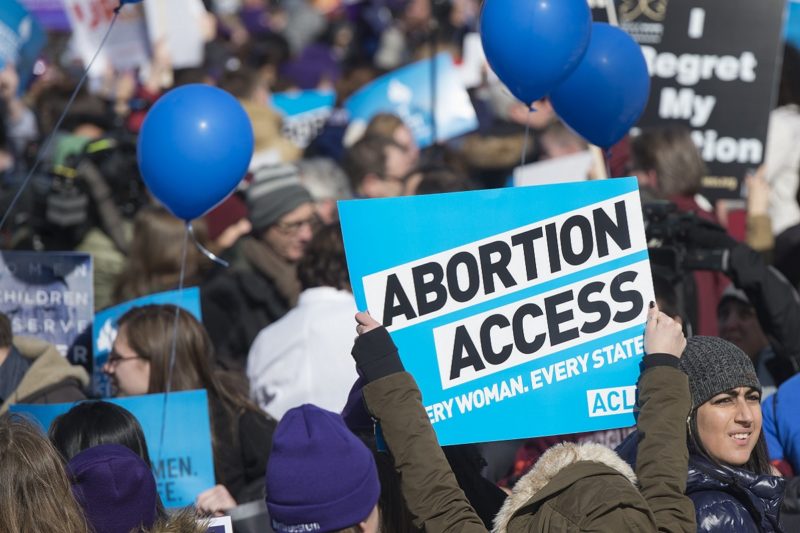 Advocates are challenging five categories of Indiana abortion laws. Saul Loeb/AFP/Getty Images
Fresh off filing a lawsuit seeking to undo a web of Virginia anti-choice restrictions, reproductive rights advocates in Indiana filed a federal lawsuit Thursday challenging laws they claim place ideological opposition to abortion rights above patient health in the Hoosier state.
The lawsuit, brought by attorneys on behalf of Whole Woman's Health Alliance and All-Options Pregnancy Resource Center, challenges dozens of Indiana abortion restrictions they allege impose medically unnecessary burdens on patients, require doctors to lie to their patients, and have led to the closure of clinics across the state. 
Advocates are challenging five categories of Indiana laws. The first are targeted regulation of abortion providers laws or TRAP laws. Those laws, among other things, mandate that abortion providers have admitting privileges at a nearby hospital, require licensing that applies only to abortion clinics, and mandate that only physicians perform abortions.  
The lawsuit challenges laws that advocates claim deny abortion patients the benefits of scientific progress. These include restrictions on medication abortion and telemedicine restrictions, as well as Indiana's forced 24-hour waiting period and its requirement that doctors provide patients state-mandated, scientifically unproven information about abortion care. 
Indiana's parental involvement and judicial bypass laws are also challenged, as are Indiana laws that place criminal liabilities on abortion providers.
"In Texas, Virginia, and now in Indiana, we have joined forces with our allies to fight for women's access to quality abortion care without a maze of obstacles," Amy Hagstrom Miller, president of Whole Woman's Health Alliance, said in a statement. "The Whole Woman's Health Supreme Court victory was game-changing—affirming that abortion laws must be based on medical evidence. We're using this new standard to challenge dozens of restrictions, some dating back decades, that are based on ideology, not health or science."
The U.S. Supreme Court in 2016 struck down several provisions of Texas' anti-choice law HB 2 in a landmark case, Whole Woman's Health v. Hellerstedt. Many of the provisions challenged in the Indiana and Virginia lawsuits mirror provisions struck by the Court in Whole Woman's Health.
"Indiana's abortion laws make it harder for everyone to get abortion care in Indiana, but they compound the difficulties faced by low-income people, people of color, and immigrants, making it exponentially harder for them to access abortion care," said Dipti Singh, senior counsel and strategy director at the Lawyering Project, in a statement following the lawsuit. "This lawsuit aims to ensure that abortion access for these communities is a right in reality—not just on paper."
The lawsuit seeks to have each provision blocked and declared unconstitutional. Attorneys for the State of Indiana have not yet responded to the complaint.