Anti-Choice Centers in North Carolina Use Federal Funds to Buy Programs Crafted to 'Share Christ'
These centers, aimed at convincing "abortion-minded" women to continue their pregnancies, purchase videos from the "Earn While You Learn" program with federal funds intended to address maternal health and infant mortality.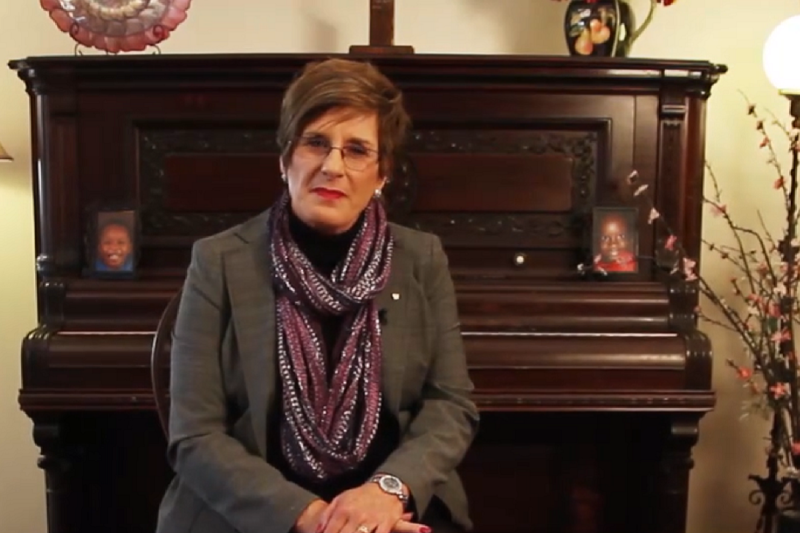 Woven throughout the "Earn While You Learn" content is evidence of another purpose: to push people to carry their pregnancies to term. EWYL
This is not your typical parenting video.
A glowing, pink fetus hurtles through a tunnel of purple and blue dots, as dubstep pulses in the background. White font spells out the title: "Bonding With Your Unborn Baby."
A young woman appears against a backdrop of stars. She offers to take us on a journey, to reveal how "even before birth, we are uniquely connected to our tiny, unborn babies."
"She's not just a mass of tissues growing into what will eventually become a baby, she IS a baby," the narrator says. "And as she's knit so intricately together, so is her personhood."
Then the video's agenda comes into even sharper focus.
"Around 18 weeks, your baby begins producing the same hormones found in adults, including cortisol, which is released when she feels pain or stress," the narrator says.
That's long before a fetus can actually feel pain.
This video is part of a curriculum designed for fake clinics, or crisis pregnancy centers, whose primary purpose is to convince "abortion-minded" clients to carry their pregnancies to term. In North Carolina, a Rewire.News investigation found, these centers purchase videos like it with federal funds intended to address maternal health and infant mortality. In exchange for watching them and completing worksheets, women earn points they can redeem for necessities like diapers and car seats.
The program, called "Earn While You Learn," is used by as many as 2,000 centers nationwide, its founder, Dinah Monahan, told Rewire.News. In an introductory video on the program's website, Monahan says her model is aimed at combating the "entitlement mentality"—while helping anti-choice centers expand their ministry and create openings to "share Christ."
For the past several years, the North Carolina state legislature has directed a portion of its federal Maternal and Child Health block grant to the Carolina Pregnancy Care Fellowship (CPCF), an umbrella group of anti-choice centers; that allotment is $400,000 annually for the current fiscal year and next.
Records show anti-choice centers subcontracted by CPCF have, since at least the 2015 budget year, used a portion of these funds to buy Earn While You Learn (EWYL) materials and incentives for those who complete them, with plans to buy more next year. The documents also reveal that centers, with approval from state regulators, purchased religious materials with federal funds, including DVDs intended to help men "discover authentic manhood as modeled by Jesus Christ."
"These expenses should not have been approved and this spending is not consistent with federal law," the North Carolina Department of Health and Human Services (DHHS) said in a statement, after Rewire.News brought these purchases to the agency's attention. "We are strengthening oversight of this program and exploring repayment options."
CPCF is made up of "faith-based" centers that are expected to abide by "biblical principles," according to its bylaws.
DHHS said it has approved the use of federal funds for the EWYL program's main and Spanish curricula, because the material focuses on prenatal education and the first year of life. Indeed, the main curriculum, with a price tag around $3,000, includes lessons on vaccines, infant hygiene, DIY maternity wear, the impact of pregnancy hormones on emotions, and the dangers of smoking while pregnant. But woven throughout the content is evidence of another purpose: to push people to carry their pregnancies to term. The goal is made plain in the program's Best Practices booklet.
"When counselors are working to convince clients that the baby is alive, the fears of the future also need to be addressed," the booklet reads. "EWYL gives answers to those fears. The 'I can't be a mother' [fear] can be answered with, 'We can help you learn how.'"
In an interview with Rewire.News, Monahan said the curriculum is based on science.
"It's not from a pro-life perspective, other than the fact that we believe that the unborn baby is a human being from conception, and in believing that, we address it as such," Monahan said.
Some of the content, however, appears distorted in service of that belief.
Take the video on "The Emotions of Pregnancy," where the narrator explains that our "pesky fluctuating hormones" may intensify stress about finances, job changes, or relationships. Both this video and "Bonding With Your Unborn Baby" were added to the main curriculum in 2017, according to the EWYL website; the budget records don't make clear if centers purchased these specific titles.
In an online sample of the video, the narrator acknowledges that up to 23 percent of women experience depression during pregnancy. But she glosses over the circumstances that may cause people to consider abortion—as well as the realities of postpartum mood disorders.
"While circumstances may not change, the life developing within you brings hope," she says. "Even though some women face difficult circumstances in unplanned pregnancies, and may feel negative about their pregnancies, it is very rare that these negative feelings continue after the birth of their babies."
"Many of the Women … Are Very Effective at Manipulating" 
The Earn While You Learn program is intended for people who have already chosen to continue their pregnancies, and is meant to avoid a "handout system" for clients, most of whom are low-income, Bobbie Meyer, state director of CPCF, told Rewire.News in an interview.  
"Many of the women have been brought up in a home, in a culture, where you just try and get everything you can and they are very effective at manipulating and being users," Meyer said. "In earning points, she is learning how to work for things, and they feel good because they're the ones that are doing something to get things for their baby."
The information can "replace unhealthy generational family patterns" on topics like healthy eating and the importance of prenatal care, CPCF says in reports to the state.
Reproductive justice advocates say this language is rooted in stereotypes about poor parenting.
"That all comes out of racist and racially biased theories around poverty," Laurie Bertram Roberts, co-founder and executive director of the Mississippi Reproductive Freedom Fund, told Rewire.News.
Meyer rebuffed these claims about the language.
"'Generational family patterns' exist in many demographics," she wrote to Rewire.News.
Bertram Roberts says her group gives out diapers, but does not make people sit through videos first.
"I'm not going to withhold things you need until you meet some arbitrary goal because I don't feel like you're a worthy poor person until you do," Bertram Roberts said. "I mean, the whole concept of Earn While You Learn is offensive to me."
North Carolina experts say the model may also be ineffective—as efforts to place conditions on welfare show.
"There just isn't a lot of data to show that [adding requirements] helps people in the long term," Whitney Tucker, research director of NC Child, told Rewire.News. "The more we try to put these strings on people's basic needs, the more we're just creating additional toxic stress in the lives of families that are already struggling to make ends meet in the state."
North Carolina is ranked 39th in the nation in infant mortality. Black infants in the state are nearly three times more likely than white infants to die before their first birthday. Reproductive health advocates say every dollar of federal funds to address this crisis should go to evidence-based programs, not those with an anti-choice agenda.
"This is a diversion of funds for programs that we don't know are actually providing any kind of benefit," Tara Romano, executive director of NARAL Pro-Choice North Carolina, told Rewire.News.
North Carolina Democratic state Rep. Deb Butler echoed these concerns.
"It is unconscionable to try and manipulate someone in their most vulnerable moment and to give them information that is so biased and clearly one-sided and in many cases probably wholly inaccurate," said Butler, who, last year, unsuccessfully tried to redirect North Carolina's funding of crisis pregnancy centers to addiction treatment. Instead, the Republican-dominated legislature gave CPCF $2.6 million in state funds over a two-year period, much of it for ultrasound equipment.
When Rewire.News outlined our findings about Earn While You Learn, Butler was outraged.
"It's also unkind," Butler continued, "in the sense that a person comes to an organization looking for help, and in order to get the help they have to jump through hoops … [that] may violate their own religious beliefs."
"Mommy Money" and "Daddy Dollars"
Dinah Monahan cites the "ingratitude" of women as a catalyst for Earn While You Learn. When she launched the program about two decades ago at a crisis pregnancy center in Arizona, the "girls" would complain they didn't like or need the things the counselors gave them for free, she says, in the introductory video.
"The girls were doing exactly what they knew how to do in this entitlement society that we have," Monahan continues. "Earn While You Learn was designed from the beginning to shift the paradigm for a generation that has grown up on handouts."
And it has shifted the paradigm, Monahan told Rewire.News.
"You almost don't find centers who give away stuff [for free] anymore," Monahan said. "It's rare."
Most centers don't use public money for the programs, either—at least according to Monahan.
"There's an old saying, 'with shekels come shackles,'" she told Rewire.News. "Most centers use the private sector, churches … businessmen, corporations, lots of charitable giving to fund this program, and of course businessmen love it, because of the earning aspect of it."
In the video, Monahan recounts how she started writing lessons and sitting down with women one-on-one. The women earned pink "Mommy Money." When men unexpectedly showed up, they got blue "Daddy Dollars" (the program's website suggests keeping a closet for dads stashed with tools and sporting goods).
Earn While You Learn is distributed by the anti-choice business Heritage House '76, founded by Monahan's parents and now run by her son, Brandon. While sections of the curriculum have been upgraded, some still appear to be based on Monahan's personal opinions.
"What young women want from a guy is not sex," she writes, in a lesson intended to teach teenagers about the "emotional damage" of sexual activity. "Consistently, when I asked girls what they wanted in a relationship with a guy, it was someone to talk to, someone whom they could be honest with, someone who would value their ideas, someone who would accept them just the way they were. Never, not one time in 20 years, has a girl answered that she wanted sex."
"I didn't know they still used that," Monahan said, when Rewire.News asked her about that lesson, which is highlighted on the EWYL website as a sample from the Life Skills supplement. "It's still true," she added.
DHHS confirmed the Life Skills supplement has been approved for purchase with federal funds.
A Violation of Federal Law 
Monahan's vision for the program is to help centers forge bonds with "abortion-minded" clients, who then act as "missionaries" by bringing in other members of the "abortion-vulnerable population."
It is also meant to create openings to "share Christ."
This was the case for Jasmine Edwards, a client of the Pregnancy Resource Center of Statesville, which receives federal funds. Edwards said her counselor there helped bring her back into contact with religion, encouraging her to pray about her challenges with food insecurity.
"She prayed with me every single day," Edwards told Rewire.News. "And I prayed about it, and I'm telling you, it was beautiful."
Edwards and another Statesville client, Danielle Redfield, said they could earn points not just for parenting lessons, but for going to doctor's visits, writing Facebook reviews for the center, or attending Bible study or church.
Bobbie Meyer said counselors ask for permission before praying with clients.
"We are Christian organizations," Meyer said. "For us, that is an important piece of who we are, as individuals … but we're not into forcing anybody else in that direction. We might encourage, but not force."
There's no question that crisis pregnancy centers in North Carolina fulfill a need for some clients.
When Redfield's food stamps were cut off and her fiancé lost his job, she called her counselor.
"She'd let us come up there and get whatever we needed," she said. "They're very nice about [it], even if you don't have extra points to get the stuff."
Recent budget records show the centers have planned to spend tens of thousands of dollars in federal funds annually on incentives, including diapers, car seats, formula, cribs, baby bouncers, and $5 Walmart gift cards.
But the fact that clients could earn these materials by attending church appears to violate the constitutional separation of church and state, because the government is effectively rewarding people for worship, Robert Tuttle, a professor of law and religion at George Washington University, told Rewire.News.
Meyer called such objections "stretching the separation of church and state to an extreme."
The current contract between the Carolina Pregnancy Care Fellowship and DHHS includes language noting that faith-based organizations cannot use "direct Federal financial assistance" to support "explicitly religious activities," including religious instruction and proselytizing. Meyer said religious materials were not purchased this year.
A document from last year's contract period shows CPCF reallocated $900 of federal funding to purchase three copies of "The Quest for Authentic Manhood," a program intended to help men "discover authentic manhood as modeled by Jesus Christ and as directed by the Word of God."
It's part of a series called Men's Fraternity, created in a church.
Meyer initially told Rewire.News the fellowship did not buy those DVDs, but after we sent her the document, she confirmed the materials were purchased. She said the decision to buy them had been based on a promotional blurb from Heritage House '76 about how the program helps men "embrace authentic manhood on a journey to become who God intends them to be."
"Yes, the word God appears at the very end," Meyer wrote in an email to Rewire.News. "I did not notice it at the time."
Meyer also said that in the same budget year, the Tri-County Pregnancy Center in Burnsville had purchased materials from another Men's Fraternity program called "33 the Series." DHHS confirmed these materials were approved and should not have been.
In a trailer for the series, described as "a journey to authentic manhood as modeled by Jesus in his 33 years on earth," the words "Authentic Manhood" flash against a background of exposed brick. An apocalyptic score races to a pulse-pounding crescendo. Sparks fly. Surrounded by stacks of logs, pastors in button-up shirts deliver rapid-fire wisdom about fatherhood and Jesus.
This was paid for with federal funds intended for maternal health.
Teddy Wilson contributed reporting to this article.