So You're Dating a Sex Worker? Here's What Not to Do
When it comes to changing our culture around this issue, it's up to all of us to address our own biases, which can have harmful consequences if left unchecked.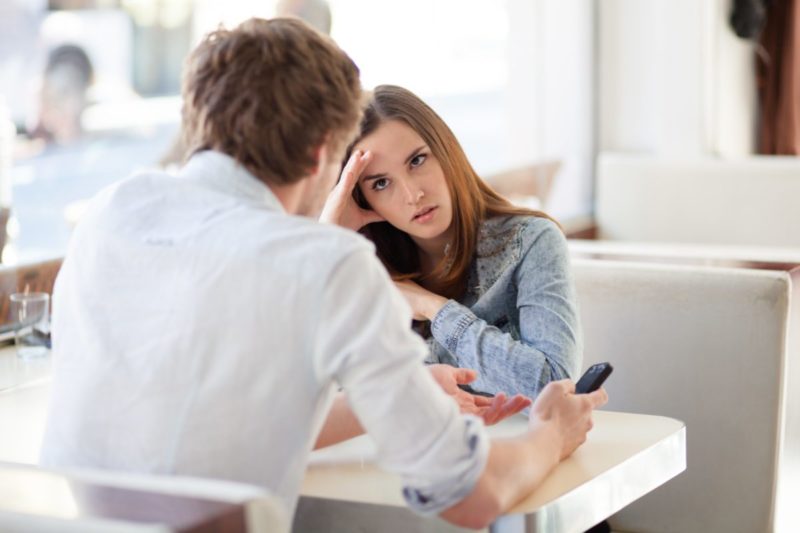 One recommendation to those who are romantically interested in someone working in the sex industry, or in the process of leaving it: Do not pressure them to quit. For starters, not everybody wants to. Shutterstock
For a current or former sex worker to fall in love is a dangerous, potentially radical act. I say this because, too often—in a world that hates sex workers—we are simply not treated as people worth loving back. Case in point: In July, a coolly composed Blac Chyna recounted her experience on Good Morning America shortly before being granted a temporary restraining order barring her ex-fiancée Rob Kardashian from coming near her or posting about her online. "This is a person I trusted," the model and entrepreneur, who once worked as a stripper, said. "I just felt … betrayed." 
A week earlier, Kardashian had posted personal information about his relationship with Chyna on his Instagram account, including sexually explicit images, and accused Chyna of cheating on him and using him for his fortune. Legal experts, including Chyna's now-lawyer Lisa Bloom, argued that Kardashian's actions constituted "revenge porn," which is a form of intimate partner abuse and a crime in California and 37 other states.
It's one of the latest—although by no means the first—celebrity reminders of how the stigma against current, former, and transitioning sex workers can affect our romantic relationships. Not all sex workers are women, but the sex industry is disproportionately made up of women, and the stigma against sex workers is part of misogyny-at-large. The normalization of sex worker abuse contributes to the abuse of all women. When it comes to changing our culture around this issue, it's up to all of us to address our own biases, which can have harmful consequences if left unchecked. Our allies—feminists, in particular—have a role to play in shifting this whorephobic culture, first by acknowledging our experiences and then by doing better by us.
I've written elsewhere how—for me—one of the toughest parts of being someone with experiences in the sex trades was dating. I believe the answer is obvious, but "Do prostitutes date and marry?" is an actual question that men ask. And some men think the answer ought to be no. Sex workers are often thought of as either morally corrupt, or else so dirtied or physically and emotionally damaged by our experience that our current or former occupations have rendered us undateable. This despite the fact that our experiences in the industry range and may be positive, negative, or (very frequently) neutral.
Beyond having to put up with tedious misconceptions, research shows that the criminalized and stigmatized nature of the industry makes sex workers vulnerable to particular forms of intimate partner violence. According to a report by the World Health Organization on addressing violence against sex workers, the stigmatization of sex work may lead partners or family members to think it acceptable to use violence to "punish" a woman who has sex with other men. What's worse, in focus groups and individual interviews with sex workers, a second report by the Sex Workers Education and Advocacy Taskforce found some women internalized the stigma and viewed themselves as deserving of punishment and abuse.
Holly, 28, a full-service sex worker (a person who has sex with their clients) in Texas told me the worst misconceptions she's had to deal with when dating: "that I am riddled with diseases, that I have so many mental issues I shouldn't be dating anyone, or that I am looking for someone rich to 'save me.'"
"I think many people have a misconception that girls choose dancing because they're desperate," said Giselle, 43, a former dancer from Los Angeles. "That's not always the case. Every girl has her own reasons."
Lily, 28, a full-service dominatrix in Chicago, tells me that when she first entered the industry seven years ago, she kept her job to herself. "I still dated," she said, "but because I wasn't honest it never went farther than casual dating."
Since coming out five years ago, Lily said that she's dealt with partners becoming jealous and insecure. One partner, she said, "was nice enough when we were together, but I always knew he hated my job." When they broke up, Lily said that he accused her of cheating on him and sent her screenshots of her work Twitter account along with degrading comments.
Nearly ten years ago, when I was just getting out of sex work, my boyfriend used my status as a transitioning sex worker against me. We danced around the subject of my sexual history, just as we avoided most honest discussions. And yet, when we argued, he insinuated no one else would want to date me due to my having sold sex. He and other men took advantage of me financially, another form of relationship violence.
One recommendation to those who are romantically interested in someone working in the sex industry, or in the process of leaving it: Do not pressure them to quit. For starters, not everybody wants to. Even when we do, transitioning out of the industry can be difficult. Four years after I transitioned out of the sex industry and became a public school teacher, I lost my career after the New York Post outed me for writing and sharing stories about my provocative past. For me to have returned to sex work would have been a mistake—and yet, broke and demoralized, I considered it, but kept it to myself. My partner's controlling and possessive nature further complicated an already complicated ordeal.
After he and I broke up, I knew that a "don't ask, don't tell" rule wouldn't do in future relationships. To find a true partnership, I decided, I'd have to be entirely transparent and find a partner who was comfortable with my past. A lot of the men I met with the hopes of dating seemed to conflate sex work and sex trafficking, and assumed all sex work to be tantamount to abuse. Others, when they learned of my past, were obviously titillated. It had taken years of therapy and other forms of self-help to develop a more right-sized view of myself and my experience. Even so, in certain situations, it was sometimes challenging to not over-rely on my sexuality as a source of power and esteem. Allowing myself to trust and be vulnerable was difficult, even after I met the right guy.
Missy, a 37-year-old former stripper from New Orleans, had been out of sex work for about a year when she and her current partner met on OkCupid. When Missy told him about her past, she recalled to me that he was unfazed. Even so, Missy said, "for a long time, I felt like I was doing a show when we had sex, like I was expected to perform."
A former masseuse and full-service sex worker from Cleveland, Violet, 37, said the reactions she got coming out to potential romantic partners was a "mixed bag."
They're either "disgust[ed], and never wanting to see me again," Violet said, or they would express "fascination." Some revealed "a weird desire to become a pimp. Either way, their perception of me changed irreversibly."
One relationship, Violet said, was physically and mentally abusive. Her partner, she said, gave her "a number of black eyes." Her partner, Violet said, was "very controlling" and acted like "the pimptress—actually scheduling appointments, and charging fees."
When they fought, she would kick Violet out of the apartment they shared or threaten to call the cops and tell them about her status as a sex worker. "She was so exacting in her manipulation," Violet said.
"For a while," she went on, "I kind of fell into believing the nonsense she was spouting at me. It was doubly strange, because I really didn't think of myself as less, or subhuman—not to anyone else anyway. But with her, I let it hurt me and altered my behavior accordingly to appease her. She wanted to bully me, and I had to let her."
Her current relationship, Violet said, is much different. She and her current partner have been dating for four years. "We have a son, a life, a dog, the whole thing."
"It's good," Violet said, "because [from the beginning] he didn't see me as something to discard or use." She added, there's "no shame or embarrassment or expectation other than the expectation that we will be loved. It's really liberating."
Andre Shakti, a 28-year-old professional dominatrix and porn performer from Oakland, runs workshops on how to be a better partner and ally to sex workers. Being a supportive partner, Shakti said to me, starts with challenging one's own perhaps hidden biases, such as viewing sex work as easy or dirty money, or assuming a sex worker is always in the mood for sex. It means not outing your partner without his or her consent, and speaking up when sex workers are being put down. Above all, an ideal partner—according to Shakti—is someone who's "willing to engage in complex and shifting conversations" related to their partner's current or former occupation.
A supportive partner, Violet said, will "encourage you to be honest with yourself. Once you've identified something that needs action, they encourage you to take an appropriate action. It's really fucking easy. They love you. They love that you love you, and they want you to love yourself more than them."