'Some Women Almost Die on the Table': An Inside Look at Anti-Choice Nursing Education
Recordings of California nursing courses reveal the extent to which students were taught about dubious anti-choice myths pushed by organizations opposed to abortion rights.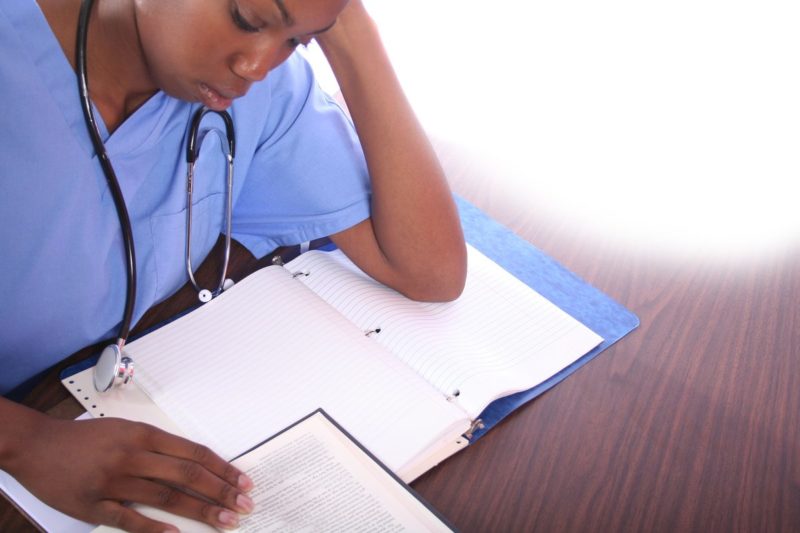 Heartbeat International in 2012 won the approval of the California Board of Registered Nursing, the state's chief nursing oversight body, to teach continuing education courses. Shutterstock
Nurses and other attendees had just settled in for the lecture, "The Latest Research on PTSD and Abortion," when the instructor raised the specter of death.
"There are some women who almost die on the table," Dr. Martha Shuping, a licensed psychiatrist from North Carolina, told the class. "I know one woman whose daughter did die on the table."
Shuping taught the course this April at the annual conference of Heartbeat International, a multi-million-dollar anti-choice organization based in Columbus, Ohio. Heartbeat International is known for its worldwide network of 2,200 anti-abortion crisis pregnancy centers, or fake clinics. Less well known is the organization's role as a nursing educator.
"How many of you are here for nursing [continuing education units]?" said Shuping, asking for a show of hands in the room at a Chicago-area Hyatt Regency hotel. "Okay, quite a few."
Heartbeat International in 2012 won the approval of the California Board of Registered Nursing, the state's chief nursing oversight body, to teach continuing education (CE) courses. Because other states accept CE units from California-approved providers, Heartbeat International can educate nurses from around the country.
Shuping read a passage in which a woman described her distress after her abortion procedure: "I started having nightmares in which I saw myself in a baby parts cemetery and holding a dead baby in my arms and crying for the ones I lost.'"
'I Want to Be With My Babies'
California nurses must take 30 hours of CE courses every two years to maintain licensure; nearly 3,000 California-approved CE providers offer this training. Heartbeat International markets its CE-provider status at conferences and online.
Rewire purchased an audio recording of Shuping's course via the Heartbeat International conference website.
In it, Shuping introduced herself as a medical doctor, adding, "I've been helping people recover from abortions since 1985." Shuping, who is known for making unsubstantiated claims about abortion's links to mental illness, co-authored a flawed study suggesting abortion caused anxiety, mood, and substance-abuse disorders.
While Shuping spent much of the 70-minute lecture describing research on trauma related to pregnancy loss and abortion, she devoted about 20 percent of the time to anti-abortion anecdotes:
Here's British artist Emma Beck, [she] committed suicide after an abortion in 2007. And she wrote, "I told everyone I didn't want to do it. Even at the hospital. Now it is too late. I want to be with my babies." So that was in a newspaper article. Again, sometimes people would like to say it's not the abortion. It's something else. And it's not always something else. It might be the abortion, and there it is.
Shuping told attendees how Sheila Harper, founder of the abortion recovery ministry Save One, weighed whether to end her life after an abortion.
She went home from work early one day for the purpose of killing herself because of distress related to abortion. She got out her roommate's gun. She was sitting with a gun in her hand kind of thinking how she was going to do this and kind of get psyched to pull the trigger. And the roommate came home early, providentially, and so she decided not to kill herself because that would be a mess for the roommate to find, and it kind of just made her stop. So again going back, that's self-destructiveness, obviously.
Shuping then read excerpts from the book Forbidden Grief, written by Theresa Burke, who co-runs the "post abortion healing" ministry known as Rachel's Vineyard.
That Shuping's class didn't hew to science is no surprise.
In January 2016, Rewire reported that Heartbeat International taught the course "Abortion Pill Reversal and Your Clinic" to nurses for CE credit. So-called abortion pill reversal is an experimental treatment advanced by the the anti-choice movement without rigorous peer-reviewed research to back it up. The American Congress of Obstetricians and Gynecologists in 2015 condemned abortion pill "reversal," saying it is "not supported by the body of scientific evidence." A month after Rewire's reporting on the abortion "reversal" class, state Sen. Jerry Hill (D-San Mateo) introduced legislation to require CE courses to be based on science and the nursing board to routinely audit CE providers—something it said it hadn't done due to a shortage of resources and staff. Gov. Jerry Brown (D) signed the bill last fall.
The nursing board began an audit of Heartbeat International on January 29, 2016.
The board seemed galvanized to crack down on Heartbeat International's unscientific curriculum. But what emerged over more than 18 months was akin to regulatory Whack-A-Mole.
'Insufficient Scientific Evidence'
Rewire obtained a copy of the audit last month through a public records request. The trove of documents revealed Heartbeat International offered not one course—as previously reported—but three courses related to abortion pill "reversal."
Included in the documents were descriptions of courses titled "Women's Mental Health and Abortion" and "Breast Cancer Risks of Induced Abortion and Hormonal Contraception." When Rewire showed the curriculum for the two courses, which included research citations, to Dr. Daniel Grossman, a leading reproductive health researcher and director of the University of California, San Francisco, research group Advancing New Standards in Reproductive Health, he said Heartbeat International "cherry-picked the references and ignored the most recent and rigorous data on these topics." 
The weight of evidence has long disputed a link between abortion care and breast cancer or mental illness. In 2003, more than 100 experts convened by the National Cancer Institute rejected claims that abortion causes breast cancer, while an extensive review in 2008 of the "best scientific evidence" by the Task Force on Mental Health and Abortion of the American Psychological Association found abortion was not a threat to women's mental health.
For much of 2016, Susan Engle, a registered nurse and auditor, probed the extent to which Heartbeat International's courses were based on science, according to documents reviewed by Rewire.
In a letter dated October 11, 2016, Engle asked Susan Dammann, a registered nurse with Heartbeat International, to provide scientific evidence to back up its courses. Two months later, on December 27, Engle again wrote to Dammann, ordering Heartbeat International to suspend the three "abortion reversal" courses for "insufficient scientific evidence."
Then, on January 17, 2017, Engle cracked down on the abortion pill "reversal" courses, writing:
…content related to medications used to reverse abortion, including but not limited to, Update on Abortion Reversal Abortion, Abortion Reversal and Your Clinic, and Reversing RU-486 does not meet the scientific knowledge required for the practice of nursing in accordance with CCR section 1456.
Engle warned Dammann not to offer the courses as a California-approved provider.
But three months later, at its April conference, Heartbeat International unveiled a slightly different course: "What Can Go Wrong with RU-486." RU-486, or mifepristone, is one of the two drugs used in medication abortion, a regimen that abortion rights foes believe is reversible with a dosages of the hormone progesterone.
Had Heartbeat International tweaked the name to comply with Engle's demand? The organization did not respond to a question about the course, but Heartbeat International's president, Jor-El Godsey, offered a blanket statement in support of so-called abortion pill reversal:
As Yale School of Medicine's Dr. Harvey Kliman 

told the New York Times this summer

, the Abortion Pill Reversal is a proven medical intervention that, "makes perfect sense" and "is actually totally feasible." Not only so, but Dr. Kliman—a pro-choice researcher and physician—said in the same interview that he would prescribe the Abortion Pill Reversal treatment to his own daughters.
Abortion Pill Reversal is the application of a safe, FDA-approved medical treatment that doctors and nurses have used for over 50 years in order to maintain safe pregnancies up until childbirth. No woman should be forced to complete an abortion she doesn't want. It is the very essence of nursing and medical care to give a woman all the information she needs to make the healthiest choice for everyone involved in an unexpected pregnancy.
What Can Go Wrong with RU-486
Rewire purchased a recording of "What Can Go Wrong with RU-486." Like the course on abortion and PTSD, the RU-486 course was taught by Shuping. An attendee can be heard asking Shuping about abortion pill "reversal."
"Ok, ok, here's a question about the reversal," Shuping responded. "And the thing I have to say is that it's not actually an accepted procedure."
When Rewire asked Engle, the nursing auditor, a series of questions though an agency spokesperson, including whether she was aware of the course on PTSD and abortion and "What Can Go Wrong with RU-486," Engle said she was not. She declined to speculate about whether the courses meet state regulations. The audit, Engle noted, covered the time period up to December 31, 2015—meaning recent courses, including those offered in April, were left out of the audit.
This summer, the nursing board flip-flopped on whether Heartbeat International can teach abortion pill "reversal." In late July, the board initially said abortion pill "reversal" met scientific standards for nursing education. Less than two months later, the chief of the nursing board, Dr. Joseph Morris, sent Dammann a cease-and-desist letter to force Heartbeat International to stop abortion "reversal" instruction.
Heartbeat International is appealing the decision. Godsey, the organization's president, in an op-ed last month in Newsweek called the decision a "naked political assault."
Asked what it would take to revoke Heartbeat International's status as a nursing educator, Engle cited state regulations. Among the reasons a provider can be removed: a felony conviction or material misrepresentation of fact. 
Shuping told the class a story of a woman in England who wanted to reverse her medication abortion. "For instance I know a woman who was in England who had an RU-486 abortion and when she got partway through—she had taken her first tablet—but then she didn't want to finish it up and take her additional medicine. And she really wanted her child and she was told, 'No, no, you must continue.'"
A few minutes later, Shuping handed the class over to Heartbeat International's Dammann, who told the nurses about abortion pill "reversal."