In Charlotte, Clinic Protesters Bring Diverse Tactical Playbook
It's more high-tech than holding signs and yelling. Opponents disrupt phone service, install wi-fi networks designed to confuse patients, and offer ultrasounds in RVs outside at least one clinic.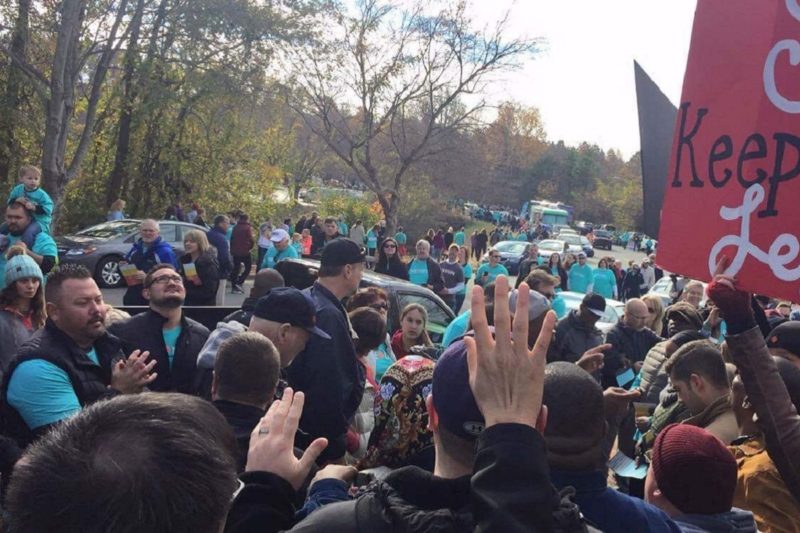 Throngs of anti-abortion protesters crowd the street in front of A Preferred Women's Health clinic in Charlotte, North Carolina. The clinic, one of two abortion providers in the city, is regularly swamped by opponents who try to divert patients. Pro Choice Charlotte
Charlotte, North Carolina's largest city, is at the center of a vicious battle between reproductive rights advocates and incredibly organized anti-abortion groups that launch regular massive clinic protests.
Such protests are far from new. Common tactics include standing outside (and often yelling at) clinics to threatening and sometimes attacking abortion providers.
But protesters at Charlotte's clinics have begun adopting unorthodox tactics that includes the use of deafeningly loud sound and manipulation of online resources and search engine results.
Calla Hales, the administrator and co-owner of A Preferred Women's Health Center (APWHC), which is the epicenter of the city's current anti-abortion protest crisis, estimates that clinic staff began seeing an increase in protesters and a diversity of tactics in June 2016; that surge reflects 2016 National Abortion Federation statistics that reported more than 61,000 instances of picketing nationwide, the highest tally since the group began tracking anti-abortion violence and disruptions in 1977. Since last summer, the clinic has been a target for the ire of hundreds and at times thousands of protesters who block not only patients' access, but also the neighboring health-care facilities in the business park where the clinic is located.
"There's always been a protester presence here since this clinic opened in 2000, but it's never been this hostile," Hales said. "They're in the street, they're stopping cars, they're saying hostile and inappropriate things on the loudspeakers." It's not clear why clinic protests ramped up, but the virulently anti-abortion group Operation Save America, which recently staged massive protests at Kentucky's sole remaining abortion clinic, is headquartered in the Charlotte suburb of Concord. As a "descendant" of the radical anti-choice group Operation Rescue, the group has a decades-long history of anti-abortion mobilization, particularly blocking clinics.
The car-stopping and road-blocking constitutes a major facet of the issues at A Preferred Women's Health Center, but it's not the only one.
The protesters bring with them large RVs advertising ultrasounds (which are required for abortions in North Carolina, but are done within the clinic prior to the procedure) and noise amplifiers like that allow them to preach to clinic staff, patients, and clinic escorts and defenders.
What's more, Hales says that officers with the Charlotte-Mecklenburg Police Department have been slow to respond to protester noise that exceeds acceptable levels stipulated by local ordinances. In the past year, she and her staff filed for thousands of sound permits to block protesters from utilizing speakers that would blare their anti-abortion messages. But the clinic has only been granted permits on less than ten occasions; clinic protesters received them the overwhelming majority of the time. The Charlotte-Mecklenburg Police Department could not be reached for comment about its handling of noise complaints. But the city recently changed the application process for sound permits, which could make the outcome more equitable.
Beyond concerns related to sound and the police, there are also issues with a wi-fi node for an open network named "Abortion Info." Hales believes that one of the large RVs often parked outside the clinic is the home to the network.
Patients seeking internet access inside the clinic will often click the unsecured network, thinking it belongs to the clinic (which doesn't have an open network due to security concerns). They are instead greeted by a log-in page whose design and logo resembles those of APWHC. To access the internet, people must watch a series of anti-abortion propaganda videos, and some who have logged onto the network reported to clinic staff that they later received calls, emails, and social media messages from people asking them if they need "guidance for abortion care."
The cybersecurity concerns don't end there. In March, the clinic's network firewalls fell to "delay-of-service" attacks, where communications are slowed, often by flooding a system with thousands of false requests. These attacks increasingly target health-care facilities.
The delay-of-service attacks crashed APWHC's phone and internet service and cost thousands of dollars in repairs. In an interview with the Charlotte Observer, the leader of Cities4Life, one of the main groups targeting the clinic, said that his group had nothing to do with the attacks and insinuated that Hales and clinic staff may have faked the attack for publicity. Since the March hack, Hales reported ten unsuccessful hacking attempts detected by their updated firewall.
Unfortunately, APWHC is not the only Charlotte abortion clinic that has fallen victim to cyberattacks from unidentified sources. According to clinic manager and counselor Sarah Shanks of Family Reproductive Health (FRH), someone not affiliated with the clinic changed its Google business page earlier this year. The attacker changed the listing's phone number to the clinic's fax number and changed the login information, so for nearly three weeks, the clinic says it could not reach or be reached by patients calling its regular phone number.
"It was devastating to just hear the fax number ring all day, knowing it was maybe our patients or other people trying to reach us," FRH's Shanks said in the hallway of the quiet clinic.
Like APWHC, FRH also experiences some sound-related disruptions. There are fewer protesters at FRH due to location; APWHC is in a high-traffic, accessible business park, and FRH is tucked away in a more industrial neighborhood behind a large wooden fence and a barbed-wire one around the staff parking lot. That solid 6-foot-tall fence, however, doesn't stop protesters from standing over it with an even taller ladder and a loudspeaker.
Beyond the physical presence and noise the protesters bring, there are also other, more sinister concerns at play. In an incident last fall, an anti-abortion protester made sure APWHC clinic escorts saw he carried a holstered gun though he did not pull it out; North Carolina allows licensed people to carry concealed weapons, but not the brandishing of those weapons. He fled from clinic security when confronted, only to circle the block slowly in his vehicle and park across the street. When the clinic called the police, Hales said a police officer dropped by but did not stop to speak with the man still parked across the street. Nothing more came of the altercation. Though the clinic called 911, Hales said there was no official report filed because no officers came to speak following the incident.
At both clinics, the anti-abortion protester presence has forced clinic staff and volunteers to the defensive—a move they say isn't always conducive to caring for their patients. At APWHC, it forces them to do more work to counter their opponents' moves, and sometimes that means resorting to more old-fashioned tactics.
Volunteer Diana Travis' work with clinic defense includes building baffles around anti-abortion protesters' sound amplifiers and constructing a 100-foot privacy wall out of black tarp and reinforced PVC pipes every Saturday. She expressed optimism that with sustained pressure from advocates, they can effectively counter protesters.
"I am hopeful things will change, but it's going to be a long haul and will need constant monitoring," Travis said.