Pennsylvania Lawmakers Square Off Over Abortion Law, New Bill
Anti-choice legislators in Pennsylvania recently pulled out all the stops when debating a bill that would be one of the nation's harshest abortion laws if passed. But in the wake of a recent Supreme Court ruling, other state lawmakers are trying to stop that bill and change existing policy.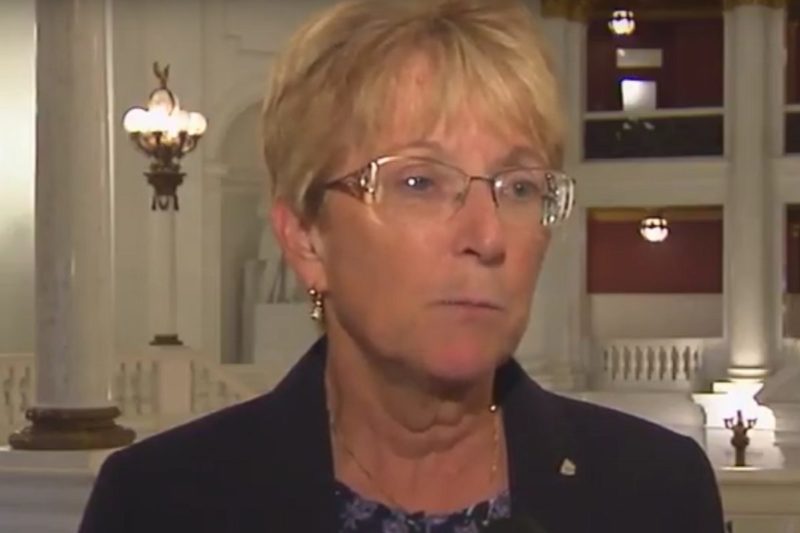 Sponsored by state Rep. Kathy Rapp, Pennsylvania HB 1948 would ban abortion at 20 weeks and also prohibit a medical procedure used for miscarriage management and abortions before 20 weeks. If the bill clears the senate, Gov. Tom Wolf has promised a veto. RepKathyRapp / YouTube
With the new U.S. Supreme Court abortion ruling, some Pennsylvania lawmakers want to roll back provisions similar to those struck down in Texas—and to head off any new restrictions in a bill debated on the house floor in late June.
Several legislators have called for repeal of Act 122, which was enacted in 2012 and mandates that Pennsylvania abortion clinics meet the standards of ambulatory surgical centers.
The U.S. Supreme Court struck down Texas' ambulatory surgical center provision in the 5-3 Whole Woman's Health v. Hellerstedt decision. Justice Stephen Breyer concluded in the opinion that the provision represented a "substantial obstacle in the path of women seeking a previability abortion" and was unconstitutional.
Soon after the decision, Sen. Daylin Leach (D-Montgomery/Delaware), a member of the bipartisan Women's Health Caucus of the Pennsylvania legislature, wrote a memo recommending repeal of Act 122. And at a June 30 press conference organized by the caucus, Rep. Steven Santarsiero (D-Bucks) introduced legislation to do just that. He weighed in on another bill, HB 1948, discussed in the house on June 21.
During that debate, "[anti-choice lawmakers] were exposed, they were unmasked," Rep. Santarsiero said. "They stood one person after another after another in support of [HB 1948], and they came right out and said this is all about the anti-choice movement. They were exposed. They tried 20 years ago to claim it was not about that, but they're not making any pretense at this point."
Like Act 122, HB 1948 is an urgent matter. Anti-choice lawmaker Rep. Kathy Rapp (R-Warren) introduced the latter legislation in April, which would be one of the most severe laws in the country if enacted. HB 1948 would ban abortion beginning at 20 weeks. It also includes a "method ban" provision, which would criminalize dilation and evacuation (D and E), often used after miscarriages and for abortions earlier than 20 weeks.
Currently, HB 1948 is still on the schedule of the Pennsylvania Senate Judiciary committee. Though the senate may reconvene this summer, it's unclear when or whether HB 1948 will move forward.
But advocates must not lose sight of this bill. 
A 'Dangerous Precedent'
HB 1948 inserts the legislature into the doctor-patient relationship, forcing medical professionals, ordinary Pennsylvanians, and even some legislators out of the process. In April, lawmakers twice rejected requests for input on HB 1948 from both medical professionals and the public. When Rep. Dan Frankel (D-Allegheny) spoke out against the bill, his microphone was reportedly cut off.
Struggling to be heard, doctors and relevant medical associations sent open letters and wrote op-eds against the bill. "We are highly concerned that the bill sets a dangerous precedent by legislating specific treatment protocols," wrote Scott E. Shapiro, president of the Pennsylvania Medical Society, in an April letter sent to legislators.
They are right to be concerned. Around the country, lawmakers with no medical training frequently propose method bans to criminalize the safest, medically proven procedures. They then threaten to imprison doctors if they provide less-than-optimal care for their patients. This kind of legislative coercion brings to mind Donald Trump's March statement that women who seek abortion should suffer "some form of punishment" for having an abortion.
Punishment, indeed. Under HB 1948, the punishment can go one of two ways: Either women receive less-than-optimal care, or doctors must be incarcerated. While considering the potential fiscal impact of HB 1948, lawmakers discussed how much it would cost to imprison doctors: $35,000 a year, the annual expense to care for an inmate in Pennsylvania.
My colleagues here at the Women's Law Project, who co-authored a brief cited by Justice Ruth Bader Ginsburg in her Whole Woman's Health v. Hellerstedt concurrence, have sent an open letter to senate leadership asking them to remove HB 1948 from further consideration.
The letter said:
If enacted, HB 1948 would inflict even greater harm on the health of Pennsylvania women than House Bill 2 would have inflicted on Texas women. Relevant medical experts such as the Pennsylvania section of the American Congress of Obstetricians and Gynecologists (ACOG) and the Pennsylvania Medical Society strongly oppose this bill.

Under well-established constitutional standards, HB 1948 is quite clearly unconstitutional.
The Strange Debate About HB 1948
For a while, HB 1948 seemed to have stalled—like much business in the legislature. It took more than 270 days to finalize the 2015 budget—an impasse that forced dozens of nonprofit organizations serving rape survivors, domestic violence victims, hungry children, and the elderly to lay off workers and turn away clients.
But in April, Pennsylvania lawmakers whisked HB 1948 to the floor within 24 hours. Then, on June 21, the bill suddenly sailed through the appropriations committee and was rushed to the house floor for third consideration.
HB 1948 passed the house after the kind of bizarre, cringe-worthy debate that makes "Pennsylvania House of Representatives" feel like an insult to the good people of the state. Surely, Pennsylvanians can represent themselves better than elected officials who want to punish abortion providers, liken abortions to leeches, ignore science, and compare abortion regulations to laws restricting pigeon shooting. Surely, they can do better than the legislators who hosted the June 21 farce of a debate about a bill designed to force women to carry unviable pregnancies to term.
At that debate, primary sponsor Rep. Rapp stood for questions about HB 1948. But when Rep. Leanne Krueger-Braneky (D-Delaware County) began the debate by asking Rapp about what doctors, if any, were consulted during the drafting of the bill, Speaker of the House Mike Turzai (R-Allegheny) halted proceedings to consider if such a question is permissible. Also a co-sponsor of the bill, he concluded it was not, offering the explanation that legislators can inquire about the content of the bill, but not its source or development.
Rapp eventually stated she had many meetings while drafting the bill, but refused to answer with whom. She invoked "legislator's privilege" and insisted the meetings were "private." Legislator's privilege is an esoteric provision in the state constitution intended to protect the process from undue influence of lobbyists, not shield lobbyists from public inquiry.
The bill's language—referring to D and E by the nonmedical term "dismemberment abortion"—echoes legislation promoted by the National Right to Life Committee (NRLC). The NRLC has also drafted boilerplate 20-week bans, along with Americans United for Life, an anti-choice organization and a leading architect of the incremental strategy for building barriers to access safe and legal reproductive health care.
Next, Rep. Madeleine Dean (D-Montgomery) asked Rapp if similar bills have been deemed unconstitutional in other states.
Indeed, they have. According to Elizabeth Nash, senior state issues advocate at the Guttmacher Institute, similar D and E bans have been blocked in Oklahoma and Kansas, and 20-week bans have been struck down in Arizona and Idaho. HB 1948 is one of the first pieces of legislation to combine both provisions into one bill; at the Women's Law Project, we call it a "double abortion ban."
But no one in the chambers would know that these anti-abortion restrictions have been obstructed because, once again, Speaker Turzai halted the proceedings over these questions. This time, he stopped the debate citing the house rule that lawmakers cannot ask a question if they already know, or the speaker suspects they know, the answer.
In any case, so it went. Pro-choice lawmakers of the Women's Health Caucus of the Pennsylvania Legislature spoke out against the bill, reading letters from physicians and sharing tragic stories of family members who died after being denied abortion care during severe pregnancy complications.
When Rep. Rapp was asked if she knew that many severe fetal abnormalities were not diagnosed until or after the 20th week of pregnancy, she responded that many were not diagnosed until birth, which misses the point: HB 1948 is designed to deprive women who receive a diagnosis of a severe fetal anomaly, even unviable pregnancy, at 20 weeks or later of safe and legal abortion.
That's alright with Rapp and others pushing HB 1948; the bill contains no exemptions for fetal anomalies or pregnancies that were a result of rape.
The bill's supporters didn't refute allegations that if passed into law, it would negatively affect health care. They argued their case by invoking metaphors instead. They compared abortion regulations to laws about pigeon shoots. They compared fetuses to bald eagles and abortion to leeches. A white male legislator, a description unfortunately almost synonymous with "Pennsylvania legislator," compared abortion to slavery, drawing the ire of Rep. Jordan Harris (D-Philadelphia).
"We use slavery references when it benefits, but won't do anything about the systems that negatively affect their descendants," tweeted Rep. Harris.
Democratic Rep. Dan Frankel, co-chair of the Women's Health Caucus, attempted to put the bill into context by noting the barrage of abortion restrictions passed in Pennsylvania already. In addition to the ambulatory surgical facility requirement, the state already has a ban prohibiting women from purchasing affordable health insurance that covers abortion through the exchange; an arbitrary 24-hour mandated waiting period; and a Medicaid ban that allows federal funding of abortions only in cases of rape, incest, or life endangerment.
The house voted 132-65 in favor of the bill, mostly among party lines, though 25 Democrats voted for it and nine Republicans voted against it. Gov. Wolf has promised he will veto it if passes, while HB 1948 proponents are working to gather enough votes for an override if necessary.