Conservative Attacks on Voting and Abortion Rights Share Tactics, Goals
The pushes for voting and abortion restrictions use similar tactics, slowly eroding the rights of women, people of color, and those with low incomes in particular.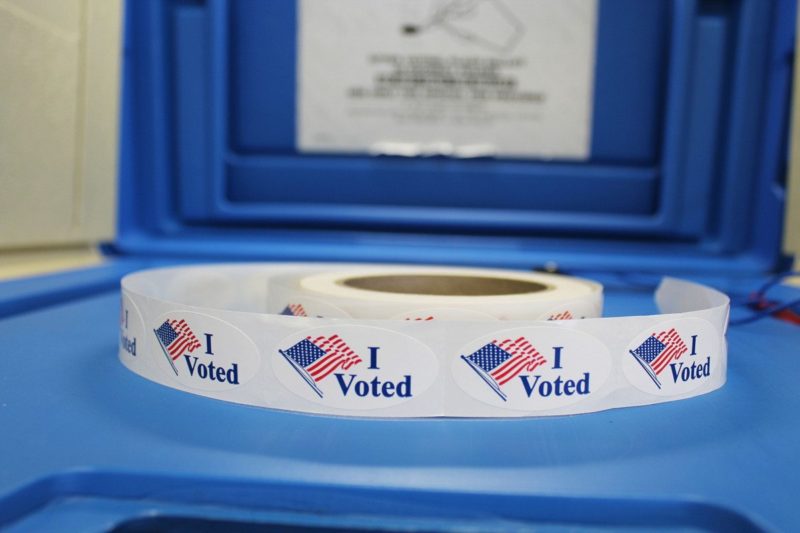 Many voting restrictions are implemented based on false claims about the prevalence of voting fraud. Shutterstock
During a May interview with the Texas Observer's Alexa Garcia-Ditta, Planned Parenthood President Cecile Richards didn't skip a beat when pointing to the likely effect of voting restrictions.
"One of the greatest challenges, absolutely, in the state of Texas is the enormous hurdles that people have to go through to vote, and the fact that in the last election, we were 50th in voter turnout of 50 states," said Richards. "That's appalling. When 28 percent of the voters go to the polls, the democratic process isn't working, it's completely broken. I believe we have to completely address voting rights in this country, and in Texas."
Texas is one of 17 states to implement new voting restrictions, such as voter identification laws and reduced early voting, for the first time during the 2016 presidential election, according to the Brennan Center for Justice, a nonpartisan law and policy institute at New York University's School of Law. Those states include Alabama, Arizona, Georgia, Indiana, Kansas, Mississippi, Nebraska, New Hampshire, North Carolina, North Dakota, Ohio, Rhode Island, South Carolina, Tennessee, Virginia, and Wisconsin.
"This is part of a broader movement to curtail voting rights, which began after the 2010 election, when state lawmakers nationwide started introducing hundreds of harsh measures making it harder to vote," explains the Brennan Center's website. "Overall, 22 states have new restrictions in effect since the 2010 midterm election."
The Republican-led charge to roll back voting rights has been fairly transparent in its goal of suppressing Democratic votes, specifically targeting voters of color and those living in poverty—a goal only made easier after the Supreme Court gutted parts of the Voting Rights Act (VRA) that safeguarded against these strategies in a 2013 decision.
In April, Rep. Glenn Grothman (R-WI) told a local news network that his state's new voter ID law would make "a difference" in electing members of his party in November. And he is hardly the first Republican to admit that the party is utilizing this strategy in order to gain power.
Efforts to enact voting restrictions have begun to gain steam, increasingly in many of the same places where abortion restrictions are also being passed. And reproductive rights and justice advocates are taking notice. NARAL Pro-Choice America in 2012 noted that efforts to chip away at voting rights effectively silence the ability of many to weigh in on decisions regarding their bodies.
"Americans defend the right to choose by lobbying their elected officials, taking action in their communities, and participating in the public debate, but no single deed is as central to the civic process as the simple act of casting a vote," Nancy Keenan, then president of NARAL, said in a statement announcing the decision. "That is why recent efforts to restrict citizens' access to the ballot box are so dangerous. These measures threaten to deny millions of Americans the right to vote, silencing their voices as the nation debates our most cherished freedoms, including the right of every woman to make personal decisions regarding the full range of reproductive choices."
Ilyse Hogue, NARAL's current president, reaffirmed this commitment after the Supreme Court's 2013 decision on the VRA, explaining in a statement that year that the organization believes "that participation in the political process is a constitutional right that empowers Americans to elect leaders who represent their interests in important areas such as reproductive rights."
When thousands joined the Moral March in Raleigh, North Carolina in February 2014 to protest conservative policies such as the state's restrictive voter suppression laws, Planned Parenthood was among the event's 150 coalition partners. In a piece for the Huffington Post, Richards explained why it was imperative for her organization to get involved.
"For Planned Parenthood, the ideology behind these measures is all too familiar. They were put in place by politicians who would rather transport us through a time warp where only the privileged few have access to fundamental American rights," wrote Richards. "Many of those states [passing voting restrictions] are the same ones passing restriction after restriction on women's access to health care."
"The history of our country shows that we are better off when everyone has a voice in our political process. We continue to stand with our partners in calling for laws that make it easier—not harder—to vote," Richards continued.
As the aftermath of the 2010 midterm elections brought a wave of voting restrictions, a crush of anti-choice laws similarly swept the country. Since those elections, an unprecedented 288 state-level abortion restrictions have been enacted.
"To put that number in context, states adopted nearly as many abortion restrictions during the last five years (288 enacted 2011-2015) as during the entire previous 15 years (292 enacted 1995-2010)," Guttmacher researchers explained in a recent report outlining the state of reproductive rights in the country.
The pushes for voting and abortion restrictions use similar tactics, slowly eroding the rights of women, people of color, and those with low incomes. "It's a 'death by 1000 cuts' strategy," Heather Gerken, a professor at Yale Law School, told MSNBC of the two issues in 2014. "For both of these rights, you're not allowed to ban it. So in each instance you're just making it harder than it would be otherwise."
Conservatives have been able to do this by leveraging misinformation about the two issues. Abortion and voting restrictions "both address manufactured problems," Sondra Goldschein, director of advocacy and policy at the American Civil Liberties Union (ACLU), told Rewire. "They have thinly veiled excuses for introducing them. Whether it's unproven voter fraud or concerns about women, the legislation is clearly about taking away rights, particularly in marginalized communities."
For example, many voting restrictions are implemented based on false claims about the prevalence of voting fraud. In Wisconsin, where as many as 300,000 registered voters stand to be disenfranchised by the state's restrictive voter ID law, Republican Gov. Scott Walker justified suppressing the vote by citing instances of fraudulent voting. When challenged in court, the state was unable to come up with a single case of voter impersonation.
That is likely because in Wisconsin, like in the rest of the country, voter fraud is virtually nonexistent. Study after study has found little to no evidence to support the claim. An analysis conducted by the Washington Post's Justin Levitt in 2014 found just 31 instances of voter fraud in the more than one billion ballots cast between the years 2000 and 2014.
Many abortion restrictions are similarly based on the perpetuation of misinformation, which are often based on conservatives feigning concern for women's health. Wisconsin provides yet another prime example of this with its 2013 targeted regulation of abortion providers (TRAP) law, which required all doctors performing abortions in the state to obtain admitting privileges to hospitals within a 30-mile range, justified by claims of safeguarding women's health. But when the Seventh U.S. Circuit Court of Appeals ruled the law unconstitutional in 2015, Judge Richard Posner, writing for the majority, noted that the medical necessity for such laws is "nonexistent" and the regulations were instead meant to impede abortion access.
"They may do this in the name of protecting the health of women who have abortions, yet as in this case the specific measures they support may do little or nothing for health, but rather strew impediments to abortion," wrote Posner.
Though it's often clear that legislation to restrict access to the polls and abortion share similar goals and tactics—employing misinformation, attempting to dissuade people from access by making doing so too expensive or burdensome, and so on—in some cases, states are borrowing from the exact same playbooks to make laws to get their way. In Texas, where there is already a strict voter ID law, the state passed another law in 2015 requiring abortion providers to ask for "valid government record of identification" from patients to prove they are 18 before providing care. The process of obtaining a valid form of ID is often difficult, time-consuming, and expensive, especially for those in marginalized communities.
Much like the case for voting restrictions, abortion restrictions help white men maintain the status quo of power across the country. Drawing connections between between voting restrictions and TRAP laws in Texas, then-Rewire reporter Andrea Grimes, who now works for the Texas Observer, noted on the RJ Court Watch podcast that both conservative restrictions help ensure those in power maintain their positions.
"We [in Texas] have some of the strictest TRAP (targeted restrictions on abortion providers) legislation in the country. At the same time we have what one federal judge straight up called racist and unconstitutional voter ID requirements that prevent people from being able to get out to the polls and cast their votes," said Grimes. "And these two things together kind of ensure that power stays with the powerful. That's what we're seeing right now here."
"[B]oth voting rights and abortion access involve fundamental rights," added Jessica Mason Pieklo, Rewire's vice president of law and the courts. "In theory, fundamental rights are fundamental. They are things that we all hold but really what we're talking about is access to power. So when we place restrictions on those rights, we make it harder to exercise them—which makes it harder to effectively engage our civic power."
When framed as a desperate attempt by the GOP to maintain a hold on their power dynamics, it comes as no surprise that many of the very same states pushing through voting restrictions are also moving to restrict abortion access. During 2015 alone, 57 abortion restrictions were enacted across the country. Of the massive push to restrict abortion since 2010, ten states enacted more than ten restrictions: Arizona, North Dakota, South Dakota, Kansas, Oklahoma, Texas, Arkansas, Indiana, Alabama, and North Carolina.
These lists have remarkable crossover with the states that have enacted new voting restrictions in that same period of time: Alabama, Arizona, Florida, Georgia, Illinois, Indiana, Iowa, Kansas, Mississippi, Nebraska, New Hampshire, North Carolina, North Dakota, Ohio, Rhode Island, South Carolina, South Dakota, Tennessee, Texas, Virginia, West Virginia, and Wisconsin.
The end result for both kinds of restrictions is the same: a massive sweep of nationwide changes chipping away at the fundamental rights of Americans and disproportionately affecting women, communities of color, and those living in poverty.
Those pushing through these laws "are not just focusing on one state, but they are looking at creating change across the whole country, through each individual state-by-state attack on these fundamental freedoms," explained Goldschein.
Goldschein went on to note that conservatives' success in pushing these restrictions demonstrates the importance of voting, especially for down-ballot seats in the state legislature where many of these decisions are made. "State legislatures are ground zero in the fight for civil liberties, and they do not always attract as much attention as the debates in Congress or arguments in the Supreme Court, but in fact they are really the source of unprecedented assaults on our most fundamental rights," she explained.
"This year … 80 percent of our state legislature seats are up for re-election, and we need voters to be paying attention to what is happening in those state legislatures and then to hold politicians accountable and vote as if their liberties depend on it—because they do—because this is where these fights are taking place."