Campaign Week in Review: Trump Campaign Says Glitch Led to Selection of White Nationalist Leader As Delegate
The prominent white supremacist has since resigned. And on the Democratic side, both Hillary Clinton and Bernie Sanders registered their objections to the Obama administration's immigration raids.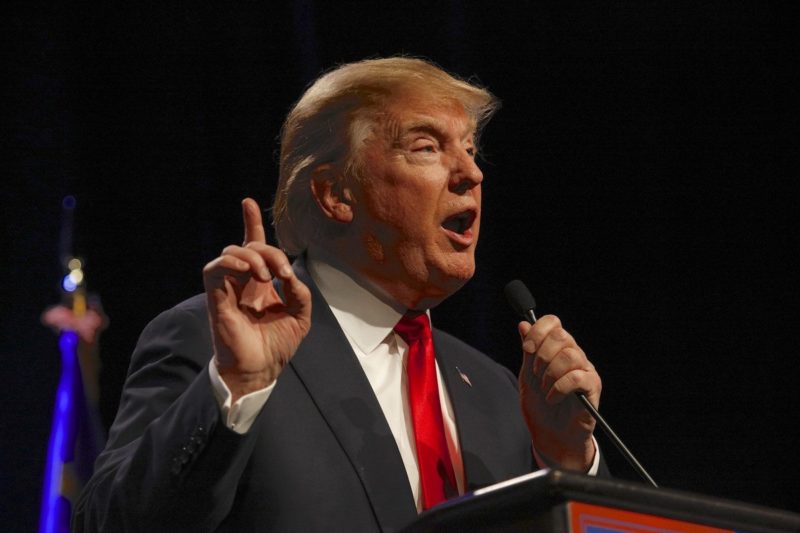 Donald Trump's campaign selected William Johnson, a self-identified "white nationalist" leader who once wrote a book calling for the deportation of everybody who is not white from the United States, to his California delegate list after a supposed computer glitch. Joseph Sohm / Shutterstock.com
A "database error" this week supposedly led Donald Trump's campaign to select a white nationalist leader to its California delegate list, and the Democratic presidential candidates are speaking out about the Obama administration's planned immigration raids.
Trump Campaign: Picking White Nationalist Who Wrote Book Calling For Deportation of All People of Color as Delegate was a "Database Error"
Trump's campaign added William Johnson, leader of white nationalist group the American Freedom Party, to his California delegate list after a supposed computer glitch.
Johnson applied to the Trump campaign and was chosen from a list of the presumptive Republican nominee's delegates submitted to the California secretary of state's office. In California, presidential candidates choose Republican delegates—not the party.
Johnson, in an email to Mother Jones on Tuesday, confirmed that he had been chosen by the Trump campaign, expressing excitement about the opportunity. "I just hope to show how I can be mainstream and have these views," Johnson told the publication. "I can be a white nationalist and be a strong supporter of Donald Trump and be a good example to everybody."
Trump campaign spokesperson Hope Hicks claimed that the inclusion of Williams was no more than a glitch after the campaign had rejected the white nationalist leader. "Yesterday the Trump campaign submitted its list of California delegates to be certified by the Secretary of State of California," Hicks said in a statement to the Washington Post. "A database error led to the inclusion of a potential delegate that had been rejected and removed from the campaign's list in February 2016."
Johnson on Wednesday told the Associated Press he had resigned from his role as a delegate. "I was naive," Johnson told AP about his application. "I thought people wouldn't notice, and if they did notice I didn't think it would be a big deal."
He noted that Trump's policy positions lined up with those he supported.
"[Trump] wants to build the wall [along the border with Mexico]. He wants to cut off illegal immigration, and he wants to cut back on foreign trade, bring jobs back to America," Johnson said. "We believe Donald Trump will help lead the country in a proper direction."
Johnson gained notoriety as a self-identified "white nationalist" whose PAC, American National Super PAC, was responsible for robocalls this year in Iowa featuring another white nationalist, Jared Taylor. "I urge you to vote for Donald Trump because he is the one candidate who points out that we should accept immigrants who are good for America," Taylor said in the robocall according to Talking Points Memo. "We don't need Muslims. We need smart, well-educated white people who will assimilate to our culture. Vote Trump."
Johnson wrote a book in 1985, according to the Southern Poverty Law Center, calling "to deport all nonwhites as soon as possible" from the the United States:
In 1985, under the pseudonym James O. Pace, Johnson wrote the book Amendment to the Constitution: Averting the Decline and Fall of America. In it, he advocates the repeal of the 14th and 15th amendments and the deportation of almost all nonwhite citizens to other countries. Johnson further claimed that racial mixing and diversity caused social and cultural degeneration in the United States. He wrote: "We lose our effectiveness as leaders when no one relies on us or can trust us because of our nonwhite and fractionalized nature. … [R]acial diversity has given us strife and conflict and is enormously counterproductive."

Johnson's solution to this problem was to deport all nonwhites as soon as possible. Anybody with any "ascertainable trace of Negro blood" or more than one-eighth "Mongolian, Asian, Asia Minor, Middle Eastern, Semitic, Near Eastern, American Indian, Malay or other non-European or non-white blood" would be deported under the Pace Amendment.
As late as Monday, Trump's campaign had expressed confidence about their delegate selection before controversy broke out over the addition of Williams. "We believe that our delegation represents the economic and grassroots community diversity of California. We feel very good about it," Tim Clark, Trump's California strategist, told the Sacramento Bee that day.
The campaign reportedly corresponded with Johnson on Monday.
Other notable figures selected as delegates for Trump include House Majority Leader Kevin McCarthy (R-CA), Rep. Darrell Issa (R-CA), and Silicon Valley venture capitalist Peter Thiel, who co-founded PayPal.   
Democratic Presidential Candidates Speak Out Against Obama Administration's Immigration Raids
Both Democratic presidential candidates, Hillary Clinton and Sen. Bernie Sanders (I-VT), condemned the Obama administration's coming immigration raids after news broke this week of an upcoming sweep.
U.S. immigration officials will conduct a monthlong series of deportation raids targeting undocumented families from Central America, Reuters reported on Thursday, in what will likely be "the largest deportation sweep targeting immigrant families" by the Obama administration this year.
"I oppose the painful and inhumane business of locking up and deporting families who have fled horrendous violence in Central America and other countries. Sending these people back into harm's way is wrong," Sanders said in a statement posted to his campaign's website Thursday. "I urge President Obama to use his executive authority to protect families by extending Temporary Protective Status for those who fled from Central America."
Clinton said she was "against large scale raids that tear families apart and sow fear in communities" and that "we should not be taking kids and families from their homes in the middle of the night."
The candidates have spoken out against the Obama administration's ongoing raids, showing particular concern for the deportation of children. Advocates, however, say that the presidential candidates have not done enough to tackle the issue.
What Else We're Reading
Priests for Life President Frank Pavone compared the presidential election to a choice between killing ten people and killing 100 people. 
Clinton proposed allowing "people 55 or 50 and up" buy in to Medicare.
Trump supporter Sarah Palin spoke out against Trump's assertion that he would change the GOP's abortion platform while speaking on CNN's State of the Union on Sunday. "I don't want the platform to change," said Palin, adding that she "respect[s] the "culture of life that will be built upon the pro-life views the majority of Republicans hold." 
The Nation's Ari Berman wrote that "voter suppression is the only way Donald Trump can win" the White House.
Leaders from extremist groups such as the Family Research Council, National Right to Life, and the National Organization for Marriage are reportedly still unsure about whether they will back Trump now that Sen. Ted Cruz (R-TX) has left the race for the Republican nomination.
The Washington Post examined how the rise of Donald Trump may jeopardize the Congressional seats of other Republicans running down the ballot. One of those legislators could be Sen. Roy Blunt (R-MO) who notoriously introduced the failed "Blunt Amendment" to exempt any employer with a moral objection from the Affordable Care Act's birth control benefit.
Former KKK leader David Duke tweeted that Donald Trump should ask him to join his ticket as vice president, claiming the move would be good "life insurance."
Minnesota Republicans endorsed a candidate for the state's 2nd congressional district seat who once claimed that women are "simply ignorant … of the important issues in life" because they are concerned about their reproductive health.
Don't miss The Black Belt, a short film from the Intercept. It highlights voting rights in Alabama—which requires a photo ID at the polls—after the state closed 31 DMV locations that were primarily located in communities with large Black populations.