Report: 2015 Brought Unprecedented Violence, Threats Against Abortion Providers
The statistics for 2015 "reflect a dramatic increase in hate speech and internet harassment, death threats, attempted murder, and murder, which coincided with the release of heavily-edited, misleading, and inflammatory videos beginning in July."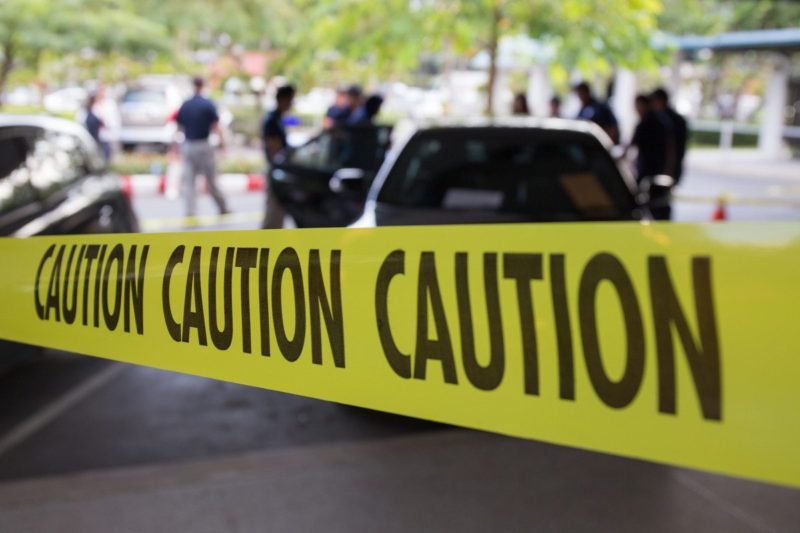 There were 94 threats of direct harm in 2015 as compared to only one such threat in 2014. One National Abortion Federation member received a voicemail that said someone planned to "pull a Columbine, and wipe everyone out." Shutterstock
National Abortion Federation (NAF) officials for the past nine months have maintained that the Center for Medical Progress (CMP), an anti-choice front group behind a smear campaign against Planned Parenthood involving surreptitiously recorded videos, sparked an overwhelming uptick in violence against abortion providers.
Now they have statistics to back up that assertion.
NAF has compiled statistics on incidents of violence and disruption against abortion providers for almost 40 years, according to a press release the organization issued Tuesday.
The statistics for 2015 "reflect a dramatic increase in hate speech and internet harassment, death threats, attempted murder, and murder, which coincided with the release of heavily-edited, misleading, and inflammatory videos beginning in July."
Since 1977, there have been 11 murders, 26 attempted murders, 42 bombings, 185 arsons, and thousands more incidents of criminal behavior directed at abortion providers, according to NAF's press release.
Three of those 11 killings happened in November 2015, when Robert Lewis Dear Jr. allegedly laid siege on a Planned Parenthood clinic in Colorado Springs. That clinic is operated by Planned Parenthood of the Rocky Mountains, where Dr. Savita Ginde, one of the providers featured in CMP's attack videos, is medical director. Ginde found herself the subject of protests at her home, where flyers were passed around that read "Savita Ginde murders children at Planned Parenthood with your consent."
There were 94 threats of direct harm in 2015 as compared to only one such threat in 2014. After the videos were released, one NAF member received a voicemail that said someone planned to "pull a Columbine, and wipe everyone out." An unknown male called a hospital switchboard in North Carolina and said "We will kill all [hospital] abortion doctors."
The threats of violence were so overwhelming that NAF hired a security firm to monitor online threats. The security firm began its work in mid-November, four months after the CMP smear videos were first released. The security firm identified more than 25,000 incidents of online threats in six weeks.
NAF officials believe that if they had begun the "enhanced" online tracking immediately after the videos were released, the number of online threats would eclipse 100,000.
There has also been a sharp rise in clinic violence. NAF, through its online monitoring work, identified an anti-choice radical who advocated online for setting clinics on fire: "One person setting fire to an abortion clinic will not do anything but thousands setting fire to an abortion clinic will speak volumes. It is not violent to set a building on fire… if thousands rallied together to set each murder house on fire, we would see the end of abortion."
Within three months of that post, according to NAF's report, clinics in Washington, Louisiana, California, and Illinois were victims of arson. A clinic in New Hampshire was damaged when someone broke into the clinic and used a hatchet to destroy equipment, exam rooms, computers, phones, and plumbing fixtures, which flooded the clinic.
The videos are the lynchpin of the Human Capital Project, a 30-month long sting operation run by CMP and David Daleiden, an anti-choice activist, who created fake corporations and used false identities in order to infiltrate NAF meetings to which he otherwise would not have had access. NAF granted him access to these meetings only because he signed confidentiality agreements, which barred him from sharing information gleaned from the meetings.
Nevertheless, Daleiden surreptitiously recorded hundreds of hours of video at these private NAF meetings in order to prove his assertion that Planned Parenthood is in the grisly business of selling black market "baby parts."
Authorities on Tuesday searched Daleiden's Orange Country, California apartment in connection with CMP's ongoing smear campaign against Planned Parenthood. Representatives from California Attorney General Kamala Harris' office declined to comment on the search.
Daleiden in July released the first batch of his surreptitiously collected footage, which he edited to suggest that Planned Parenthood was raking in profits from the sale of fetal tissue.
Federal law prohibits the sale or purchase of fetal tissue, but permits reimbursement for costs associated with providing fetal tissue for medical research. At the time the video footage was recorded and released, Planned Parenthood accepted reimbursement for costs—as permitted by law.
Almost immediately after CMP began releasing the videos, NAF filed a lawsuit in federal court alleging conspiracy, racketeering, and breach of contract, among other claims, and sought a restraining order blocking Daleiden from releasing more footage recorded at NAF meetings. NAF claimed that permitting Daleiden to release more videos would harm its members, who navigate harassment and threats as a part of their daily lives.
Daleiden countered, alleging that he is an investigative journalist using common techniques to uncover what he saw as wrongdoing on the part of Planned Parenthood and that barring him from releasing further videos was a violation of his First Amendment right to free speech. NAF argued that he had waived his First Amendment rights when he signed confidentiality agreements promising not to reveal to the public any information he gained from the NAF meetings.
United States District Court Judge William Orrick sided with NAF.
On July 31, 2015, he blocked CMP from releasing additional footage because "the subjects of videos that defendants had released in the previous two weeks had become victims of death threats and severe harassment, and in light of the well-documented history of violence against abortion providers."
Nearly seven months later, Orrick converted that temporary restraining order (TRO) into a preliminary injunction.
"Critical to my decision … [is that] after the release of defendants' first set of Human Capital Project videos and related information in July 2015, there has been a documented, dramatic increase in the volume and extent of threats to and harassment of NAF and its members," Orrick wrote.
CMP and Daleiden have tried to distance themselves from what they say are merely internet threats by third parties. They disclaim any involvement in or support for the rash of violence and threats that have resulted from the Human Capital Project.