Judge Extends Restraining Order Against Orchestrators of Planned Parenthood Smear Campaign
United States District Court Judge William Orrick confirmed what reproductive rights advocates have been claiming since July: David Daleiden is no journalist, and his organization, the Center for Medical Progress (CMP), is built on fraud.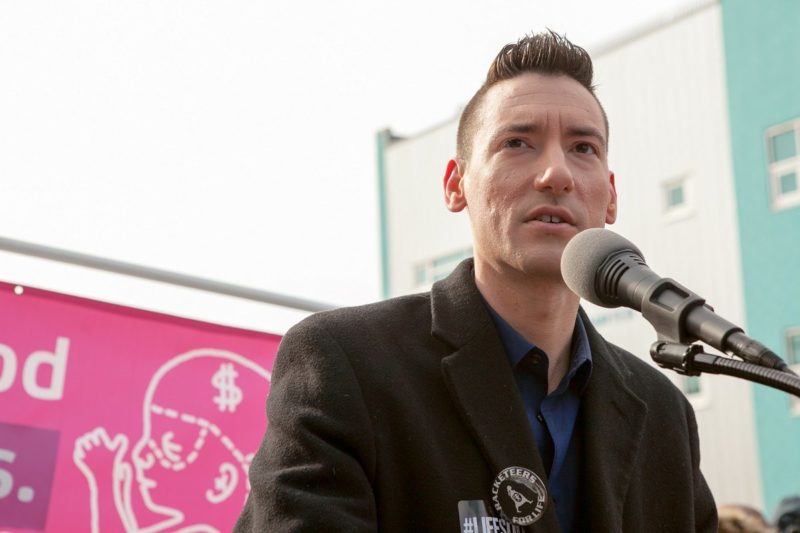 United States District Court Judge William Orrick confirmed what reproductive rights advocates have been claiming since July: David Daleiden is no journalist, and his organization, the Center for Medical Progress (CMP), is built on fraud. American Life League / Flickr
On Friday, United States District Court Judge William Orrick confirmed what reproductive rights advocates have been claiming since July: David Daleiden is no journalist, and his organization, the Center for Medical Progress (CMP), is built on fraud. Daleiden's campaign accusing Planned Parenthood of selling fetal tissue was never about exposing alleged criminal activity, the judge pointed out; it was about inventing a narrative that Daleiden hoped would destroy the organization.
It was the latest loss for the anti-choice activists in the lawsuit brought by the National Abortion Federation (NAF) against Daleiden, CMP, Troy Newman, and others related to the videos released last summer.
In his blistering 42-page order released last week, Orrick converted a temporary restraining order (TRO) blocking Daleiden and CMP from releasing any more of the footage fraudulently acquired at NAF's highly securitized private events into a preliminary injunction, which will remain in place while the parties battle it out in court.
"Defendants did not—as Daleiden repeatedly asserts—use widely accepted investigative journalism techniques," Orrick wrote, countering the claim that the methods Daleiden employed for his investigation were "standard for investigative reporting."
Daleiden and his cohorts recorded more than 500 hours of video as a part of the so-called Human Capital project, Daleiden's attempt to erroneously claim that Planned Parenthood is in the business of selling fetal tissue for profit. To do so, Orrick argued, they used falsified business documents and identification cards.
"Defendants engaged in repeated instances of fraud, including the manufacture of fake documents, the creation and registration with the state of California of a fake company, and repeated false statements to numerous NAF representatives and NAF members in order to infiltrate NAF and implement their Human Capital Project," wrote Orrick in his order.
"The products of that Project—achieved in large part from the infiltration—thus far have not been pieces of journalistic integrity, but misleadingly edited videos and unfounded assertions (at least with respect to the NAF materials) of criminal conduct," Orrick continued.
Numerous investigations on the state and federal level have yet to find any wrongdoing on the part of Planned Parenthood.
To convince the court that Daleiden's behavior was simply standard journalistic practice, Daleiden cited case law that Orrick ultimately found unconvincing.
In Medical Laboratory Management Consultants v. American Broadcasting Companies, Inc., reporters investigating potential violation of federal regulations posed as employees of fictitious labs and secretly recording meetings in order to investigate whether an existing lab was misreading Pap tests. And in Desnick v. American Broadcasting Companies, Inc., journalists investigating practices of an ophthalmology clinic posed as patients of an eye center and secretly recorded their eye exams. In both cases, judges ruled in favor of the journalists as to the fraud claims alleged against them. Daleiden argued that the goal in those cases was the same as his own: "Not to obtain money, property, goods, or services, but to gather information about illegal and unethical practices."
Orrick rejected Daleiden's attempts to compare himself to the reporters in those cases: In each, the reporters verbally misrepresented themselves to the target of their investigation, but, as Orrick wrote, "the reporters did not create fictitious documents, register a fictitious company, or intentionally agree to confidentiality agreements before making their undercover recordings," as Daleiden did. Orrick also pointed out that Daleiden went through fraudulent lengths to secure his recordings, which went beyond what the reporters in Medical Laboratory Management Consultants and Desnick did.
Perhaps most importantly, Orrick pressed, if Daleiden's goal was to uncover alleged illegal activity by Planned Parenthood, then where was evidence that Daleiden was even in contact with law enforcement?
"I have reviewed the recordings relied on by defendants and find no evidence of criminal activity," Orrick wrote. "And I am skeptical that exposing criminal activity was really defendants' purpose, since they did not provide recordings to law enforcement following the NAF 2014 Annual Meeting and only provided a bit of information to law enforcement beginning in May, 2015."
Instead, Orrick noted, Daleiden and CMP's odd behavior in failing to involve law enforcement supported "NAF's contention that defendants' goal instead is to falsely portray the operations of NAF's members"—which include Planned Parenthood—"through continued release of its 'curated' videos as part of its strategy to alter the political landscape with respect to abortion and the public perception of NAF's members."
Recognizing the political nature of Daleiden's efforts, Orrick pointed out that Daleiden and CMP "decided it was more important to 'curate' and release the Project videos starting in July 2015."
Friday's order not only permanently blocked the release of any more video footage from NAF's annual meetings, it clearly and unequivocally cleared Planned Parenthood and NAF of any wrongdoing and exposed Daleiden and CMP's efforts for the political smear they are. Again.
The order also did something else critically important: It re-centered the controversy cooked up by Daleiden and his cohorts back on the very real threats of violence faced as a result by abortion doctors, providers, patients, and even unrelated bystanders, as was the case with the Colorado Springs Planned Parenthood shooting. Orrick reiterated that the danger to these groups is severe enough to warrant the security measures Daleiden disregarded.
Due to the threats of violence—including from people like Troy Newman, who was an officer of CMP and helped Daleiden plan his sting operation—NAF has had to increase its security over the years. What were once meetings open to the public have become secret affairs, with stringent protocols put into place in order to protect NAF's members. One key component of NAF's security mechanism is the confidentiality agreements that every attendee is required to sign.
For months, NAF has argued that Daleiden and CMP waived their First Amendment rights when they signed those agreements, promising to maintain the confidentiality of any information they gleaned from NAF's meetings.
After reviewing evidence submitted by Daleiden, CMP, and NAF, Orrick sided with NAF.
"[T]he First Amendment does not confer on the press a constitutional right to disregard promises that would otherwise be enforced under state law," Orrick wrote in his order.
"That defendants intended to infiltrate the NAF Annual Meetings in order to uncover evidence of alleged criminal wrong doing … does not give defendants an automatic license to disregard the confidentiality provisions."
Recognizing the important First Amendment issues implicated by his ruling—that forbidding any further release of video footage constitutes prior restraint, or pre-publication censorship—Orrick noted that "[i]n rare circumstances, freedom of speech must be balanced against and give way to the protection of other compelling Constitutional rights, such as the First Amendment's right to freedom of association, the Fifth and Fourteenth Amendments' protection of liberty interests, and the right to privacy."
Orrick ruled that NAF's case against Daleiden and CMP was just such a rare circumstance.
Orrick's order also matters for the other two lawsuits associated with the CMP videos. In Texas, Daleiden is under criminal indictment for falsifying documents to gain access to NAF meetings and associates. Meanwhile, Planned Parenthood filed its own lawsuit against CMP in California federal court, alleging the organization is not much more than a criminal conspiracy designed to try and take down Planned Parenthood. While Orrick's order has no binding effect in these lawsuits, its conclusions will help inform how attorneys in those cases proceed, including Orrick's conclusion that Daleiden is not a journalist and his actions were fraudulent.
Not that any of the court's actions matters to Daleiden. On Monday, despite the order barring CMP and its members from releasing footage recorded at "any NAF annual meetings," footage of any NAF member names learned at those meetings, or information about future NAF meetings, Daleiden and CMP released yet another video purporting to show illegal activities by Planned Parenthood officials.
Daleiden has said that the latest video footage was filmed at a conference of the Association of Reproductive Health Professionals prior to any NAF meeting that Daleiden and his co-conspirators attended. He believes that the video is not covered by the injunction.
This isn't the first time that questionable materials have surfaced during the court proceedings. In late October of last year, additional footage of NAF meetings found its way on to the Internet thanks to Internet troll and disgraced blogger Chuck C. Johnson, and notorious hacker Andrew "Weev" Auernheimer. Johnson first claimed that the leak came from Congress, but then changed his story and claimed he received the footage from an anonymous person with the user name "patriotgeist."
The leak occurred after Daleiden and CMP produced NAF materials covered by the TRO to Congress, including materials that were not directly responsive to the subpoena issued by Congress. NAF asked Orrick to sanction Daleiden and CMP as a result of the leak. In Friday's order, Orrick declined, but warned defendants that "in the future, before they take it upon themselves to arguably violate an order from this Court—even if in good faith—they should seek clarification from me first."
Vicki Saporta, NAF's CEO, believes that the most recent video is "total retribution" for NAF's win in court, according to U.S. News and World Report. "There's nothing in this video that's new or relevant. It's just Daleiden losing again and making more false and misleading claims," Saporta said.