GOP Representative Prays for Fetuses, Mocks Obama's Tears
U.S. Rep. Steve King gave his seat to the "lives of more than 55 million aborted babies" at the president's final State of the Union Address in defiance of Obama's push for stricter gun laws.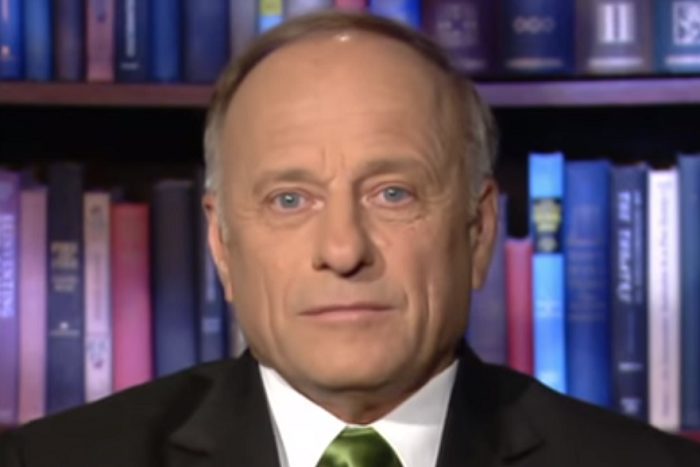 U.S. Rep. Steve King gave his seat to the "lives of more than 55 million aborted babies" at the president's final State of the Union Address in defiance of Obama's push for stricter gun laws. MSNBC / YouTube
All of the leading Republican presidential candidates have taken a hardline stance against stricter gun laws. They've also taken a stand on eroding reproductive rights.
It came as little surprise to political observers that after the White House announced Michelle Obama would set aside a chair in her guest box at the president's final State of the Union address in memory of "victims of gun violence who no longer have a voice," many prominent Republicans used it as an opportunity to talk about their opposition to abortion rights.
Presidential hopeful Sen. Ted Cruz (R-TX) had this to say:
If I'm elected POTUS, there'll be an empty seat for the over 50 million unborn children killed since Roe #Stand4Lifehttps://t.co/BgBy8yYKYd

— Ted Cruz (@tedcruz) January 8, 2016
The issue escalated on Tuesday, when U.S. Rep. Steve King (R-IA), a prominent anti-choice legislator and Cruz backer, responded to Obama's gesture by setting aside his own chair for the "lives of more than 55 million aborted babies."
In lieu of attending the State of the Union speech, King said he would be in the members' chapel "praying for God to raise up a leader whom he will use to restore the Soul of America."
Send me your #ProLifePrayers. I will offer each of them in the Members chapel during #LastSOTU.

— Steve King (@SteveKingIA) January 12, 2016
King denounced Obama's policies on reproductive rights and joined the chorus of Republican voices who mocked Obama for shedding tears at his speech last week announcing executive actions to expand background checks on gun purchases.
"President Obama's first official act, immediately upon his inauguration was to sign an executive order to accelerate abortions world-wide," King said in a statement, referring to Obama's reversal of a Bush-era policy that banned the United States from funding international family planning providers that offered abortions or abortion counseling. "The first tears we have seen him shed in seven years were for the victims of the tragic Sandy Hook School shooting. As far as we know, Obama has never shed a single tear for even one of the more than 9 million babies aborted under his watch."
In light of King's voting record on gun policies, this kind of comparison comes off as hypocritical, as advocates have argued in recent years.
He supported an amendment that would prohibit federal funds from being used to strengthen or enforce gun restrictions in Washington, D.C.; he voted yes to a 2011 bill that would have required states to recognize permits issued by another state authorizing the concealed carry of a firearm; and he voted yes to 2003's Protection of Lawful Commerce in Arms Act, which keeps gun manufacturers free from liability when crimes are committed with their products.
Other attempts to reform gun laws, such as those requiring waiting periods for gun purchases, have little hope of passing in states with GOP-controlled legislatures, where women often face forced waiting periods before having an abortion. In Missouri, where state Rep. Stacey Newman (D-St. Louis) has proposed one such bill, toddlers had shot more people than in any other state in 2015. In 31 of the 43 nationwide shootings by toddlers, the toddler found a gun and accidentally shot him or herself, according to a Washington Post investigation.
Many Republicans jumped at the chance to criticize the president when he was overcome with emotion while talking about the first-grade victims of the Sandy Hook massacre. GOP lawmakers are now trying to use it as leverage in the abortion debate. As clinic violence escalates, many Republicans have remained quiet or have condemned the violence without recognizing the anti-choice rhetoric that advocates believe has fueled the attacks.
Some prominent anti-choice activists and politicians used the deadly shooting at a Colorado Springs clinic as an opportunity to equate abortion and gun violence. Just hours after the shooting, anti-choice group Personhood USA released a statement that included equivocal condemnation of violence.
"Personhood USA absolutely opposes all abortion-related violence, against born and unborn people," Personhood USA's Jennifer Mason said in the statement. "That said, the media is failing to report that innocent babies are killed in that very building every day that they are in business. Please join me in praying that the people inside, along with the babies in their mothers' wombs, are released safely."
Former Arkansas governor and GOP presidential candidate Mike Huckabee after the Colorado Springs shooting compared the killings to what he believes happens inside the Planned Parenthood facility.
"There's no excuse for killing other people, whether it's happening inside the Planned Parenthood headquarters, inside their clinics where many millions of babies die, or whether it's people attacking Planned Parenthood," Huckabee said on CNN's State of the Union.
Actor and reproductive rights activist Martha Plimpton explored that hypocrisy of anti-choice legislators who oppose gun regulations in an October 2015 op-ed in the Guardian.
"For the personhood of embryos, they draft legislation. For the safety of living, playing, laughing children, they do nothing," Plimpton wrote. "The potential dreams of a not-yet-sentient organism are paramount – not because it is a human life, as demonstrated by their lack of commitment to actual living humans, but because it is inside of a woman."