Mizzou Students and Pro-Choice Advocates to Take #FixItFoley to the Streets
Student activists from the University of Missouri and Planned Parenthood supporters are calling on the interim chancellor to reverse the decision to revoke admitting privileges for Planned Parenthood's Columbia Health Center.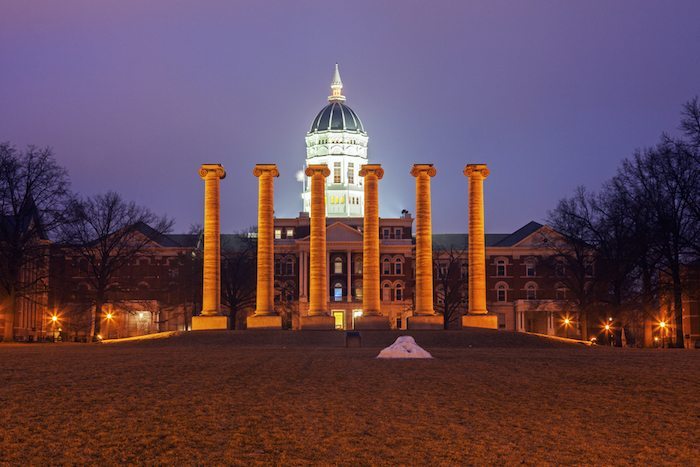 Student activists from the University of Missouri and Planned Parenthood supporters are calling on the interim chancellor to reverse the decision to revoke admitting privileges for Planned Parenthood's Columbia Health Center. Shutterstock
Planned Parenthood's Columbia Health Center in Missouri halted its abortion services this week, as the clinic is set to lose hospital admitting privileges on December 1. With only one abortion clinic in the state, students and reproductive health advocates are fighting back.
After R. Bowen Loftin stepped down as chancellor earlier this month amid protests over race relations on campus, a group calling itself Mizzou for Planned Parenthood took the opportunity to call on the university to reverse the decision to revoke Planned Parenthood's admitting privileges to the university-run hospital.
Without "refer and follow" privileges, Dr. Colleen McNicholas, the physician at Planned Parenthood's Columbia Health Center, cannot legally perform abortions there.
Missouri has had an admitting privileges law in effect since 1986, under which a physician performing or inducing abortions must have clinical admitting privileges at a hospital within 30 miles that offers obstetrical or gynecological care. For the doctor at Planned Parenthood's Columbia Health Center, that hospital was University of Missouri Health Care. In September, the University of Missouri, facing pressure from Republican lawmakers, revoked those privileges.
Loftin was behind the university's call to end Planned Parenthood's "refer and follow" privileges, and students hope the interim chancellor, Hank Foley, can be the one to fix it. They began the #FixItFoley social media campaign to pressure Foley to reconsider Mizzou's relationship with the health center before it's too late. Mizzou for Planned Parenthood is using the hashtag #FixItFoley to draw attention to the situation before the December 1 deadline.
#FixItFoley Interim Chancellor Foley: please undo the damage that R. Bowen Loftin did for reproductive rights in Columbia. #MU4PP

— Bryan Mink (@bryanmink15) November 24, 2015
It's not too late to #FixItFoley! #MU4PP https://t.co/etAaOjIe3L — Silly Heathen (@MaxwelltheRed) November 25, 2015
Pamela Merritt, Missouri resident and co-founder and co-director of Reproaction, a direct action group aimed at advancing reproductive justice, applauded the work of student activists and Planned Parenthood, adding that the state of women's health care in Missouri is "an underreported crisis."
"I'm hopeful for the success of the campaign," Merritt told RH Realty Check. "When you look at the damage that this has done, it's like a scab has been ripped off and exposed the fact that the administrative leadership at the University of Missouri weren't necessarily acting in the best interest of the academic institutions that are part of the system …. Academic institutions should not be held prisoner to the whims of political entities."
Missouri law prohibits state employees from "performing or assisting an abortion" and "encouraging or counseling a woman to have an abortion." Shortly before the university revoked Dr. McNicholas' admitting privileges, GOP-pressure led the university to end its 26-year relationship with Planned Parenthood that allowed medical and nursing students to complete clinical hours at the reproductive health-care provider as an optional rotation.
The controversy at Mizzou is whether the publicly funded university should be associated with an organization that provides abortion services, and it can be traced back to Republican state Sen. Kurt Schaefer.
Schaefer has been actively working to strip the university of any association with Planned Parenthood. As chairman of the Committee on the Sanctity of Life, Schaefer held multiple hearings in response to the series of surreptitiously recorded and highly edited videos published by the anti-choice front group known as the Center for Medical Progress. Schaefer was also responsible for trying to halt a graduate student's research on the state's newly enacted 72-hour forced waiting period for an abortion. Schaefer said the student's research was "like a marketing aid for Planned Parenthood," and that it was a way of using state public funds to support abortion, which is illegal in Missouri.
"We are outraged that MU Health Care caved to the political pressure from Senator Kurt Schaefer's 'Sanctity of Life' Committee and has eliminated refer and follow privileges for physicians," Planned Parenthood of Kansas and Mid-Missouri President and CEO Laura McQuade said in a statement earlier this fall regarding the end of McNicholas' admitting privileges with university hospital. "This is a continuation of the orchestrated attempt to restrict access to safe, legal abortion in Missouri and to the critical services Planned Parenthood has provided for nearly 100 years."
Planned Parenthood and its supporters will hold a vigil and march on an administrative building on Monday, November 30. They hope that #FixItFoley will put enough pressure on Foley for him to cancel or delay the end of the clinic's "refer and follow" privileges.