Amber Rose's 'Slutwalk' Was a Good Thing
From what I saw and experienced as a participant at the event, there is a place in movement work for celebrities who genuinely care about the cause for which they are advocating.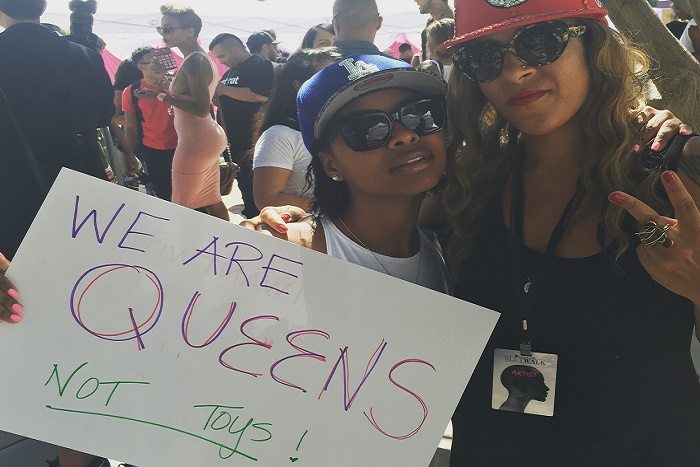 From what I saw and experienced as a participant at the event, there is a place in movement work for celebrities who genuinely care about the cause for which they are advocating. Janna Zinzi
There's often a lot of skepticism and scrutiny about celebrities participating in social justice causes. Either they are derided for not using their fame to talk about serious issues, or their authenticity is questioned. The most recent celeb under the magnifying glass is Amber Rose.
Over the last few months, she has been speaking out candidly about slut-shaming on Twitter, through edgy VMAs fashion, and in an epic Funny or Die video called "The Walk of No Shame." To make an even bigger splash, Amber Rose and her fans (also known as the "Rosebuds" and "Rosestuds") took over Pershing Square in downtown Los Angeles on October 3 for the "Amber Rose Slutwalk."
Slutwalks have stirred up a lot of controversy since they began in 2011, following an incident in Toronto during which a local police officer told a crowd of college women that they should avoid dressing like "sluts" if they want to prevent being raped. The events involve crowds of mostly young women marching through the streets in what's perceived as "slutty" or "provocative" clothing, carrying signs that denounce rape, and affirming that a person's clothes have nothing to do with consent. Slutwalks have become a global movement with events happening in cities around the world, and some have had serious problems. They also have ignited a complex discussion about reclaiming a word that's inflicted a lot of pain. For example, questions emerged about where women of color fit in this movement because our bodies have a different historical context thanks to colonization, slavery, and outright racism.
While those questions remain for some, the discussion today seems to be focused on celebrity co-optation of the cause.
Amber Rose has been on a mission this year to push back around the slut-shaming she's experienced and that's pervasive to women in our society. For example, Kanye West said he had to take 30 showers after sleeping with Rose, and Khloe Kardashian tried to discredit her on Twitter by bringing up her past as a stripper. In conjunction with building her foundation raising awareness against sexual violence, derogatory labels, and victim-blaming, she decided to organize a Slutwalk in Los Angeles, where she lives. She is the first celebrity to do this under her name, which while celebrated by some, was a red flag for many organizers, previous participants, and feminist thought leaders. Some activists have rightfully questioned Amber Rose's motives and approach. Is she really interested in eliminating slut-shaming and victim-blaming, or is she is just concerned with building her career and making money?
That's an important question. But how much does that matter if she's sparking critical conversations about these issues within audiences that previously weren't talking about it? Isn't it an entry into new spaces for us advocates? And why can't she be interested in both—the issue and her career? How is that different from climbing the ladder in a nonprofit organization? From what I saw and experienced as a participant at the event, there is a place in movement work for celebrities who genuinely care about the cause for which they are advocating. Famous people have greater access to resources and a broader audience than most organizers can reach. Slut-shaming, sexual assault prevention, and sex positivity deserve the attention that certain celebrities can bring, and feminism needs diverse role models, especially women of color, to bring the variety of issues to broader communities.
Rose led the day starting with a march through parts of downtown Los Angeles. At a bandstand during the march, she spoke passionately about using this event to dismiss slut-shaming and victim-blaming, and encouraged pride in female sexual expression. She held up a sign proclaiming "Strippers have feelings too." After the walk, thousands gathered at Pershing Square, where there was a main stage for speakers and performances. Surrounding it were partner booths from Planned Parenthood, NitetimeToys.com (which had stickers asserting a woman is #NotAToy), and local apparel brand Immigrant Clothing promoting pride in one's ethnic heritage. There was a fashion show, spoken word performances, and even a twerking contest. It felt like a party with a purpose.
During breaks, Rose addressed the crowd and candidly talked about the first time she was slut-shamed at 14 by a boy who insinuated that she gave him oral sex. In one particularly poignant moment, she shared through tears the pain she experienced when her exes Kanye West and Wiz Khalifa slut-shamed her in the media. She explained, "I decided to have this Slutwalk for women who have been through shit like me … and even though I'm up here crying I wanna be the strong person that you guys can look up to." Her Rosebuds and Rosestuds cheered for her vulnerability as she forgave those who hurt her and reminded the crowd to do the same. "They're ignorant at times … people are ignorant and you have to be the bigger person, positive person to forgive and move on, and help other people around you who have been through the same thing."
I performed burlesque at the Amber Rose Slutwalk as part of a feminist panel of advocates, activists, and celebrities. As I danced on stage in my shiny bikini and "This is What A Feminist Looks Like" bedazzled t-shirt-turned-cape, I was in awe of the thousands of people who came out to celebrate sexuality and body autonomy. What struck me the most was that the majority of the crowd was young women of color under 30. I was elated to see my younger sisters cheering and dancing with me holding signs that read "Pussy Power" and "No is NOT Maybe." Looking out in the crowd it occurred to me that Amber Rose, and women of color celebrities, can be a real entry point to activism for young people.
Young activists need and want to see women who look like them and share their culture speaking out powerfully and owning their sexuality. It gives them permission, power, and pride in themselves despite what the world may tell them, or how others may have violated their bodies.
After performing, I told the crowd that for me, burlesque is about using storytelling to promote positive (and complicated) images of sexy, smart, empowered women. It's been a space for me to use my voice through body movement, nudity, and bawdiness to talk about how everything from love and heartbreak to domestic violence and even climate change affects women's lives. Though my work with Brown Girls Burlesque, we encourage all women and gender-nonconforming people to get in touch with how they move and express themselves as a tool for self-love and self-acceptance. I'm a sexual assault survivor, and burlesque reminds me that I have ultimate control over my body and that I can use it to create art that connects with people.
This is especially critical for women of color who are burdened by exotified stereotypes of "jezebels," being "spicy," or "submissive." We also learn from our mothers, other women in our lives, and society that we must be "respectable" to avoid being viewed as promiscuous, and for our own safety. As seen in disparaging comments about Amber Rose and the Slutwalk on social media from both men and women, too many people have internalized these messages and lash out when confronted with sex-positive ideas and images.
My co-panelists created a reproductive and sexual justice powerhouse covering so many important issues for young women, especially Black and Brown ones. Heather Jarvis, a queer feminist activist and visionary co-founder of the Slutwalk, educated the crowd about the history of the event and its roots in denouncing rape culture. This was critical so that the young people attending knew that this movement didn't start with Amber Rose. Jarvis shared how powerful it was to see the global activism that has come out of their initial protest in Toronto, and that hopefully there will be a day when we won't need Slutwalks anymore. The esteemed Dr. Napatia Tronshaw spoke about the impact of stigma and shame on mental health and addressed the realities of suicide and depression. She urged us to start talking about this with our friends and families to help destigmatize mental health and save lives. These issues don't get enough airtime in our communities but disproportionately kill women of color. Activist and writer Kim Katrin Milan gave a rousing speech about the twisted hierarchy of how society values our bodies. "What we really need to do is ensure the education that we're having is about teaching people not to rape as opposed to teaching us how not to get raped," she exclaimed.
Another celebrity, actor, and self-proclaimed feminist, Matt McGorry from How to Get Away with Murder and Orange Is the New Black joined the panel and encouraged men, especially white, cisgender, straight guys like himself, to use their privilege to advocate for women's safety and rights. He talked about how once he really learned about feminism, he began to see his privilege and initiated conversations with the men in his life about how they view women: "It's incredible to me that it took me 29 years to understand [feminism] and that there's so many people out there, all of these dialogues I have all the time, that people just don't understand what that means. And for me understanding that something so simple was somehow at all convoluted in my mind really opened my mind up to privilege." We need more male celebrities to boldly proclaim their feminism and get other men on board, because unfortunately many of them won't listen to women and are more receptive to hearing the message from a guy who looks like them.
Christopher Johnson of the AIDS Healthcare Foundation reminded the audience about the importance of safer sex and getting tested. Juana Rosa Cavero, a longtime badass reproductive justice advocate in Los Angeles, introduced many in the crowd to the term "reproductive justice" and emphasized the need for civic engagement in communities of color and among young people. She closed with the dynamic chant: "What do we want? Justice! When do we want it? Now!"
Our panel represented a variety of ethnicities, genders, and sexual orientations, and gave young people access to professional people who look like them: doctors, speakers, artists, and activists. The audience got to see women in various shades reflect self-love and power back to them. And even in the celebrity spectacle, there was a sincere connection around reproductive justice issues (even if they didn't know that's what it's called!).
Young people, especially young women of color, are active and engaged; they want to use their voices. A whopping 78.3 percent of college students identify as feminists, and we must reach women who aren't in college by meeting them where they are. Sometimes that place is celebrity pop culture. It's our responsibility as activists and advocates to make sure we are involving celebrities, even if the approach seems "shallow" or unconventional. Being insular does not help curb sexual violence or misogyny.
Whether Amber Rose is a "good" role model is irrelevant and subjective. She is speaking out honestly about her experience of both slut-shaming and sex positivity. And since she has a large following that will listen to her, whether you like her or not, we should lift up those positive messages and engage with her audience. Our movement needs more responsive and powerful young women of color; let's call them in. There's power in Rose's simple request to the crowd, "Let's all come together and be positive role models for each other, and really just let that negative shit go."