Fighting for 'Love and Justice' in North Carolina: Why We Still Protest When It Seems Like We're Losing
If our lawmakers can't love us, I'm of the mind that we should love each other.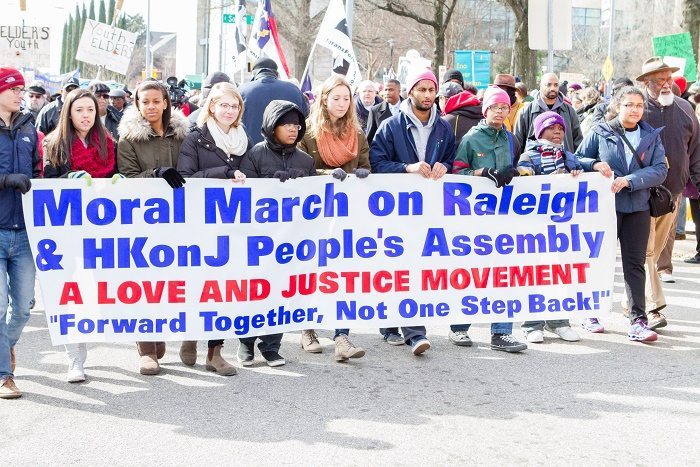 If our lawmakers can't love us, I'm of the mind that we should love each other. Marlon Headen of Headen Photography
Last weekend, I attended the Moral March on Raleigh in North Carolina organized by the HKonJ People's Assembly Coalition.
Since the event fell on Valentine's Day, a day dedicated to sending tokens of love, coalition leaders decided the march, a multi-issue demonstration, should focus on "love and justice."
Outside the large auditorium where people met at the onset of the march, I was greeted by a sea of pink hats and t-shirts, representing Planned Parenthood and those of us marching for women's health. Near Planned Parenthood's booth was another group of people wearing green t-shirts, marching for the environment. On the other side were supporters of the Raise Up for 15 movement, which is fighting to raise the minimum wage to $15 per hour.
The march represented just one of the many ways North Carolina residents have been organizing, as part of the Moral Mondays movement, to show state lawmakers we haven't been feeling the love.
While many of us marched to show our disapproval of the legislature's actions, or inactions, that leave behind the poor, women, and people of color in the state, the reality is that the problems in our state run deeper than whether or not the leadership is passing good policies. On a human level, lawmakers don't seem to care about the lived experiences of North Carolinians. The only explanation I can think of for skimping on Medicaid or the Earned Income Tax Credit, a piece of policy that really helped struggling families, is that they gain some sick satisfaction in stripping poor people of their rights. Is that it?
Even so, I decided to march with Planned Parenthood to show the public that people can still care about each other. Even when elected officials aren't hearing us, the organizers, speakers, and writers are. If our lawmakers can't love us, I'm of the mind that we should love each other.
Since April 2013, the Moral Mondays movement, comprising the people of North Carolina, has been organizing to protest the disastrous effects of the past two legislative sessions.
In the summer of 2013, the HKonJ—which stands for the Historic Thousands on Jones Street, the street that hosts the legislative building in Raleigh—began gathering outside the state legislative building, singing spirituals, making impassioned speeches, remixing raps, and holding hands to express our anger at the systems in which we live. The HKonJ formed in 2006 under Rev. Dr. William J. Barber II and the North Carolina NAACP's leadership; it hosts an annual march on the second Saturday in February to "hold lawmakers accountable to the people of North Carolina," among other things.
For weeks, people—the number swelling by the week—gathered outside the legislative building to show our officials that what they're doing is wrong. The movement carried over to the annual HKonJ march, dubbed the "Moral March," in 2014.
And this year, organizers, activists, and concerned citizens continued the Moral March.
Since I've been organizing for this particular Moral March, many people—supporters, detractors, and just plain curious folks—have asked me: Do these marches work? Are legislators going to listen to you? Why should I come?
I must admit, this year's legislative session does look bleak.
HKonJ coalition partners, for example, have been organizing around Medicaid expansion by gathering stories, hosting press conferences, and putting pressure on Republican Gov. Pat McCrory and legislative leaders to bring health-care coverage to more low-income people in the state.
At one point, McCrory and legislative leaders like Rep. Paul Stam (R-Wake) suggested that the legislature might agree to expand Medicaid. McCrory even went so far as to say that the entire Medicaid system needs to be reformed before we can expand it.
But just this week McCrory announced he is going to wait on the Supreme Court, which is hearing a challenge to some tax credits in the Affordable Care Act, before he moves on Medicaid expansion.
It's funny how when legislators want you to vote for them, they pretend to listen to your concerns, but when it's time to take action, they find an excuse to delay.
In addition to the march on Saturday, Moral March organizers staged two actions in the past week or so to bring the need for Medicaid expansion to light.
The HKonJ coalition staged a "die-in" on February 12 at the state legislative building to draw attention to the fact that people in the state are dying as a result of not having health-care coverage.
The action mimics the die-ins across the country to protest the war on Black men, women, and children at the hands of police and racist vigilantes. The Moral Monday movement reminds us that we are fighting state-sanctioned violence on many fronts.
On Monday, I attended a mock grand jury, called the "people's grand jury," to hear arguments over whether to indict the North Carolina General Assembly and Gov. McCrory.
Citizens shared testimony of their lives without health insurance. I listened to a woman in tears as she explained that she has cervical cancer and often has to work when she is feeling sick or in pain because her fast food job offers no paid time off; because she works part-time, she doesn't qualify for health insurance.
Another man, a pastor in Western North Carolina, explained how he goes out into the community to help others, but he cannot afford insurance for his family of six.
Our leaders would rather see people die than pass simple policies that would cost the state almost nothing, because the federal government will cover all the costs, out of spite.
But these actions—the march, the die-in, and the people's grand jury—show me that although legislative leaders clearly do not care, the people of North Carolina still do.
People's real lives are at stake. I continue to fight because this isn't just a pet cause or a chance to be angry for anger's sake—my people are dying, as a direct result of lawmakers' decisions.
So I say to the people who've asked me whether these events work that they do, if by "work" you mean providing hope to those who truly need it. That's why we called it the march for love and justice.
Because what if lawmakers continued to block Medicaid for hundreds of thousands of North Carolinians and no one said anything? What would people who go without health insurance, or people who have been injured or lost family members to police violence, or people who earn the minimum wage and cannot afford the basics like rent, food, and utilities—what would they think if no one in our state said anything, did anything to protest these injustices? They would think no one cared.
We—organizers, speakers, and writers—do care, and we're not going to stop fighting until something happens. Not until the legislature passes the policies we need. If they don't, we'll appeal to the public to make sure North Carolinians show up at the polls.