Missouri Senate Candidate Todd Akin Says Abortion Not Necessary Because Women's Bodies Can 'Shut Pregnancy Down' After Rape
Todd Akin thinks in cases of "legitimate rape" women's bodies know how to prevent a pregnancy from happening in the first place.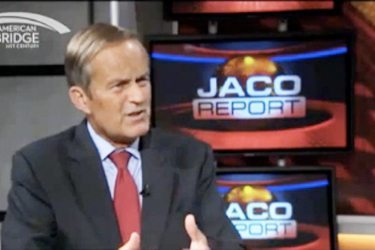 Todd Akin is a former board member of Missouri Right to Life, Youtube
It is always the case that when you finally think right-wing fundamentalist anti-women politicians can not get any crazier … they do something to prove you wrong.
Today's case in point is provided by Missouri Tea Party Senate candidate Todd Akin, a former board member of Missouri Right to Life, who has come up with a whole new angle on why rape is not really a legitimate reason to allow an abortion (in his eyes, of course).
This morning, Akin told Charles Jaco, the anchor of the Jaco Report, that from what he "understands from doctors" (which doctors, he does not say), that assuming we are talking about "cases of legitimate rape" the "female body has a way of shutting that down" (i.e. preventing pregnancy).
So ladies, according to Mr. Akin, if you are raped, you not only have to prove to Mr. Akin that your rape was "legitimate," you also are at fault for allowing yourself to become pregnant.
It's just that simple.
Mr. Akin's biography says he has a degree in Management Engineering, and is a "student of the Constitution." Clearly, he is not a student of medicine, gynecology, biology, nor, I'd venture to say, common sense and common decency. And I am not sure I trust him on the Constitution either.