In the Heart of New York's Pandemic, This Group Is Fighting for South Asian Abuse Survivors
"Sakhi breaks the silence of violence against women in our communities."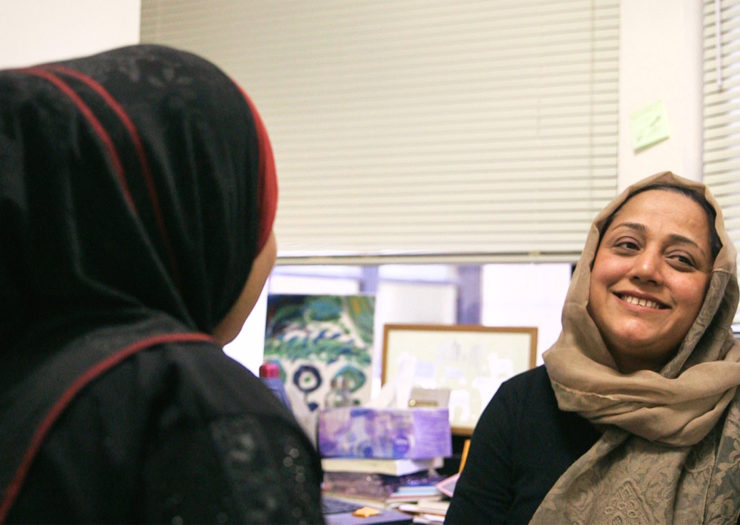 This Asian Pacific American Heritage Month (APAHM), Rewire.News is highlighting the ways Asian and Pacific Islander American communities have been at the forefront of the reproductive justice movement throughout its formation and today.
In New York City, the epicenter of the country's COVID-19 outbreak, many of the hardest hit neighborhoods are home to large South Asian communities.
With the city in lockdown, people are self-isolating at home. And while physical distancing measures are in place to slow down the spread of the coronavirus, another crisis is emerging: Survivors of domestic and gender-based violence are stuck at home with their abusers and are struggling to seek help.
As an immigrant community, South Asian survivors of abuse encounter intersecting issues of poverty, immigration status, and language proficiency. While 1 in 4 women in the United States will experience gender-based violence, that number increases to 2 in every 5 for South Asian women, according to Sakhi for South Asian Women, a culturally responsive and trauma-informed gender justice advocacy organization in New York City.
Roe is gone. The chaos is just beginning.
Follow Rewire News Group on Twitter to stay on top of every breaking moment.
"Toxic masculinity really infiltrates [the community's] capacity to understand survivorship," said Kavita Mehra, executive director of Sakhi for South Asian Women. "Sakhi has an important role in disrupting that mindset, creating conversations, and serving the survivors."
"Sakhi breaks the silence of violence against women in our communities," said Veda Kamra, Sakhi's communications associate.
The staff has been adapting to the needs of survivors of violence during the COVID-19 pandemic. Once cases started escalating in New York, the organization mobilized to address the critical needs of survivors, though their methods had to change as the team shifted to remote work on March 12. Sakhi also created an online directory to COVID-19 information, resources, and mutual aid.
"Pretty early on when we went remote, there were indicators that survivors were not safe. A rise in sexual violence has been occurring. Orders of protection were being violated," Mehra said, adding that the survivors they work with have been "forced into deeper isolation."
In response, Sakhi has been working to get contraception to survivors, who may choose to stay with their perpetrators out of fear of exposure to COVID-19, Mehra said. "In New York City, we live in smaller spaces, and it's more difficult for survivors to leave because most of us are reliant on the public transportation system, which has become unsafe because of the pandemic."
The organization is still running its survivor support hotline, but has seen a 53 percent drop in calls since the emergence of the pandemic in New York, Mehra said. One reason she offered for this change is that survivors now have limited private moments to seek help as they're confined with their abusers at home. In response, Sakhi created a text option for its hotline, so survivors can use encrypted messaging apps like WhatsApp and Signal.
"More men were answering the phone when we were calling survivors, especially when we were doing safety planning," Mehra said, referring to a process of strategizing ways to maintain safety in potentially violent scenarios. "While we are trying to connect with active and inactive clients, we also recognize that there is a part of the population that we might not be reaching. Those are the ones who are some of the most vulnerable. We have been preparing for the surge of survivors leaving their perpetrators once shelters reopen."
The stigma and shame surrounding domestic violence makes it difficult for survivors to seek help, Mehra and Kamra both noted. "The South Asian immigrant mindset is saying that things are family matters and they should happen behind closed doors with the nuclear family. It silences and shames people," Kamra said. "When survivors are told to handle it on their own, they internalize and it affects their mental health and wellbeing."
The group's staff has noticed how issues of immigration and economic hardship have been compounded during the pandemic. Nearly a million New Yorkers have lost their jobs due to the pandemic. According to Sakhi, 75 percent of its client base reside below the federal poverty line; 60 percent are the financial heads of their households; and only 30 percent of the survivors they work with have health insurance, with most on public plans.
"One client's husband had disconnected her cellphone to cut expenses after losing his job," Mehra said. "The combination of the economic impact and overall experience of being confined with their perpetrator has become the tipping point of their trauma."
Sakhi adapted to the needs of its clients by starting a food justice program to deliver groceries, hygiene, and baby products to survivors dealing with job loss and financial and food insecurity during the pandemic. "We have been helping with financial assistance as well," Kamra said.
Immigration status acts as another barrier for South Asian survivors of domestic violence: 95 percent of Sakhi's clients are immigrants, and 10 percent are undocumented.
"The population of undocumented survivors is the most vulnerable of the most vulnerable, and yet they're being ignored," Mehra said. "We are seeing cases where many of our undocumented survivors are testing positive [for COVID-19] and are not able to access federal aid benefits and health insurance, so we've been supporting them through this time."
COVID-19 travel restrictions are also "creating new forms of trauma and an additional layer of strain on immigrant communities," Mehra said, recalling a recent case with a survivor in the process of petitioning for her son to come back to the United States. The process is now on hold due travel restrictions.
"We are still continuing our advocacy remotely and trying to get people to access legal advice and clinics," Kamra said. "But due to the limited schedules of attorneys and pro bono partners, the court systems are in unstable positions. Visitation rights, immigration status, separation from their partners, and even orders of protections are now getting delayed."
Over 90 percent of Sakhi's survivors are mothers and have school-aged children, who are also stuck at home. "Their children are … witnessing or experiencing torment," Kamra said. "So on top of the abuse they are suffering, they have to create schedules for their children, while juggling multiple responsibilities. It's leading to increasing levels of anxiety and depression."
Prior to the COVID-19 outbreak in New York, the nonprofit provided free counseling sessions and organized weekly "Chai and Chat" support group meetings for survivors to heal from their trauma. Those mental health resources have now been shifted online.
"We've also done a virtual movie screening a while back," Kamra added. "We've been trying to stay creative and create effective ways to maintain connections as well as building community."
The organizers, however, recognize that access to internet may be an issue—due to financial instability, lack of technical skills, or abusers restricting survivors' computer access.
"Our team will continue to be proactive and resilient to instill power in survivors while the pandemic is taking theirs away," Mehra said.
If you need help, please call Sakhi's Helpline at 1-212-868-6741, text 1-305-697-2544 or (1-305-MY-SAKHI), or email [email protected].