Here's How Bernie Sanders' Disability Policy Changed From 2016 to 2020
Joe Biden is now the only top-polling Democratic presidential candidate not to issue a comprehensive disability policy proposal.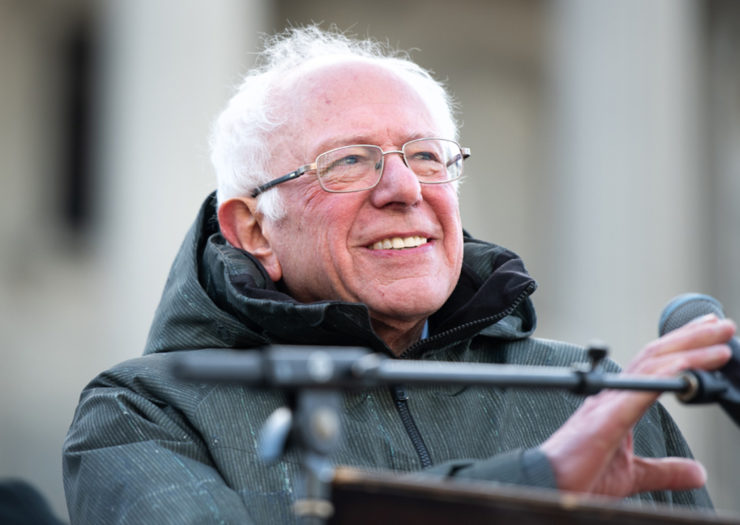 U.S. Sen. Bernie Sanders' (I-VT) comprehensive disability policy plan promises to "champion both protecting and expanding the rights of the tens of millions of Americans with disabilities."
Some have lauded Sanders' plan as the "most progressive disability plan in the field" after advocates criticized his disability policies as inadequate during his 2016 run for the Democratic nomination.
Former Vice President Joe Biden, who is tied with Sanders for the lead in Iowa polls, mentions people with disabilities on his website and in some of his plans. However, he is the only top-polling candidate not to issue a comprehensive disability policy proposal.
Last month, Sens. Elizabeth Warren (D-MA) and Amy Klobuchar (D-MN) issued plans for advancing the rights of disabled people. Other Democratic candidates have released disability policy plans, including former South Bend, Indiana, Mayor Pete Buttigieg, entrepreneur Andrew Yang, former U.S. Secretary of Housing and Urban Development Julián Castro (who dropped out of the race in January), and Sen. Kamala Harris (D-CA) (who dropped out in December).
Roe is gone. The chaos is just beginning.
Follow Rewire News Group on Twitter to stay on top of every breaking moment.
Although people with disabilities have praised other candidates' proposals—particularly Warren's, which is considered comprehensive, inclusive of the perspectives of people with disabilities, and intersectional—Sanders' plan is considered "the most ambitious."
Declaring that "disability rights are civil rights," Sanders' sweeping plan includes Medicare for All, home- and community-based services that will enable disabled people to live in the community instead of in institutions, criminal justice, education, voting, employment, and emergency management.
"Nearly thirty years after the ADA, it is unacceptable that people with disabilities do not enjoy full equality and inclusion everywhere in America, and we will not wait to advance disability rights," Sanders said in a statement. "This is an issue of fundamental civil rights."
Sanders promises to use "executive action to advance disability rights." Like Warren, Sanders vows to establish a National Office of Disability Coordination, which he says will be led by a person with a disability and will be responsible for coordinating and implementing disability policies aimed at elevating disability rights.
Similar to other candidates, Sanders wants to strengthen Supplemental Security Income (SSI) and Social Security Disability Insurance (SSDI). His plan, like Warren's and Buttigieg's, promises to repeal antiquated rules that prevent people with disabilities from marrying because their SSI benefits will be reduced. Sanders also wants to raise SSI benefits to 125 percent of the federal poverty level, which would lift millions of beneficiaries out of poverty.
Unlike Klobuchar's plan, which was criticized by people with disabilities for promoting the institutionalization of people with psychiatric disabilities, the Sanders plan has been praised by activists for proposing policies that will end institutionalization and coercive mental health treatment.
Sanders vows that his administration will rigorously enforce the U.S. Supreme Court's Olmstead v. L.C. decision, which requires states to offer services to people with disabilities in integrated settings.
Sanders' plan recognizes that disability transcends all policy matters, such as criminal justice, climate change, and immigration. As such, Sanders pledges to "incorporate disability issues into every other area of public policy."
People with disabilities have widely praised Sanders for his comprehensive plan that was developed with direct input from people with disabilities. However, as journalist Sara Luterman noted in the American Prospect, Sanders' recognition of the importance of disability policy has been an "evolution."
During the 2016 election, Sanders was criticized for largely overlooking people with disabilities. He received similar criticism when he first released his Medicare for All plan because it didn't adequately cover home- and community-based services for people with disabilities.
After engaging with disabled people, his policy was changed to address their needs.
People with disabilities constitute a sizable voting bloc. An estimated 1 in 4 adults in the United States has a disability, according to the Centers for Disease Control and Prevention (CDC). In 2016, 62.7 million eligible voters were living with a disability or lived with someone with a disability, according to researchers at Rutgers University.
Disabled people have traditionally been overlooked during elections, but increased attention by candidates suggests that may finally be changing. Warren, Buttigieg, and Castro, for example, have held Twitter town halls where people with disabilities could directly ask them about their proposed disability policies. Co-founders of #CripTheVote, a nonpartisan online movement, have invited all candidates to hold similar Twitter chats.
The attention to people with disabilities, especially by top-polling candidates, has been mostly positive, with one notable exception: Biden. Along with not releasing a disability policy plan, last week, a video went viral of Biden "petting" Samuel, a man with a disability, during a campaign event. According to communications professional Imani Barbarin, "His petting and condescension show he doesn't believe disabled people are integral to the political process and doesn't seem to take Samuel or his vote seriously."
People with disabilities are an important voting bloc that may influence how November's election is decided. Voter turnout among disabled people "surged" during the 2018 midterm elections, according to Rutgers. Sanders' plan is the latest example of this election's unprecedented attention by candidates to people with disabilities. While it is too soon to see how this recognition will pay off, disabled people are thrilled to finally be acknowledged.