Republicans Are Trying to Ban Abortion Even in States Where They Have Little Chance
Abortion rights foes in the Democratic-majority New Hampshire legislature are "trying to bring the Trump administration's abortion agenda" to the state, a Planned Parenthood official said.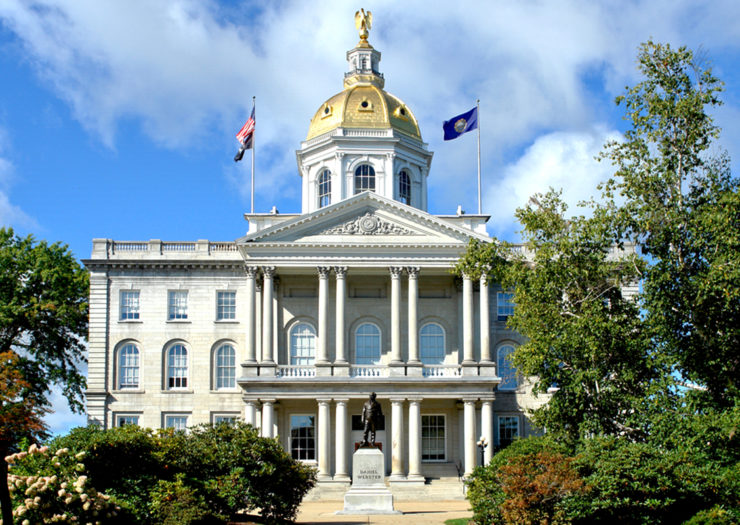 Republican state lawmakers aren't only pushing near-total abortion bans in states with dominant GOP majorities. Even in New Hampshire, a state where pro-choice Democrats hold a majority in the state legislature, a near-total ban was introduced last week. 
The near-total abortion ban is one of four abortion restrictions New Hampshire Republicans introduced in the state house on January 8, the first day of the 2020 legislative session, even as other New England legislatures have moved to protect abortion rights from a potential undoing of Roe v. Wade by conservative justices on the U.S. Supreme Court.
Anti-choice politicians in state legislatures across the United States enacted a record number of abortion restrictions in 2019. As states begin their 2020 legislative sessions, pro-choice legislators and advocates expect more of the same. 
"New Hampshire has a long bipartisan history of supporting a person's right to make their own private health-care decisions, and as a result our state has one of the strongest reproductive health-care landscapes in the country," said Derek Edry, communications manager for Planned Parenthood of New England. "These bills are really unprecedented in terms of how extreme they are."
Roe is gone. The chaos is just beginning.
Follow Rewire News Group on Twitter to stay on top of every breaking moment.
HB 1475, sponsored by New Hampshire state Reps. Dave Testerman (R-Merrimack) and Walter Stapleton (R- Claremont), is a "heartbeat" bill. Similar to the near-total abortion bans passed in other states, HB 1475 would prohibit abortion after a "fetal heartbeat" is detected. This can occur as early as six weeks' gestation, before most people even know they are pregnant and when there is not yet a fetus or a heart. What can be measured at that time is electrical activity in an area of the embryo called the fetal pole.
"We have never seen the heartbeat bill before, this is the first time it has ever been introduced," said Kayla Montgomery, director of advocacy and organizing for the Planned Parenthood New Hampshire Action Fund. "I assume a lot of that is due to what has been happening across the country."
New Hampshire has one abortion restriction on the books: a forced parental notification law passed in 2011 that requires a minor under 18 years of age to notify a parent or get a judicial bypass before receiving an abortion. The state also prohibits public funding for abortion except in case of rape, incest, or life endangerment. 
New Hampshire Republicans introduced three other bills last week that mirror extreme measures introduced elsewhere in the country. They include HB 1675, declaring "the right of any infant born alive to medically appropriate and reasonable care and treatment." Similar to a bill introduced in the U.S. Senate, this is based on the myth that babies routinely "survive" attempted abortion procedures and are harmed by abortion providers. 
New Hampshire Republicans have also introduced a bill banning abortion based on sex or or potential genetic abnormalities, and a bill that would remove the judicial bypass provision of New Hampshire's current parental notification law, forcing all minors to notify their parents before receiving an abortion, even if that notification would be harmful or dangerous to them.
"A few extreme anti-abortion legislators are essentially trying to bring the Trump administration's abortion agenda to the Granite State, and it's really not representative of our state's values as a whole," Edry told Rewire.News.
Extreme anti-choice rhetoric came to the forefront last week as Patch reported that William O'Brien, a former Republican house speaker in New Hampshire who is running for U.S. Senate this year, compared abortion to the 9/11 terrorist attacks and slavery.
Democrats hold a four-seat lead in the state senate in New Hampshire. They have a 71–seat advantage in the state house.
Republican Gov. Chris Sununu has a mixed record on abortion rights. He says he is pro-choice, but has supported defunding Planned Parenthood. In 2017, he signed into law a fetal homicide bill defining a fetus as a person at 20 weeks' gestation for the purpose of criminal prosecution of murder, manslaughter, or negligent homicide. 
"There are over 1,000 bills the legislature is considering this year and many will not reach the governor's desk," Sununu's communications director Ben Vihstadt said in an email to Rewire.News. "Governor Sununu is pro-choice, but will review the final language of any bill should it reach his desk."
Montgomery said she expects bipartisan opposition to these anti-choice bills. If any of the anti-choice measures passed and were signed into law, Planned Parenthood would challenge them in court. 
"We are not going to let these bills pass. We are going to fight tooth and nail to make sure Granite Staters have access to safe, legal abortion," Montgomery said. "As we've seen in a lot of other states where these bills have come up, they're not constitutional. If something happens and something like this were to pass, we would certainly fight it in the courts."