Buttigieg Says Expanding Medication Abortion Access Could Come With 'Unintended Consequences': Campaign Week in Review
Pete Buttigieg said he, like other leading Democratic candidates, supports the "spirit" of making medication abortion available over the counter.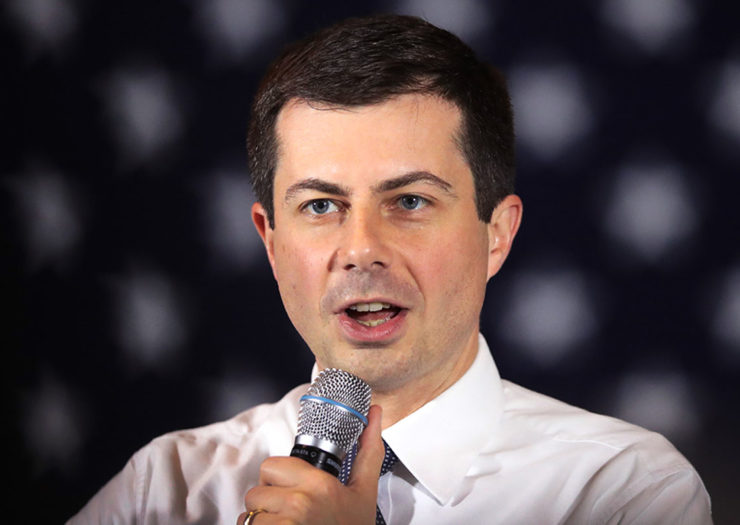 Join Rewire.News for a weekly look at how reproductive health, rights, and justice issues are popping up on the 2020 campaign trail.
Buttigieg Takes a Nuanced Stance on Making Medication Abortion More Accessible 
South Bend, Indiana, Mayor Pete Buttigieg said this week that while he backs the expansion of medication abortion, there needs to be "more research into the pros and cons and unintended consequences of its use in the context of the United States."
Medication abortion, which consists of taking two pills, mifepristone and misoprostol, is used for abortion at or under ten weeks after the first day of a person's last period. Medication abortion, which as of 2017 made up 39 percent of abortions in the United States, has been available in the country since 2000. 
Roe has collapsed in Texas, and that's just the beginning.
Stay up to date with The Fallout, a newsletter from our expert journalists.
Buttigieg, one of four Democratic presidential candidates who responded to Vice about their stance on medication abortion, said he—like other leading Democratic candidates—supports the "spirit" of making medication abortion available over the counter. But as Buttigieg told the New York Times in November, making such federal policy a reality "could have the unintended consequence of setting people up for a criminal investigation or even jail" since self-administered abortion care is illegal in some states.
U.S. Sen. Elizabeth Warren (D-MA) told Vice she would direct the U.S. Food and Drug Administration (FDA) to "lift restrictions on misoprostol and mifepristone so that they can be made available over the counter" if she wins the presidency in 2020. "Restrictions on medication abortion are medically unnecessary and exist for only one purpose: to functionally eliminate the ability of women to access abortion services," Warren told Vice. 
Republican lawmakers have made a concerted push to halt the expansion of medication abortion access, pushing the false narrative that abortion pills are dangerous and in need of heavy regulation. Research ignored by GOP legislators has shown medication abortion is a safe way to end a pregnancy.
Dr. Jamila Perritt, an abortion provider and advocate for reproductive health and rights, told Rewire.News that restrictions on medication abortion—such as the FDA's Risk Evaluation and Mitigation Strategy (REMS)—would always have a disproportionate effect on marginalized communities across the country. REMS is a restriction applied to medications with high safety concerns. 
"We should be very clear in saying that restrictions on access to medication abortion like the REMS are based in politics and ideology, not science and medicine," Dr. Perritt said. "As a physician I know that when we allow medical care to be dictated by politicians, my patients suffer. Moreover, those who have difficulty accessing medical care, including abortion care, are more likely to be impacted by these policies. This includes women of color, young people, folks in rural communities, and those with low incomes."
She continued: "These same communities are also more likely to have higher rates of unintended pregnancy and be unable to access medication abortion for a variety of reasons. It delays their ability to access abortion early in pregnancy and sometimes they are unable to access abortion care at all. Restrictions like the REMS target and harm those most marginalized from care the most."
Reproductive Health Care Gets Short Shrift During Debate
Reproductive rights only received a passing mention during Thursday's Democratic presidential debate in Iowa, irking abortion rights advocates.
"Though candidates had more time to dive into the meat of issues, the debate only briefly addressed access to reproductive health," Alexis McGill Johnson, acting president and CEO of Planned Parenthood Action Fund, said in a statement.
"We cannot talk about the economy without addressing how access to reproductive health care for people with low incomes hangs on by a thread. We cannot address immigration without calling out the immediate threat to the safety of women and children at the border. … To not center this issue is to ignore the unequal right to access basic sexual and reproductive health care—and that is disheartening. No candidate can afford to leave this issue unaddressed."
Progressive Group: DNC Should Change January Debate Eligibility Requirements
Progress Texas, a group that champions progressive causes across the state, this week called on the Democratic National Committee (DNC) to waive polling and fundraising requirements for January's Democratic primary debate in Des Moines, Iowa. Ed Espinoza, executive director of Progress Texas, said the increasingly stringent debate requirements have made the Democratic presidential field less diverse. 
"As debate requirements have heightened over the course of the year, we are seeing an unintended consequence in which candidates of color are disproportionately excluded during a time where many voters are starting to tune in to the primary process for the first time," Espinoza said in a statement. "Americans deserve to hear from all of the national Democratic candidates on the ballot, and the DNC can facilitate that by waiving polling and fundraising requirements for the January debate."
The organization urged DNC officials to "limit the field of candidates to those who will appear on the New Hampshire primary ballot and are among the 15 nationally recognized candidates identified by the New York Times."
Among the seven candidates who qualified for Thursday's Democratic debate, Andrew Yang was the lone person of color.
What Else We're Reading
Sen. Bernie Sanders (I-VT) leads among people of color in a recent poll of Democratic voters conducted by NPR/PBS NewsHour/Marist. Sanders, who also leads among voters under 45 years old, has a 3 percentage point lead on former Vice President Joe Biden among voters of color. Biden leads with white voters.
In an interview with the Guardian, Sen. Amy Klobuchar (D-MN) said she would immediately reverse the Trump administration's anti-choice policies should she win the presidency in 2020. Klobuchar pledged to undo Trump's domestic "gag rule," which forced Planned Parenthood out of the Title X family planning program.
The Lincoln Project, a super PAC created by conservatives who oppose President Trump, launched this week, the Washington Post reported. Trump has an 89 percent approval rating among Republicans in a Gallup poll. It's unclear whether the Lincoln Project would directly support whichever Democrat wins the party's primary and faces Trump in the 2020 general election.