'When Gerrymanders Fail': Texas Republicans, Facing Tough Re-Elections, Quit
A spate of Texas Republicans have announced their retirements from Congress amid shifting demographic and electoral trends.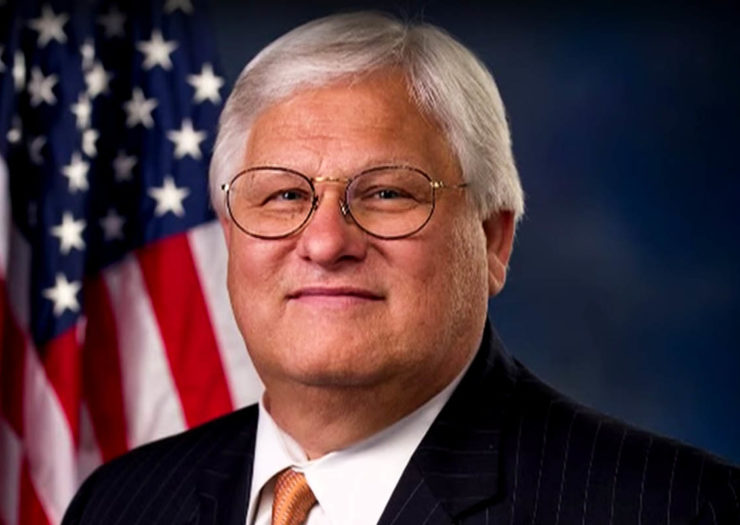 U.S. Rep. Kenny Marchant (R-TX) cruised to victory during his first six general elections in Texas' 24th Congressional District, regularly netting more than 60 percent of the vote.
Then came 2016, when Marchant won with 56.2 percent of the vote. In 2018, he earned 50.6 percent, beating his Democratic opponent by three points.
Marchant on Monday joined a growing list of Texas Republicans in the U.S. House of Representatives to announce his retirement amid shifting demographic and electoral trends that have made once-crimson red Texas districts competitive. Marchant joins Reps. Mike Conaway, Pete Olson, and Will Hurd in retiring from the House.
While Conaway's district—created in an early-2000s GOP gerrymander—still leans Republican, districts represented by the other three retiring congressmen have become battlegrounds, as seen in the 2018 midterms when Hurd, the lone Black Republican in the House, won against Democratic upstart Gina Ortiz Jones by only half a percentage point.
Roe has collapsed and Texas is in chaos.
Stay up to date with The Fallout, a newsletter from our expert journalists.
"When gerrymanders fail, this is what it looks like along the path," Benjamin Ray, senior director of campaign communications for EMILY's List, told Rewire.News. "There will always be tough districts in Texas, but we believe many of these districts are moving toward us. And if these guys thought they were going to walk to a win, they would be running."
The flurry of GOP retirements in the House comes after a midterm election in which 46.97 percent of the vote went to Democratic candidates across Texas, nearly ten points higher than in 2016, and around 14 points higher than in 2014. U.S. Sen. Mitt Romney (R-UT) won Texas by almost 16 percentage points over then-President Barack Obama in the 2012 presidential election; President Donald Trump took the state by 9.2 percentage points in 2016, with 52.6 percent of the statewide vote.
Republicans' advantage in most of these Texas districts has eroded over the past seven years. Much of the 22nd Congressional District, which Olson represents, went to Democratic nominee Hillary Clinton in 2016. That includes Harris County, which she won by 12.4 percentage points and Fort Bend County by 6.6 points. In 2012,  Obama won Harris County by a mere 0.1 percentage point over Romney, and Romney won Fort Bend by 6.8 points over Obama.
Olson won re-election in the 2018 midterms by 4.9 percentage points. He won his 2016 race by 19 points.
The retiring Texas Republicans "see the writing on the wall: they are going to lose in 2020 as Texans move toward Democratic candidates and policies," said Glenn Smith, senior adviser to Progress Texas, an organization tracking Texas politics and supporting Democratic candidates.
Smith warned against progressives assuming support for Republicans would continue to recede in Texas but added that the party's embrace of extreme policies—and state Republicans' refusal to expand Medicaid access under Obamacare—has offered Democrats an opening throughout the state.
"Sure, the growing diversity of the state has something to do with it. But demographics aren't destiny," he told Rewire.News. "People aren't born stamped with this party or that party in their DNA. They use their experience to choose their political preferences. Democrats here are persuading Texans that their way is the better way.
Texas' demographics are changing as the state's population grows. Between 2010 and 2016, the white population in Dallas County—the state's second-most populous county—decreased by 2.56 percent. The county's Hispanic population increased by 13.28 percent, and the Asian population climbed by 32.39 percent, according to the Texas Demographic Center.
Progress Texas found there were 1.8 million first-time voters across the state in 2016, with the growth margin favoring Democratic candidates 5-to-1.
Then there's the age factor: Texas is one of the few states in which the 18- to 34-year-old population increased by 5 percent or more between 2010 and 2015, according to a Brookings Institution report published in January 2018.
"Texas is changing faster than any gerrymandering can account for," Smith said. "Districts that Republicans thought would guarantee GOP success are much different than they were when the GOP smartypants drew them."
Hurd is retiring after surviving two close elections. As an incumbent, he beat his 2016 Democratic opponent by 1.3 percent before securing re-election against Ortiz Jones by less than 1,000 votes in 2018. EMILY's List is among the organizations that have endorsed Ortiz Jones in her bid for the 23rd Congressional District in 2020. The organization also endorsed Ortiz Jones in 2018.
"We're confident this is the year she gets over the top, and Congressman Hurd apparently agreed with that assessment," Ray said.
In the 24th Congressional District in Texas, Marchant's 2018 opponent, Jan McDowell, will again vie for the seat in 2020 after her narrow loss in last year's midterms. McDowell will first have to win in a crowded Democratic field, the Texas Tribune reported.
Stephanie Schriock, president of EMILY's List, said in a statement that after the spate of GOP retirements, "Texas Republicans have to face the fact that their party's extremist platform is unpopular in an increasingly diverse state."
Ray said recent Democratic gains in Texas and Republicans' embrace of President Trump's radical agenda had opened myriad opportunities for progressive candidates to win in longtime GOP strongholds. He pointed to former Democratic Texas state Sen. Wendy Davis, vying to replace Rep. Chip Roy (R-TX), who has said abortion "has no place in American society."
"He's wildly out of step with Texas voters," Ray said, pointing to Roy's opposition to renewing the Violence Against Women Act. "We think it's important to hold him accountable."
The nine House GOP retirements make a 2020 Republican takeover of the House less likely. Democrats today hold a 37-seat majority with two vacant seats after sweeping to power in 2018, according to the New York Times.