Wendy Davis Is Running for Congress (Updated)
Wendy Davis, who filibustered an omnibus anti-choice Texas law in 2013, has entered the race to unseat a Republican who believes abortion care "has no place in American society."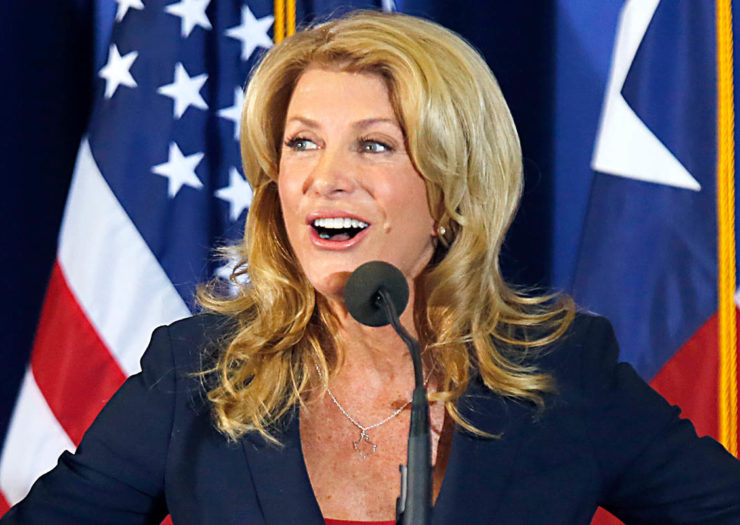 UPDATE, March 4, 3:24 p.m.: Wendy Davis won Tuesday's Democratic primary contest and will now take on Rep. Chip Roy in November. Roy won his 2018 race by 2.6 percentage points.
Wendy Davis, the Democrat who in 2013 famously filibustered sweeping anti-choice legislation in the Texas Senate, launched her campaign Monday to represent the state's 21st Congressional District in the U.S. House of Representatives.
Davis' filibuster of the Texas omnibus anti-choice bill lasted 13 hours. The Republican measure later passed, shuttering abortion clinics throughout the state. Several provisions of the law were ultimately struck down by the U.S. Supreme Court in June 2016.
"I've learned that I'm at my best when I'm fighting for people," Davis said in a video announcing her campaign that recounted her biography and referenced the filibuster. "I'm running for Congress because peoples' voices are still being silenced. I'm running for our children and grandchildren so they can live and love and fight for change themselves."
Roe has collapsed and Texas is in chaos.
Stay up to date with The Fallout, a newsletter from our expert journalists.
The national spotlight from her filibuster gave Davis a platform she quickly used to launch a run for higher office. She announced her campaign for governor in October 2013, losing the race by almost 20 points to Republican Greg Abbott the following November.
Davis' decision to run for Congress will likely put national attention on the race to unseat freshman Rep. Chip Roy (R-TX). High-ranking Democrats including House Speaker Nancy Pelosi (D-CA) are slated to host an event "in support of" her campaign this week, according to a report from the Texas Tribune.
Roy won his congressional seat in 2018 by just 2.6 percentage points. The Democratic Congressional Campaign Committee, the arm of the party that seeks to elect Democrats to the House, added the seat to its target list in January.
On his campaign page, Roy highlights his opposition to abortion as a key component of his platform. He believes "that life begins at conception," echoing so-called personhood rhetoric that if enacted into law could criminalize abortion and some forms of contraception. In a February post to his campaign site lauding the finalization of the Trump administration's anti-choice restrictions on Title X, Roy said, "Abortion has no place in American society …. We must do everything possible to stop abortion in any form."