Advocates Question Booker's Commitment to Immigrant Rights Ahead of Fundraiser Appearance
Cory Booker has taken an active stance against ICE but will attend a fundraiser co-hosted by somebody who runs a New Jersey ICE detention center.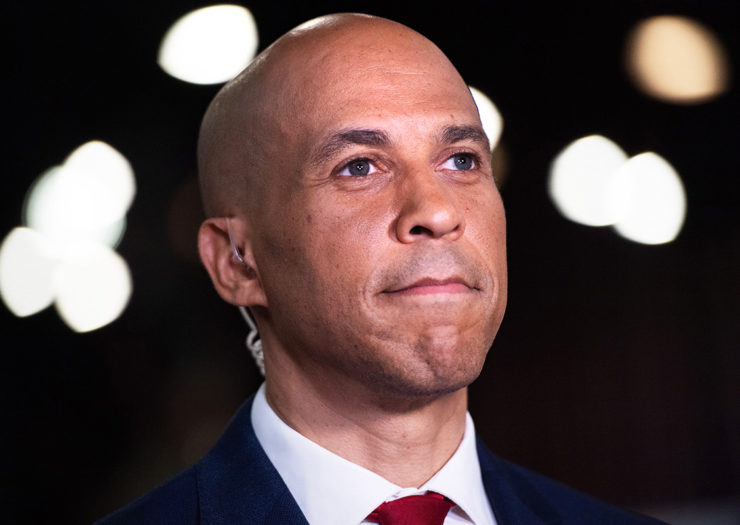 New Jersey Sen. Cory Booker spoke boldly of ending immigrant detention on the national stage during the first Democratic presidential debate on Wednesday. But advocates say there is reason to question the strength of his commitment. 
"This president has attacked and demonized immigrants—it's unacceptable," he said. "On day one, I will make sure we end the [U.S. Immigration and Customs Enforcement (ICE)] and [U.S. Customs and Border Protection (CBP)] policies that are violating human rights."
The comments come after Booker called on the U.S. Senate to hold a hearing on ICE's "egregious and appalling abuses" in a letter sent to Senate Judiciary Committee Chair Lindsey Graham (R-SC) earlier this week. 
Booker is set to attend a fundraiser on Friday co-hosted by Joseph DiVincenzo Jr., who runs a New Jersey ICE detention center notorious for its "rotting food, decrepit bathrooms, a lack of outdoor space and other 'egregious violations of detention standards,'" according to a report from NJ.com. New Jersey's Essex County makes as much as $40 million per year from the facility, which is in Newark, where Booker served as mayor.
Roe has collapsed and Texas is in chaos.
Stay up to date with The Fallout, a newsletter from our expert journalists.
Experts have hailed conditions in all three of New Jersey's detention centers as "harsh and inhumane." Last year, a team of researchers with Human Rights First documented instances of detainees being placed in disciplinary confinement for reporting maggots in the shower area, served raw, spoiled, or expired food, and denied access to medical care for potentially life-threatening conditions.
Advocacy groups have demanded New Jersey cease its contract with ICE. Members of the statewide coalition Take Back NJ, meanwhile, have called on Booker to cancel his appearance at the fundraiser. So far, there is no indication that he plans to.
In a statement, Booker's campaign spokesperson, Sabrina Singh, defended the senator's commitment to justice work. "Anyone who knows Cory knows that he's never hesitated to stand up and fight tough fights, speak out against injustice, and work to build a more fair and just country," Singh said.

Some advocates disagree. Juan Pablo Orjuela-Parra, an organizer with Movimiento Cosecha in New Jersey, told Rewire.News that "Booker likes to paint himself as a hero, but an immigrant detention center was built and another greatly expanded under his watch."
"It's hypocritical of him to say he'll be there for the immigrant community when he's shown no leadership for immigrants in his own state," he said. "For example, drivers' licenses for undocumented immigrants—he's used none of his political capital to advance them."
State Democratic lawmakers introduced a bill late last year to allow noncitizens to apply for driver's licenses, but there has been no movement on the issue since. A spokesperson for state Assembly Speaker Craig Coughlin (D-Middlesex) stated in March that the legislation is "under review." Booker himself has been silent on the issue. 
Booker has taken a more active stance against ICE in recent weeks. On Thursday, he introduced a bill to remove marijuana use, possession, and distribution as grounds for deportation. But some aren't convinced by his sudden stance. 
"It's unacceptable that he is scheduled to attend a fundraiser tomorrow hosted by Joe DiVincenzo, a political boss [who] oversees an immigrant detention facility that has been cited for inhumane conditions," Sue Altman, state director at New Jersey Working Families, told Rewire.News on Thursday evening. "Which side is Senator Booker on? That of political bosses or the immigrant communities and progressive advocates he claims to represent and support?"