'They've Moved the Goalpost': How Missouri Lawmakers Are Regulating Legal Abortion Out of Existence
Anti-choice government officials have altered rules and regulations to shut down abortion care facilities across Missouri.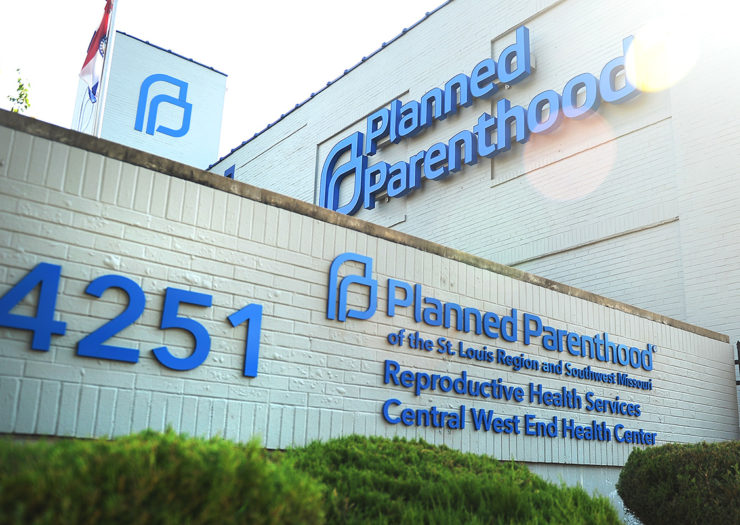 Missouri's last abortion clinic is hanging on by a thread after years of targeted regulations and restrictions implemented by anti-choice lawmakers and state government officials.
The burden of meeting Missouri's ever-changing licensing requirements has resulted in the closure of four abortion care facilities in the state over the last decade, Planned Parenthood officials say. The web of regulations now threatens the state's sole abortion provider in St. Louis, despite Planned Parenthood working to meet arbitrary and medically unnecessary requirements created by abortion rights foes. The state's health department is responsible for interpreting and enforcing regulations set by the Republican-dominated Missouri General Assembly.
"This didn't happen overnight," Bonyen Lee-Gilmore, director of state media campaigns for Planned Parenthood, told Rewire.News. "This has been several decades' worth of work by politicians who are passing medically unnecessary restrictions and working with their political appointees who enforce regulation. They have picked off health center after health center, pushing care out of reach for far too many people. This has been a slow chipping away, a long-term strategy by anti-abortion forces in the state who have planned a long arc to this day."
In 2008, Missouri had five abortion clinics, but by 2018 that number had dwindled to two. Last October, Planned Parenthood's Columbia Health Center in mid-Missouri lost its license to perform abortions after failing to meet the state's requirements that abortion providers receive admitting privileges at hospitals within 15 minutes of their clinics—an unnecessary rule designed to close abortion care clinics. This leaves Reproductive Health Services of Planned Parenthood in St. Louis as the only health center providing abortions in the state, and its license is now in jeopardy of being revoked due to a failure to comply with licensing requirements set by the Missouri Department of Health and Senior Services (DHSS).
Sex. Abortion. Parenthood. Power.
The latest news, delivered straight to your inbox.
Planned Parenthood addressed two of the three issues flagged by the state's health department in May: a requirement to conduct two pelvic exams for people seeking surgical abortions and a requirement that attending physicians provide state-mandated counseling, which often involves anti-choice messaging. The third issue involves the department interviewing physicians involved in abortion care for reasons they haven't disclosed to Planned Parenthood, Lee-Gilmore said. 
"I still don't know what their concerns are and the specific complaints they are investigating," the clinic's medical director, David Eisenberg, said Friday at a press conference. "We are more than willing to work with them to solve whatever concerns they have."
Last Friday, hours before the clock was set to run out on the clinic's license, St. Louis Circuit Court Judge Michael Stelzer granted Planned Parenthood a temporary restraining order to prevent the license from expiring at midnight. The ruling will stay in effect, allowing the clinic to continue to provide abortions until Stelzer rules on Planned Parenthood's request for a preliminary injunction, which would bar the state from denying renewal of the license. A hearing is set for June 4.
The threat of the St. Louis clinic losing its license comes less than two weeks after Gov. Mike Parson (R) signed into law a bill banning abortion after eight weeks. Five other states have passed similar bans this year, including Georgia, Alabama, and Louisiana, though none are yet in effect. Missouri is one of six states with just one clinic that provides abortions, including Kentucky, Mississippi, North Dakota, South Dakota, and West Virginia.
In an interview with NPR, Randall Williams, the director of DHSS, said the department is requesting interviews with seven doctors to discuss concerns regarding "standard of care and policy."  
Two of the seven physicians have already spoken with the department, Lee-Gilmore said, and the other five are not employed by Planned Parenthood. Three are trainees, and two are medical residents who have finished their rotations and are no longer working at the clinic. Missouri's health department did not respond to requests for comment from Rewire.News.
The clinic's license is renewed annually, and each year, DHSS provides a new interpretation on many of the licensing requirements, Lee-Gilmore said. In past years, residents in training have been permitted to provide state-mandated counseling under the supervision of attending physicians, but this year, DHSS is requiring the counseling be done by physicians only.
"This is an example of how they've moved the goalpost once again," Lee-Gilmore said. "Every time we've been able to comply during the investigation process, they have taken that and re-interpreted it until we are out of compliance again."
Along with interviews and who provides the state-mandated counseling, the state is now requiring doctors to perform two pelvic exams for those seeking surgical abortions, one during counseling and another one after a forced 72-hour waiting period. Two pelvic exams are not medically necessary, Lee-Gilmore said, and the invasive procedure is particularly harmful to survivors of sexual assault.
A 2018 state requirement that patients undergo an unnecessary pelvic exam to receive a medication abortion resulted in a drastic decrease in the number of medication abortions, according to the St. Louis Post-Dispatch. Doctors in Missouri performed 359 medication abortions in 2018, compared to 982 in 2017.
"This is about the state wanting to shame and stigmatize women who choose safe, legal abortion and the politicians behind this are trying to make it as uncomfortable as possible," Lee-Gilmore said. "It leaves our doctors having to choose between their medical ethics and keeping abortion access open for an entire state of women. They know they are forcing our doctors into an impossible situation. It's by design."
During Missouri's 2017 special session, politicians passed an omnibus anti-choice bill requiring abortion facilities have a "complication plan" that ensures patients have access to "safe and reliable care." The bill permits DHSS to develop the rules and regulations of that complication plan, and those provisions are now part of the licensing requirements.
"You can't just look at the regulatory system that is putting our license in jeopardy in a silo," Lee-Gilmore said. "You have to look at the decades of TRAP [targeted regulations on abortion providers] restrictions that have resulted in one health center in the entire state."
Should the clinic's license expire, Missouri would become the first state without an abortion provider since 1974. Missouri already has some of the most restrictive abortion laws in the country, including a parental consent for minors and a 72-hour waiting period for patients between counseling and receiving an abortion. These restrictions have already forced many women to travel out of state to receive abortion care, Lee-Gilmore said.
"What is happening in Missouri is a warning to us all, no matter where you live, that medically unnecessary restrictions are harmful," Lee-Gilmore said. "If we don't stop them one day we will be staring at the same scenario in another state."