'Budgets Reflect Priorities': House Democrats Use Spending Bill to Fight Trump's 'Gag Rule'
Democrats' pushback against the so-called gag rule includes Hyde Amendment language restricting federal funding for abortion care.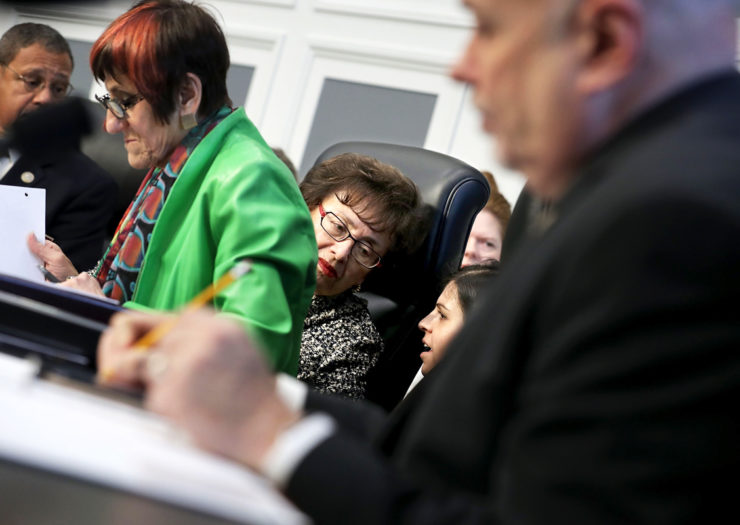 Democrats on the U.S. House Appropriations Committee on Monday released a draft spending bill that attempts to block the Trump administration's restriction on Title X family planning funding, dubbed the domestic "gag rule" by reproductive health and rights advocates.
The bill also contained Hyde Amendment language restricting federal funding for abortion care, which disproportionately affects people of color and those with low incomes.
The efforts are a part of the 2020 Labor, Health and Human Services, Education, and Related Agencies (LHHS) funding bill, scheduled to be considered Tuesday. The bill includes language meant to block the administration's gag rule, which if implemented would ban federal family planning funds from going to health providers who perform or refer patients for abortion services. The gag rule was scheduled to go into effect Friday but has been temporarily blocked in the courts.
The spending bill seeks an increase of $114 million to the Title X program, which would bring total funding for the program to $400 million. The bill, according to a bill summary, would provide "an increase of $46 million, for programs to improve maternal and child health, including an additional $5 million to reduce maternal mortality."
Roe is gone. The chaos is just beginning.
Follow Rewire News Group on Twitter to stay on top of every breaking moment.
"Democrats are standing up for women's healthcare by pushing back on the Trump-Pence administration's dangerous attacks on family planning services, including abortion and contraception," Rep. Rosa DeLauro (D-CT) said in a statement. "Women know what is best for them and their families much better than this administration. That is why we are fighting to protect Title X and the millions of patients who get care through this program in this year's Labor-HHS funding bill."
Planned Parenthood praised the bill in a press call on Monday evening. "The Title X gag rule is unethical, it's dangerous, and it's illegal. Planned Parenthood applauds our health-care champions in Congress who are taking action to stop," said Dr. Leana Wen, president of Planned Parenthood Action Fund and Planned Parenthood Federation of America.
When asked about whether the organization was concerned about the inclusion of the Hyde Amendment, an annual appropriations rider that bans federal funding for abortion care, Wen said the organization "strongly opposes Hyde."
"What we know is that Representative DeLauro is a champion for women," Wen said. "We know she is committed to repealing this provision and we support her and her colleagues' efforts to do that."
Emily Stewart, vice president of public policy at Planned Parenthood Federation of America, added that while there are those in Congress championing the end of the Hyde Amendment, with Republican opposition in Congress and the White House "it would be nearly impossible to repeal the Hyde Amendment in this political climate which is why we are doing everything we can in the long-term to work with those partners to move forward changing the Congress so that we have more policymakers who are able to … end the discriminatory policy."
Clare Coleman, president and CEO of the National Family Planning & Reproductive Health Association (NFPRHA) lauded House Democrats' attempt to increase Title X funding in the budget bill but condemned its inclusion of the Hyde Amendment. "We are very gratified to see the House subcommittee provide a much-needed boost in funding for the nation's family planning program, and truly appreciate the leadership of Chairwoman Rosa DeLauro and her colleagues in proposing this significant increase," Coleman said in a statement.
"At the same time, NFPRHA notes with disappointment that the funding bill leaves in place the Hyde Amendment, which perpetuates disparities in abortion access by limiting the use of federal funds to pay for abortion care. Access to health care should not be limited because of a person's income. To support the dignity of all patients, we urge Congress to remove the Hyde amendment from this and future appropriations bills."
"The Hyde Amendment remains one of the harshest abortion restrictions on the books, and we are disappointed that this year's federal Congressional budget maintains a policy that denies millions of low-income people insurance coverage for abortion care," Destiny Lopez, co-director of All* Above All, an organization seeking to lift restrictions that deny abortion coverage, said in a statement to Rewire.News. "No one should be denied health coverage just because she is poor, and we will continue fighting to lift abortion coverage bans like the Hyde Amendment once and for all."
NARAL Vice President Adrienne Kimmell expressed a similar sentiment in a statement to Rewire.News. "From blocking Trump's domestic gag rule to increasing funding for family planning and sex education, this bill is an important step for comprehensive reproductive health care," Kimmel said. "Budgets reflect priorities, and we are thrilled to see that this bill includes many important safeguards for reproductive freedom. But we also know rights aren't rights unless you can truly access them and we are disappointed the bill includes the Hyde Amendment. This harmful and discriminatory policy will continue to cut many lower-income Americans off from abortion access."
There is unprecedented support in the House for doing away with the Hyde Amendment after the 2018 midterm elections heralded a Democratic majority. Legislation to block Hyde was introduced for the second time in the House and for the first time in the Senate in March. The Democratic Party in the 2016 presidential election for the first time included the end of the anti-choice restriction in its official platform, and the issue has been brought up on the campaign trail during the 2020 primary season.