Georgia Democrats Respond to GOP's Total Abortion Ban With 'Testicular Bill of Rights'
Georgia Democratic Rep. Dar'shun Kendrick wants to change the discourse around Republicans' total abortion ban with legislation that would strictly regulate men's reproductive health care.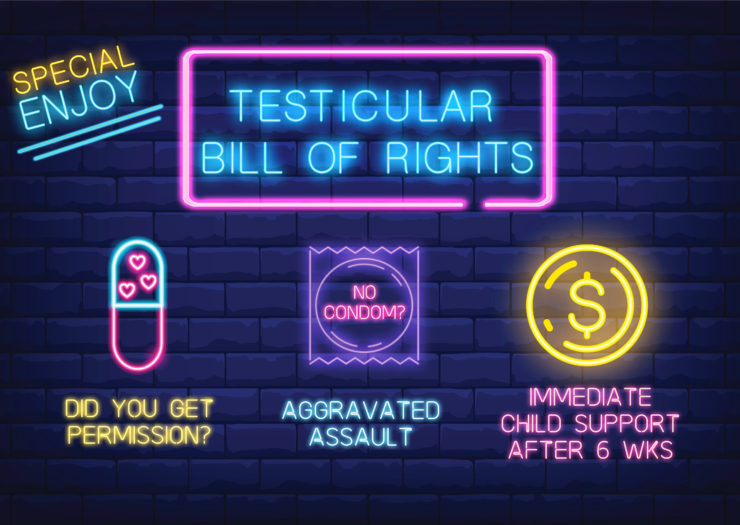 The passage of Georgia Republicans' total abortion ban in the state house has set off a firestorm of responses, with Democrats considering legislation to regulate men's reproductive health care and sexual health choices, while the ACLU of Georgia moves forward with a lawsuit protecting the first amendment rights of opponents to the anti-choice bill.
A so-called fetal heartbeat bill, criminalizing abortion care six weeks into pregnancy, passed last week in the Georgia state House of Representatives. Many people don't know they're pregnant at six weeks, meaning the draconian measure is essentially a complete ban on abortion. The bill was introduced to the state house floor for debate with only hours left on crossover day, a critical legislative deadline for moving a bill from one chamber to another.
Georgia Gov. Brian Kemp (R), whose controversial 2018 electoral victory is being investigated by the U.S. House of Representatives, has said he'll sign the total abortion ban if it passes both legislative chambers.
In response, Rep. Dar'shun Kendrick (D-Lithonia) is proposing a "testicular bill of rights legislative package," posted on social media Monday morning. Kendrick is the Democrats' chief deputy whip in the house.
Roe has collapsed in Texas, and that's just the beginning.
Stay up to date with The Fallout, a newsletter from our expert journalists.
Kendrick told Rewire.News the point of proposing this legislation was to start a conversation about how reproductive rights are regulated, and by whom.
Some of the legislation Kendrick has asked legislative counsel to draft includes requiring men to obtain permission from their sex partner before obtaining a prescription for Viagra or other erectile dysfunction medications; making it aggravated assault for men to have sex without a condom; requiring paternity testing and the immediate start of child support payments at six weeks and one day into a pregnancy; and introducing a 24-hour waiting period for men to purchase pornography or sex toys.
"What I hope to accomplish I've already accomplished, which is to drive the conversation about how men think about their reproductive rights, and choices about their bodies, if women decided to regulate those," Kendrick said.
Kendrick said there needs to be a shift in conversations happening around HB 481, the GOP's total abortion ban, in part because supporters know the bill is unconstitutional.
"This is a test case for the Supreme Court. Most people who support HB 481 know it's unconstitutional," Kendrick said.
"We have to change our conversation," Kendrick added. "Because they know it's unconstitutional. So we have to find different ways to attack it. Either fiscally for the fiscal conservatives, either talking about privacy rights that can help sway some of the more libertarian Republicans—we just have to change the way that we argue."
Indeed, Rep. Sharon Cooper (R-Marietta), an abortion rights foe, was reticent about passing the total abortion ban in the house, cautioning fellow lawmakers that the measure would bring costly legal challenges. Republican-backed total abortion bans have been repeatedly struck down in the courts. 
Meanwhile, the ACLU of Georgia will take a case before federal court on the basis that capitol police officers "violated Plaintiffs' First Amendment rights by prohibiting them from wearing a button that states, "Don't Fuck With Us[,] Don't Fuck Without Us," in the public areas of the State Capitol Building.
The goal of the case is to get a preliminary injunction to allow opponents to continue to wear buttons and other items in opposition to HB 481 during the final days of the legislative session.

In a press release about the case, Sean J. Young, the legal director of the ACLU of Georgia, said this was about a straightforward violation of pro-choice citizens' First Amendment rights. "The First Amendment protects every constituent's right to wear clothing expressing their opinions to their elected officials," Young said. "This right is particularly important in the halls of the State Capitol Building, which is the seat of democracy in Georgia."
The case will go before a federal judge on Thursday, while HB 481 will be headed to the state Senate science and technology committee for a hearing Thursday afternoon.
Kendrick was optimistic she and other opponents of the Georgia GOP's total abortion ban will continue to pressure legislators to stop the legislation.
"Even though HB 481 is scheduled to fast-track through the Senate doesn't mean that I am going to give up the fight. There are several other women who are not going to give up the fight," Kendrick said.