CDC Grant to 'Lay the Groundwork' for Further Action on Maternal Mortality
The grant program is a result of the bipartisan Preventing Maternal Deaths Act signed into law last year.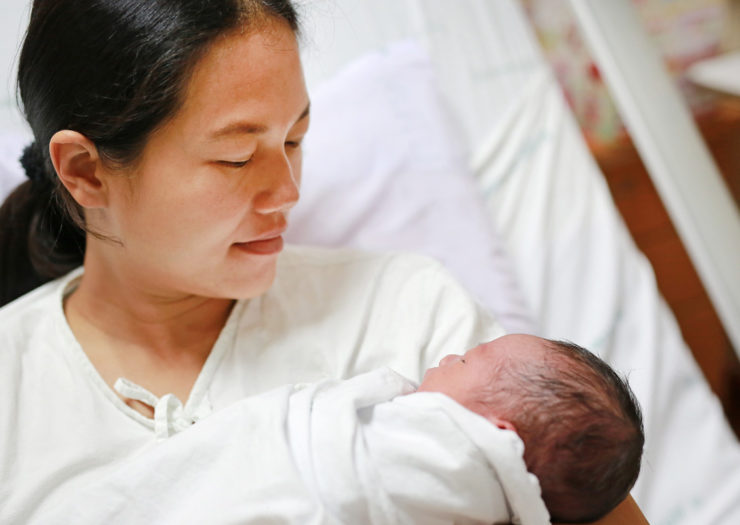 The U.S. Centers for Disease Control and Prevention (CDC) announced over $43 million in federal grants Tuesday to state and local governments to create programs to track and counter the country's rising maternal mortality rate.
The funding opportunity announcement (FOA) for the CDC grants called for the creation of more maternal mortality review committees (MMRCs), which will help standardize how maternal deaths are classified and accounted for across different states. The grant program is a direct result of the bipartisan Preventing Maternal Deaths Act, introduced by Reps. Diana DeGette (D-CO) and Jaime Herrera Beutler (R-WA) and passed by the U.S. Congress and signed into law by President Trump in December.
Combatting the rising maternal mortality rate in the United States has become a rare bipartisan issue in recent years and the new CDC program is an important first step, according to Nikki Mayes, a spokesperson for the CDC's Division of Reproductive Health. "A recognized value of MMRCs is their ability to accurately count—or measure—the number of pregnancy-related deaths that occur," she said in an email to Rewire.News, noting that not all states have these specialized resources devoted to tracking and studying maternal deaths. "The greater and unique contribution of these state and local multidisciplinary groups is to dive deep into the circumstances of each death. The information that comes out of these reviews is used to make data-driven recommendations that could prevent future deaths."
Maternal death rates are higher in the United States than most industrialized nations even though more money is spent in this country on health care than those with comparable levels of economic development. According to a 2016 report from the American College of Obstetricians and Gynecologists (ACOG), the overall rate of maternal death in the United States in 2014 was about 24 deaths per 100,000 live births. However, a deeper look at the numbers reveals that a wide racial disparity in pregnancy-related deaths drives the overall rate higher according to the CDC.
Roe has collapsed in Texas, and that's just the beginning.
Stay up to date with The Fallout, a newsletter from our expert journalists.
CDC data shows that across the country from 2011 to 2014, Black women died from pregnancy-related causes at a rate of 40 deaths per 100,000 live births versus 12 deaths per 100,000 live births among white women and around 18 deaths per 100,000 live births for women of other races. The CDC's data on racial disparities in the maternal mortality rate only breaks down race by Black, white, and "other races," erasing the very real differences between specific marginalized communities of color. As a 2010 Health Resources and Services Administration (HRSA) report explains, "The risk of maternal mortality remained three to four times higher among black women than white women during the past six decades."
The federal grants offered in the CDC's announcement encourage individual states to track racial demographic information related to maternal deaths, according to Mayes. However, she cautioned that maintaining the privacy of families that belong to smaller racial groups is also important. "Reporting pregnancy-related mortality ratios for all racial/ethnic groups may not be possible for all because small numbers create unreliable ratios," she said. "It is an important way to acknowledge and honor these women and their communities, but also must only be done in a way that does not identify her or her family. The more MMRCs that are sharing data, and the more years of consistent data we have, the more MMRCs and CDC will be able to provide a depth of information on pregnancy-related deaths, including by race/ethnicity."
According to DeGette, having more accurate and consistent data on maternal deaths across multiple states is an important first step in beginning to address these racial disparities. "The likelihood that a mother survives giving birth in this country shouldn't depend on the color of her skin or the size of her bank account. But, sadly, too many times it does," she said in a statement Tuesday. "And too often these deaths could have been prevented. We, as [a] nation, can and must do more to lower our maternal mortality rate and this funding will help us lay the groundwork to do exactly that."
Advocates believe that more advanced work to address racial disparities begins with accurately tracking and accounting for racial demographic information related to deaths in childbirth. "I think that establishing these task forces in every state is going to be key," said Monifa Bandele, senior vice president of MomsRising, a grassroots organization working to achieve economic security for moms, women, and families in the United States, in an interview with Rewire.News when the Preventing Maternal Deaths Act was first passed. "This is really laying the groundwork for us to do the next layer of advocacy around maternal mortality. So definitely putting in place these task forces, making sure that's funded, so states can figure out what's going on and can put the protocols in place that we know work."
Causes of maternal deaths are tracked differently depending on the state it occurs in, Bandele said. For example, a heart attack during delivery is counted as a maternal death in some but not all states, which could end up skewing the statistics that maternal care providers and policymakers depend on to recommend and create solutions—such as increased access to Medicaid and coverage of doulas, midwives, and other specialty maternal care.
This legislation, Bandele hopes, will be a springboard toward other, more comprehensive legislative approaches to fixing the racial disparities in maternal deaths. "We are going to use this bill and the outcomes of this bill to push additional legislation," she said, pointing to both a bill introduced by Sen. Kamala Harris (D-CA) in the last session of Congress that would increase medical school training to counter implicit racial bias as well as state-level legislation. Bills like these may "spark state legislation" that is responsive to what each state needs, Bandele said. "Again, there's not a whole lot of consistency across the country and so people do need to design an intervention that's right for their state," she said.
Ally Boguhn contributed to this report.