States Are Violating Medicaid Requirements by Refusing to Fund Some Abortions, Government Report Finds
Medicaid recipients in a number of states will be left without the abortion coverage the law guarantees them unless CMS takes action.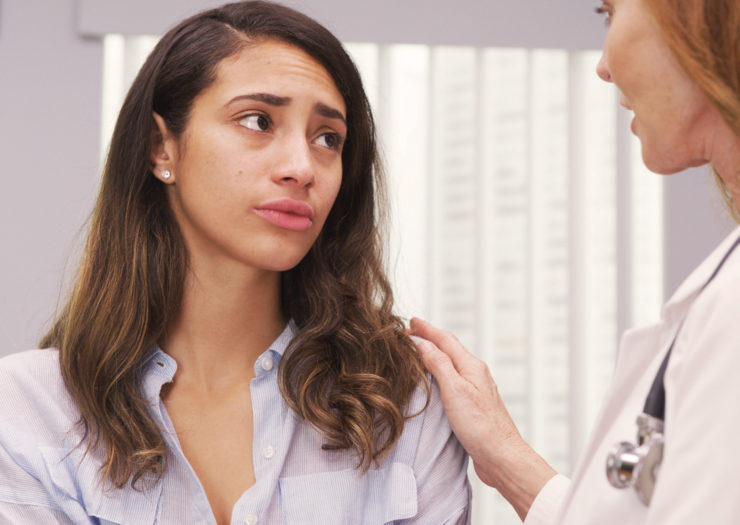 Fifteen states aren't complying with Medicaid law regarding abortion according to a report released last month by the Government Accountability Office (GAO)—a reality that reproductive rights advocates say leaves many seeking abortions unable to fund or access them.
Federal funding for abortion can only be used in cases of rape, incest, or life endangerment due to the Hyde Amendment, but coverage in those circumstances is required by law in all 50 states and Washington, D.C. The GAO report found that, despite federal law, Medicaid patients face many obstacles in states that are hostile toward abortion when trying to access the limited care that should be covered.
Twenty-one states cover abortion under Medicaid in the cases allowed and use state funds to cover abortion in other cases, and 15 states cover abortion only in the circumstances allowed by Hyde, according to the GAO. The remaining 15 states violate federal law and do not cover some abortions in the cases allowed. The report found that states aren't reporting when they're using federal funding to cover abortions.
South Dakota only allows Medicaid coverage for abortion in the case of life endangerment and has violated federal law since at least 1994, according to the report. The Centers for Medicare & Medicaid Services (CMS), which oversees Medicaid, has known about it the whole time.
Roe is gone. The chaos is just beginning.
Follow Rewire News Group on Twitter to stay on top of every breaking moment.
Fabiola Carrión, senior attorney at National Health Law Program in Los Angeles told Rewire.News in a phone interview that the report indicates that CMS sent two letters to South Dakota—one in 1994 and another one in 1998—informing the state that its coverage did not comply with federal law. But aside from the letters, CMS hasn't done anything to force South Dakota to comply. The GAO report states, "according to CMS officials, the agency has not taken any action since that time to ensure South Dakota's compliance and does not have plans to do so. As a result, Medicaid beneficiaries in South Dakota do not have Medicaid coverage for abortions in cases of rape or incest."
Advocates, for their part, have also been contacting CMS with requests that it force South Dakota to comply. "The National Health Law Program, as well as many other organizations, sent a letter in 2014 to CMS," Carrión said. "So not only did [CMS] know that this was happening, they were repeatedly notified throughout the years that this was happening, and they have refused to act."
CMS did not respond to Rewire.News' request for comment by the time of publication.
The GAO report also found that 14 states do not cover medication abortions if the recipient requests one in the case of rape, incest, or life endangerment. Medication abortions use the prescription drug mifepristone, which is sold under the brand name Mifeprex, with the prescription drug misoprostol. Medication abortions accounted for 31 percent of all non-hospital abortions in 2014, according to reproductive health research and policy organization the Guttmacher Institute.
Though federal law does not require Medicaid coverage of medication abortion specifically, "state Medicaid programs that opt to cover prescription drugs—which is the case in all 51 states—are generally required to cover outpatient drugs of any manufacturer participating in the Medicaid Drug Rebate Program," the GAO report states. The manufacturer of Mifeprex, Danco Laboratories, has a rebate agreement for the drug, and CMS officials told the GAO that it does not meet any of the exceptions that would allow it to be excluded from coverage in any state. Still, 13 states—Alabama, Arkansas, Colorado, Florida, Idaho, Kentucky, Missouri, North Carolina, Oklahoma, Rhode Island, South Carolina, Utah, and Texas— and the District of Columbia, do not cover it.
As a result, Medicaid recipients seeking an abortion as the result of rape, incest, or life endangerment in one of those states "would not have the option of a medication abortion unless they paid for it out of pocket," Megan Donovan, senior policy manager at Guttmacher Institute, told Rewire.News. "So their state, in apparent violation of federal law, would only cover surgical abortion methods. That denies people the choice of what method of abortion is best for them."
But getting coverage for care is one of the last obstacles that Medicaid recipients would likely face in states with more restrictive abortion laws; the GAO report found seven factors that might hinder or prevent access to abortion entirely: gestational limits, mandatory counseling, out-of-pocket costs, parental involvement, provider availability, stigma and harassment, and waiting periods.
Those factors can combine with other barriers to Medicaid coverage; for example, 14 states require documentation of cases of rape or incest, and some require a police report, the GAO report found. Others allow patients to file a report with another public agency, like a public health agency. And in some states, there just aren't many clinics. Guttmacher Institute found that in 2014, 90 percent of all U.S. counties lacked an abortion clinic, and 39 percent of women of reproductive age lived within those counties.
"All of these restrictions in any given state can have a cumulative impact on someone's access," Donovan said. Enduring a 72-hour waiting period between pre-abortion counseling and receiving an abortion and then trying to meet the requirements a state might have in order to receive Medicaid coverage—all of those things start to add up.
"There can really be a harmful kind of cyclical nature to the way that these restrictions can interact with each other and kind of stack up and … lead to delays, increased costs, and sometimes even inability to access the care altogether," Donovan said.
Donovan also noted that "many of these restrictions can disproportionately impact people who are already at a disadvantage when it comes to accessing health care," such as low-income families, people of color, and young people. "The burden of these policies falls hardest on those populations," Donovan said.
And, even if a Medicaid recipient can get to a clinic and meet the requirements in a more restrictive state, they still may be denied coverage. Abortion providers interviewed in 15 states reported being denied payments for abortions that were eligible for federal funding, the GAO report found. Half of those states reported that their requests for funding were denied in at least 60 percent of cases, but some were denied in as many as 90 percent of cases.
As a result, Carrión said that providers often won't even try to file Medicaid claims for abortion coverage. "Sometimes it just takes too much to push the state to ask for Medicaid reimbursement, also knowing that Medicaid reimbursement rates are low, so sometimes providers just don't want to push it."
In its literature review of studies relevant to abortion access, the GAO made a similar finding. "One study examining abortion provider experiences in six states found that many providers choose not to bill Medicaid for abortions, because obtaining payment for the procedure requires a significant time commitment, and when states do pay, the amount is typically lower than the cost of providing the abortion," the report states.
The GAO report made three recommendations to CMS: first, that it force South Dakota to comply with federal law and provide coverage for abortions in cases of incest and rape. Second, that it ensures states are complying with Medicaid law and providing coverage for Mifeprex. And lastly, that it ensure states are reporting abortions properly to ensure that funds are being tracked and used appropriately.
Until CMS takes action, Medicaid recipients in a number of states will be left without the required coverage. The requirements imposed on people who need abortion coverage in cases of rape, incest, or life endangerment, combined with state laws restricting abortion access compound to create delays, which lead to higher costs and create problems for patients and providers.
National Health Law Program opposes the Hyde Amendment, Carrión said, because the organization believes that "abortion is health care," and it should be covered like any other procedure by all insurance plans. But, "as long as we have this in place, states must abide and CMS must force states to provide funding for abortion under the circumstances outlined by the Hyde Amendment," she said. "Rape and incest are real. Pregnant women whose life is in danger and need to get an abortion are real scenarios … and these people deserve to get it covered. That's the very least that we can do at this moment—guarantee the narrow protections that we still have."