The Global Gag Rule Has Put Women in Danger for Decades. Here's How We Can Stop It.
The Global HER Act would remove reckless restrictions on international recipients of U.S. funding.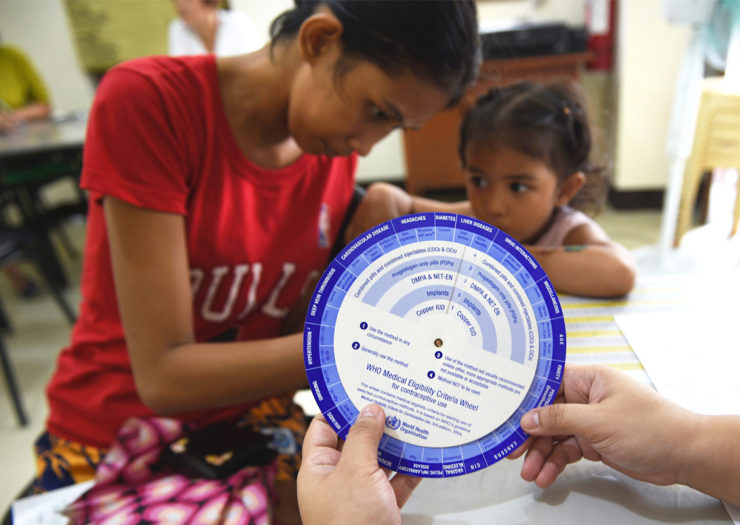 On January 23, 2017, President Trump reinstated the "global gag rule," singlehandedly undermining women's health worldwide with a stroke of his pen. The policy prohibits any U.S. global health funding to nongovernmental organizations (NGOs) that provide, counsel, refer, or advocate for abortion—even with their own funds—resulting in life-threatening consequences.
While previous iterations of the global gag rule covered only family planning spending, President Trump expanded it to cover all global health funds—a staggering $9 billion per year to NGOs that cover a range of health needs, from maternal and child health to malaria treatment. Even in its more limited forms, the policy backfired, increasing unintended pregnancies, maternal mortality, and unsafe abortions. Evidence suggests that the current version is producing a similar effect on an even larger scale.
As the policy continues to wreak havoc on women's health, a solution exists. The Global Health, Empowerment, and Rights Act (Global HER Act) provides an opportunity to end, once and for all, the dangerous global gag rule.
First introduced by Sen. Jeanne Shaheen and Rep. Nita Lowey in 2017, along with numerous co-sponsors, the bill—expected to be reintroduced this week—presents the best opportunity to put an end to the deadly global gag rule.
Sex. Abortion. Parenthood. Power.
The latest news, delivered straight to your inbox.
The act would remove reckless restrictions on international recipients of U.S. funding, ensuring that organizations can effectively serve their communities. It would allow NGOs to use non-U.S. funds to provide, counsel, or advocate for legal abortion care. It would ground U.S. health assistance in evidence rather than ideology, and ensure that NGOs never again have to choose between receiving U.S. funds and offering comprehensive care. And critically, it would remove—in perpetuity—the U.S. president's power to restrict health care for millions of women with merely a signature.
From Nigeria to Nepal, the global gag rule is directly threatening decades of global health progress.  The policy has forced the closure of clinics that provide comprehensive health services, fractured health systems, and impeded efforts to improve access to contraception and to combat HIV and AIDS. The administration's failure to provide clear guidance around its implementation has created fear and confusion, leading to a further reduction of services.
Over the last two years, the International Women's Health Coalition (IWHC) and its grantee partners in Kenya, Nigeria, South Africa, and Nepal have conducted more than 150 interviews with health-care providers, civil society organizations, and government agencies to assess the impact of the policy. Our interviews reveal that the global gag rule is leading to reductions in services and is most devastatingly felt by marginalized women who already struggle to access quality health-care services, such as poor, LGBTQ, young, and rural women. In South Africa, where 23 percent of maternal deaths from 2008 to 2010 were a result of unsafe abortion, the director of a reproductive rights organization explained that the global gag rule restricts access to legal abortion and undercuts contraceptive coverage, leading to unsafe procedures. In every corner of the world, we see that when legal, affordable abortion becomes harder to access, women turn to unsafe abortion practices, leading to more preventable deaths.
The global gag rule also has a chilling effect on civil society. Many NGOs incorrectly believe that partnerships with groups that provide abortion services will jeopardize their own work. They severed ties with longstanding partners, weakening cross-sector collaboration, sometimes for decades. Interviewees shared that just as they began to recover from the George W. Bush administration global gag rule, the Trump version was implemented. The reduction in funding to health providers and high cost of compliance threatens the ability of organizations to retain staff and provide services. Together, this damages civil society and slows policy change for years to come.
The policy also taints U.S. foreign policy and breeds hostility. More than half of the countries that receive U.S. global health assistance allow abortion in at least one instance under their national laws. The interference of the United States in local health-care policy is, in some instances, perceived as a form of neocolonialism. Many IWHC interviewees are outraged that health assistance is being used as a tool to undermine sovereign laws and control women's bodies.
Even in a polarized political climate, the Global HER Act has bipartisan support—77 percent of likely American voters believe the U.S. has a moral obligation to women's health worldwide. In recent months, the bill was passed by the Republican-led Senate appropriations committee and, during the recent government shutdown, was included in the version of the omnibus funding bill approved by the newly inaugurated House of Representatives. However, it was not included in the final deal to reopen the federal government.
Women, no matter where they live, have the right to make their own health-care decisions. After 35 years of using the global gag rule as a political tool, the U.S. Congress has an opportunity to pass legislation that prioritizes reproductive health, upholds a patient's right to informed decision making, and restores U.S. global health leadership. The upcoming reintroduction of the Global HER Act gives Congress an opportunity to take definitive action to end a devastating policy, and positively impact the lives of women and girls around the world.