The Timing of Virginia Republicans' Attack on Later Abortion Care Is No Coincidence
The misinformation campaign on later abortion comes months before Virginia voters decide control of the state legislature.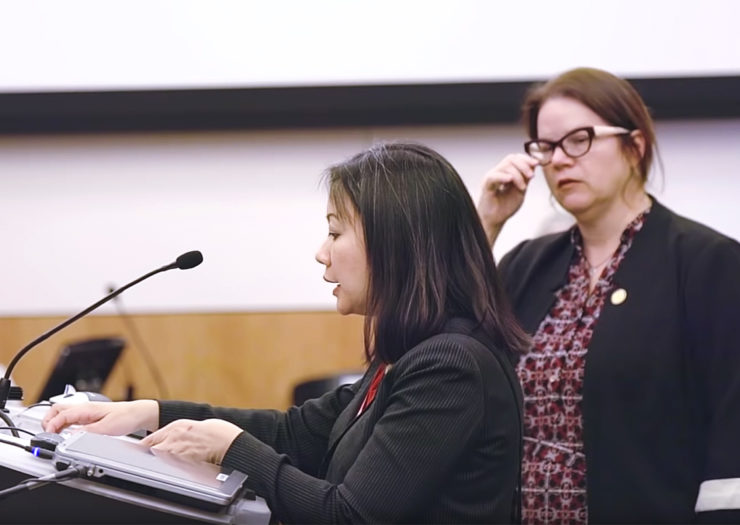 Republicans and anti-choice activists last week seized on a Virginia state lawmaker's comments on later abortion care, in a move reproductive rights advocates believe was designed to generate outrage ahead of critical elections.
Virginia Del. Kathy Tran (D-Fairfax) came under fire after she says she "misspoke" about her bill, the REPEAL Act (HB  2491), during a committee hearing. The measure would have loosened the state's restrictions around third-trimester abortions by eliminating a requirement that the pregnant person be "substantially and irredeemably" harmed by continuing the pregnancy and by allowing just one doctor to sign off on the procedure instead of three.
In the committee hearing, state Del. Todd Gilbert (R-Woodstock) asked Tran if the bill would allow a pregnant person to request an abortion once "she has physical signs that she is about to give birth." Tran replied "that would be a, you know, a decision that the doctor, the physician and the woman would make at this point." When pushed for an answer, she said her bill would allow it.
Although versions of the measure have been introduced in Virginia's past two legislative sessions without controversy, Republicans seized on Tran's fumble to frame her bill as legalizing infanticide, which is illegal throughout the United States.
Roe is gone. The chaos is just beginning.
Follow Rewire News Group on Twitter to stay on top of every breaking moment.
Virginia's Republican Party then sent a fundraising pitch with a clip of the exchange, according to the New York Times.
The attacks on Tran and later abortion came at a critical time for Virginia Republicans gearing up for the November election, when all seats in the state house and senate are up for grabs. Democrats edged close to control of the Virginia House of Delegates when they flipped 15 seats in the 2017 state elections and maintained control of the governor's mansion. Though Republicans have a narrow majority in both chambers, Democrats are just two seats away in each from gaining control and having a Democratic trifecta that could allow the party's legislative agenda to fly through approval.
"This has everything to do with the 2019 General Assembly elections," Tarina Keene, executive director of NARAL Pro-Choice Virginia, told Rewire.News. "This was an orchestrated attack against reproductive rights for the sole purpose of advancing a political agenda for the upcoming November elections."
"After losing their redistricting fight, anti-abortion Republicans see the writing on the wall and are desperate to maintain their majority in the General Assembly," Keene continued, pointing to the U.S. Supreme Court's recent rejection of Virginia Republicans' request to delay re-drawing roughly a dozen new state house districts.
Hoping to flip Virginia's legislature, the Democratic Legislative Campaign Committee announced in December an initial investment of $1 million in the election.
Keene said abortion rights will be an issue voters consider when casting their ballots this November. "Over the past few election cycles, reproductive rights have polled in the top three issues voters support. Candidates that run on reproductive rights win. Just this past November, Virginia voters sent a strong message to Congress by electing three pro-choice women who will stand up to politicians who continue to attack access to reproductive health and rights," she said, pointing to the recent election of U.S. Reps. Jennifer Wexton, Abigail Spanberger, and Elaine Luria.
"If voters keep showing up at the polls like they did in November of 2017 and 2018, affirming their commitment to reproductive freedom, Virginia will make history once again and a pro-choice majority will gain control of both the House and Senate," Keene said.
Virginia Republicans aren't the only ones who may weaponize controversy over later abortions. Anti-choice activists have been open about their plans to leverage the uproar around later abortion care to their advantage. "It's going to come into play, quite frankly, in the elections next year. We're not going to let it go away," Carol Tobias, president of the National Right to Life Committee, told the New York Times last week. "You're going to see articles written and speeches, and our affiliates around the country are going to take it up."
Reproductive rights and health advocates, however, say that attacks on the Virginia legislation and on New York's newly passed Reproductive Health Act undermine a critical aspect of health care. The bills "are necessary to protect patient health and remove barriers to abortion care," explained Dr. Willie Parker, board chair of Physicians for Reproductive Health, in a statement. "To hear these bills being questioned by lawmakers in such an inflammatory way shows a lack of compassion and unwillingness to understand the real-life health care needs of their constituents."
"As a physician who has taken care of patients in every stage of their pregnancies, I know that pregnancy does not always go the way we hope or expect," Parker said. "The bills in New York and Virginia apply to less than one percent of abortions that happen in the United States and these patients need protection. When pregnancies are medically complex or when a patient is critically ill, doctors need the full scope of treatment options to be available to provide the best care, and that sometimes can mean ending a pregnancy."