Legislative Lowlights: Missouri Conservatives Won't Stop Introducing Anti-Choice Restrictions
Conservatives in Missouri are unsatisfied with the roughly 20 anti-choice restrictions they have to consider this session, so last week they added a few more to the mix.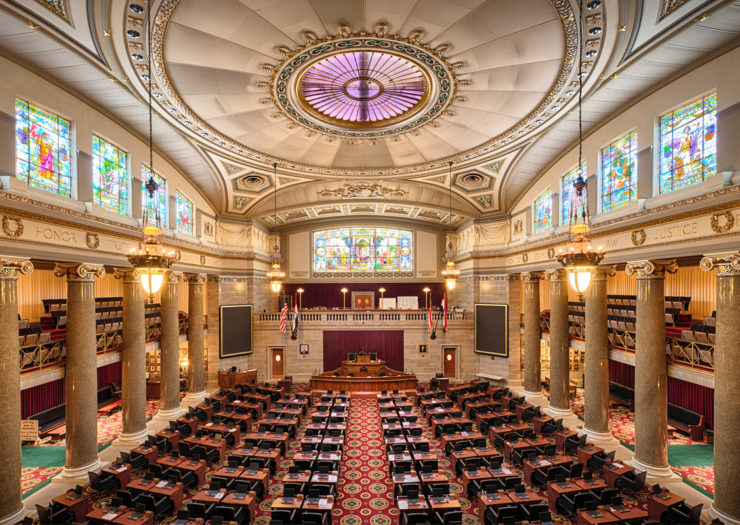 Rewire.News tracks anti-choice and anti-LGBTQ legislation as it works its way through state legislatures. Here's an overview of the bills we're watching.
A Republican in Missouri wants to criminalize abortion and substance abuse during a pregnancy, another state wants fetal "personhood" on the ballot, and lawmakers in South Dakota continue to target trans kids.
Arkansas
Last Monday, state Rep. Brandt Smith (R-Jonesboro) introduced the "Medical Conscience Protection Act," which would allow health-care providers and insurance companies to refuse to participate in a health-care service that violates their conscience. The measure clarifies that the right of conscience would not include the right to deny emergency medical care. Still, health-care providers and insurance companies would be able to refuse to participate in—or provide coverage for—a number of services, including abortion, birth control, and gender-affirming surgery or therapy. The bill is similar to a failed 2017 measure by Rep. Smith, the "Healthcare Freedom of Conscience Act," which was based off model legislation drafted by Americans United for Life (AUL).
Roe is gone. The chaos is just beginning.
Follow Rewire News Group on Twitter to stay on top of every breaking moment.
Colorado
State Sen. Vicki Marble (R-Fort Collins) and state Rep. Stephen Humphrey (R-Eaton) introduced the "Live and Let Live Act" last week. The measure would protect "sincerely held religious beliefs" or moral convictions, while codifying discrimination against LGBTQ people. The bill would allow people to refuse to provide goods and services for same-sex marriages, health-care providers to refuse to treat trans folks, employers to establish sex-specific policies regarding dress and use of facilities, and much more. The measure is nearly identical to Mississippi's 2016 law—the "Protecting Freedom of Conscience from Government Discrimination Act"—widely considered to be the most sweeping anti-LGBTQ law in the country. A similar measure was introduced last month in Texas.
Florida
Last Monday, state Sen. Joe Gruters (R-Sarasota) prefiled a pair of anti-choice measures. The "Pain-Capable Unborn Child Protection Act"—based off model legislation drafted by the National Right to Life Committee (NLRC)—would prohibit a person from performing or inducing an abortion after 20 weeks of pregnancy unless it's necessary to prevent serious health risk to the pregnant person. Any person who violates the law would be committing a felony—punishable by up to five years in prison. The measure includes a provision requiring physicians to include the probable post-fertilization age of the fetus, the method of abortion, and the age and race of the pregnant patient in their abortion reporting. And the reports would be exempt from state public record requirements if the state senator's other measure—SB 560—were to pass. That measure would prohibit the state from making abortion reports available for public inspection, claiming it's necessary in order to protect health-care privacy rights of patients. Current abortion reporting requirements in Florida, however, already maintain confidentiality.
Iowa
Lawmakers in Iowa want to build a monument for "abortion victims" at the state capitol in Des Moines. Introduced last Tuesday, HF 153 would require the state department of administrative services, in consultation with the Capitol Planning Commission, to authorize the placement of an "abortion victims" monument on the grounds of the capitol. The bill clarifies that no state funds "may be used to plan, erect, or maintain the monument." A similar measure was passed last year in Tennessee. 
Kansas
Last week, conservative lawmakers introduced HCR 5004, which proposes a constitutional amendment to grant rights to embryos and fetuses. The amendment would extend equal protection and due process rights to every human being "from the beginning of the biological development of that human being, including fertilization." The proposition includes some pretty emotionally manipulative language stating that voting against the amendment would mean "the current federally mandated legal status of preborn humans would remain that of a class of human beings that can intentionally be killed." If the bill passes, the amendment would be on the ballot in November 2020. This is the fifth state of the year (after Mississippi, Missouri, Montana, and Texas) to try to institute fetal "personhood" via the ballot box. Similarly, lawmakers in Iowa and Virginia want to use the next election to add abortion restrictions to their state constitutions.
Maryland
On Friday, Republican state lawmakers introduced SB 420, which would require abortion providers to report each abortion to the Maryland department of health. Each report would need to include demographic information on the patient, along with the estimated gestational age of the fetus and the method of abortion. The measure says reports may include information regarding the patient's reason for seeking an abortion—including rape, incest, financial hardship, abandonment, and more. If a physician or provider wanted to, they could ask a pregnant patient for the specific reason for wanting to end their pregnancy—information that is clearly none of their business and only serves to shame those seeking an abortion. With Democrats controlling both chambers, the measure is unlikely to pass.
Missouri
Conservative lawmakers in Missouri are unsatisfied with the at least 20 anti-choice restrictions they have to consider this session, so last week they added a few more to the mix. State Rep. Shamed Dogan (R-Ballwin) introduced a measure to prohibit certain selective abortions relating to sex, race, or Down syndrome. A physician wouldn't be able to perform an abortion without certifying that they have no knowledge that the pregnant person sought it solely due to a prenatal diagnosis, test, or screening indicating Down syndrome or the potential of Down syndrome; or that the patient sought the abortion solely because of the sex or race of the fetus. The measure is similar to a 2016 Indiana law signed by then-Gov. Mike Pence (R) that's been blocked twice in federal courts and is currently pending review at the U.S. Supreme Court.
State Rep. Jeff Pogue (R-Salem) was hard at work last week trying to strip people of their rights. On Thursday, the state representative introduced measures to completely ban abortion, prohibit pharmacies from dispensing emergency contraception, criminalize pregnancy, direct courts on custody arrangements of in vitro embryos, and allow certain people to refuse to participate in same-sex marriages. He seems great!
First up, HB 789, which would repeal current law regulating abortion and instead prohibit a person from performing or procuring an abortion, without exception. The measure is so broad that any person involved in an abortion—including the pregnant person—could face first-degree murder charges. Apparently not satisfied with a total abortion ban, Rep. Pogue also introduced HB 787, which would prohibit pharmacies from providing emergency contraception over-the-counter. Because after criminalizing abortion, the next logical step is obviously making it more difficult to access products that would prevent an unwanted pregnancy.
Another measure from the state representative—HB 788—would require courts in a divorce proceeding to determine custody of an in vitro human embryo in accordance with the "best interest" of the embryo. It would require a court to award custody to the spouse that intends to allow the embryo(s) to develop to birth. A similar measure became law last year in Arizona. A Missouri appeals court in 2016 ruled that frozen embryos were marital property—not people—and that giving frozen embryos to one spouse over another violated a parent's constitutional right to privacy. Besides constitutional concerns, this type of legislation could also renew threats to in vitro fertilization.
Pogue is also hoping to make substance abuse during pregnancy a felony. HB 781 would redefine the term "neglect" under the state's criminal code to include "causing a child to be born with a controlled substance […] present in the child's bodily fluids or bodily substances as a result of the pregnant mother knowingly using a controlled substance before the birth of the child." Similar measures by the lawmaker have all failed.
Not content with only targeting pregnant people, Pogue introduced a measure to allow any person authorized to solemnize marriages to refuse to do so if it would be contrary to their religious beliefs or "sincerely held moral convictions." The First Amendment already covers the right of religious organizations and clergy members to refuse to perform marriages that conflict with their religious beliefs. This measure takes it a step further and would allow judges and government officials to refuse to marry same-sex couples.
On the other side of the chamber, state Sen. Eric Burlison (R-Springfield) introduced a measure that would allow college and university student groups to discriminate against LGBTQ students and others by limiting membership based on religious belief. SB 314 would prohibit public colleges and universities from taking any action or enforcing any policy that denies a religious student association any benefit available to other associations based on the religious student association's requirement that its leaders or members adhere to its "sincerely held religious beliefs" or standards of conduct. Similar measures have been introduced in South Carolina.
North Dakota
The North Dakota House last week passed two anti-choice restrictions. On Monday, in a 73-16 vote, the state house passed HB 1336, which would require doctors to inform their patients that it may be possible to reverse the effects of an abortion-inducing drug. Abortion "reversal" legislation has gained momentum in recent years even though medical organizations warn the treatment is "unproven and unethical." On Thursday, in a 78-13 vote, the state house passed HB 1546, which would ban the most common method of performing second-trimester abortions. Except in cases of a medical emergency, the bill would make it a felony to perform dilation and evacuation (D and E) procedures. Both measures have been sent to the state senate for consideration.
South Dakota
Conservative lawmakers in South Dakota aren't giving up in their quest to further marginalize transgender youth. Last Wednesday, lawmakers in the state house introduced a measure to ban transgender high school students from participating in athletic programs consistent with their gender identity. The bill is nearly identical to a measure that was effectively killed n the state senate less than a week earlier. That same day, Republicans introduced HB 1205, which would give parents the right to refuse gender-affirming health-care treatment for their child. A parent could refuse to consent to any health-care treatment of a minor if they believe it would "induce, confirm, or promote the child's belief that the child's sex or gender identity is different from the child's sex presented at birth." So just to keep score, Republican lawmakers in South Dakota this year want to place restrictions on transgender student athletes, stop trans kids from getting the health care they need, and make sure kids can't even learn about gender identity.
Republicans in the state house also introduced a pair of measures to strengthen ultrasound requirements for abortion providers. Current state law prohibits providers from performing an abortion without first offering the pregnant person an opportunity to view a sonogram of the fetus—images which the pregnant person may decline to view. HB 1177 would require a physician or a qualified technician—at the risk of a felony—to perform an obstetric ultrasound on a pregnant person prior to the performance of an abortion. The pregnant person can still decline to view the images, but doctors would no longer be able to just make the offer. The legislation is similar to a measure that was effectively killed last month in the state senate. HB 1190 would prohibit a physician from performing an abortion without first making audible the fetal heart tone, if present. The physician would need to provide a verbal explanation of the heart tone. The pregnant patient may opt-out of hearing the verbal description, but not the actual heart tone.
And in a 26-5 vote, the state senate passed SB 72, which would require abortion providers to provide their patients with a specific form prescribed by the state department of health that contains the state's informed consent requirements. The measure is now pending in the state house health and human services committee.
West Virginia
On Friday, conservative lawmakers in West Virginia introduced a measure that would require any person performing an abortion to be a licensed physician in good standing in the state. Identical measures have failed to pass in the state in recent years. According to Guttmacher, 42 states require an abortion to be performed by a licensed physician; in eight of those states, the restriction only applies to surgical abortion.
Wyoming
Last Tuesday, lawmakers in Wyoming introduced a measure that would create a criminal penalty for physicians who fail to inform patients of the opportunity to view an active ultrasound of the fetus and listen to any audible heartbeat. The penalty would be a misdemeanor—punishable by up to six months in prison and/or a fine of up to $750.00.
On Thursday, a measure that requires physicians to include a pregnant patient's race, ethnicity, and marital status in each abortion report passed out of the state house labor, health and social services committee by a 5-4 vote. A physician who fails to complete the report would face a fine and possible disciplinary action. The bill now moves on to the full state house.