Valerie Huber's New Role at HHS Could Bring Abstinence-Only Agenda to Global Policy
Huber spearheaded the rebranding of abstinence-only sex-ed as "sexual risk avoidance"—and then brought that language into government health policy.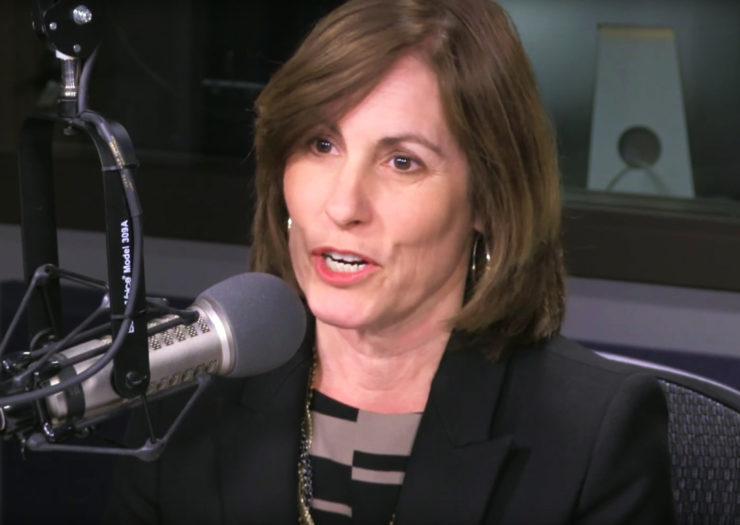 Abstinence-only proponent Valerie Huber will move to a new position in the U.S. Department of Health and Human Services' (HHS) Office of Global Affairs, worrying reproductive health advocates and experts who believe she could push her agenda into the global arena.
Huber's new role as the Office of Global Affairs' senior policy advisor, first reported by Politico, was confirmed by HHS in a tweet last week. The office, according to its website, "is the diplomatic voice of the Department of Health and Human Services—we foster critical global relationships, coordinate international engagement across HHS and the U.S. government, and provide leadership and expertise in global health diplomacy and policy to contribute to a safer, healthier world."
She previously served as senior policy advisor for the Office of the Assistant Secretary for Health (OASH). An unnamed department official told Politico that Huber is "expected to strip references to sexual and reproductive health as well as sex education from the agency's global health documents,"and advocates say that move would have widespread repercussions.
HHS did not respond to Rewire.News' request for comment by the time of publication.
Roe is gone. The chaos is just beginning.
Follow Rewire News Group on Twitter to stay on top of every breaking moment.
Prior to her appointment to HHS, Huber formed the National Abstinence Educators Association, now known as Ascend, an organization that promotes abstinence-only sex education, as Rewire.News reported. She also spearheaded the rebranding of abstinence-only sex-ed as "sexual risk avoidance"—language she later injected into grant criteria for HHS' Teen Pregnancy Prevention Program (TPPP) when she oversaw Title X family planning funds at OASH.
Huber's influence on OASH came to a head in July 2017 when the Trump administration cut more than $200 million from the TPPP. The funding cuts were reversed in August 2018 after a number of grantees filed lawsuits against the administration.
"Her work within the administration showed a very clear pattern of her pursuing an abstinence-only agenda," said Jennifer Driver, state policy director for the Sexuality Information and Education Council of the United States (SIECUS), in a phone interview with Rewire.News. Driver said Huber led the attacks on the TPPP during her time with OASH. Prior to that, she promoted abstinence education while managing the Ohio Department of Health's sexual risk avoidance program. Huber argued in a 2016 statement that sex ed normalizes teens having sex. "As public health experts and policy makers, we must normalize sexual delay more than we normalize teen sex, even with contraception," she said.
"All of the terrible things Valerie Huber has tirelessly tried to do in the U.S., she can now try to do across the entire world," Driver said.
Huber is joining a team at the global affairs office that has already been "working fairly diligently to strip back sexual health and reproductive rights language and approaches in the global space," said Jesseca Boyer, senior policy manager at the Guttmacher Institute. Boyer noted that Kyle Zebley has been promoted from senior policy adviser in the Office of Global Affairs to the office's chief of staff; Zebley served as legislative director to former-HHS secretary Tom Price, who made headlines while in Congress for his attempt to defund Planned Parenthood in 2015 and for his anti-choice views.
The HHS Office of Global Affairs works with the President's Emergency Plan for AIDS Relief (PEPFAR), Boyer noted, which has also started using "sexual risk avoidance" language in its documents. For example, PEPFAR's Strategy for Accelerating HIV/AIDS Epidemic Control (2017-2020) includes the "expansion of HIV prevention and risk avoidance strategies for those who are HIV-negative negative."
Huber's ideas appear to have spread into global health policy outside of HHS. Boyer also pointed to a number of leaked State Department memos, first reported by Foreign Policy in October 2018, that she said "regurgitated" some of Huber's "sexual risk avoidance" language. One of the memos, for example, said U.S. diplomats could "no longer use the phrases 'sexual and reproductive health' or 'comprehensive sexuality education,' saying such terms promote abortions and normalize sexual activity for young people," according to Foreign Policy. 
"So we've already seen that some of the language that Valerie herself helped to craft when she was leading ASCEND … we're seeing that get a stronger foothold, not only domestically, but in the language and programs the U.S. is pushing onto the global arena," Boyer said.
That foothold worries sexual and reproductive health experts and advocates. Abstinence-only sex education programs provide medically inaccurate information, do not prevent STIs, and have been linked to higher rates of teen pregnancy. Boyer said they're also particularly problematic globally, where there can be additional challenges like higher rates of sexual violence and HIV transmission. Using a"one-size-fits-all, 'just-say-no' approach" to sex education globally, Boyer said, would be "shortchanging the ability of young people, and young people as they age into adults, to be equipped to make informed decisions about their health."
Huber and the Trump administration are not just deleting words like "sexual health," said Brian Dixon, vice president of media and government relations at Population Connection Action Fund. "They're actively working to strip these terms from global agreements. They're actively working to undermine the decades of work that people all over the world have been doing to improve reproductive health and sexual health."
Huber is listed as an advisory board member for the Medical Institute for Sexual Health, a conservative organization that Boyer said attempts to "reframe what counts as medical accuracy and science, and [is] notorious for cherry-picking findings and dismissing large bodies of scientific theory." According to Slate in 2006, "The institute mainly discusses condoms to disparage them and sexually transmitted diseases to assert that only abstinence offers reliable protection."
Huber's promotion, along with efforts to strip sexual health language out of global policy, are part of a larger ideological effort to undermine evidence-based practices, Dixon said. "They're constantly elevating extremist dogma over evidence and the lives of people."
"If her work in the U.S. is any indication," Driver said, "what we would expect is tireless attempts to ignore science, reason, and public opinion in order to push an abstinence-only-until-marriage ideology across the globe."