Culture & Conversation Immigration
Samuel Oliver-Bruno, Deported After an Immigration Appointment, in His Own Words
"I knew something was wrong after a few minutes," Oliver-Bruno told Rewire.News in a recent interview.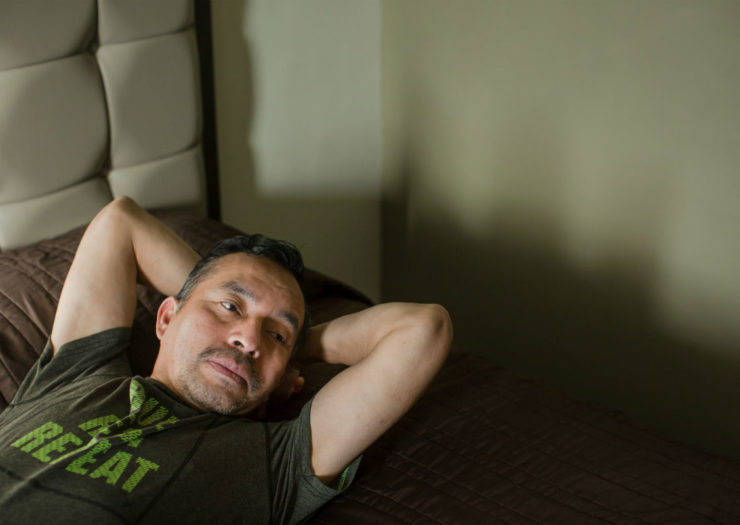 The day after Thanksgiving, as Samuel Oliver-Bruno made his way from CityWell United Methodist Church in Durham, North Carolina, to his biometrics appointment at the U.S. Citizenship and Immigration Services (USCIS) office in Morrisville, North Carolina, he did not believe he would be detained. This made what happened to him all the more traumatic, Oliver-Bruno told Rewire.News December 7, eight days after he had been deported to Mexico.
Oliver-Bruno made national headlines when he was slammed to the ground by undercover Immigration and Customs Enforcement (ICE) agents inside the USCIS Application Support Center, where he had been instructed by immigration officials to go in order to complete the next step in his request for deferred action. He was shoved into a car by agents, where he sat for almost three hours as his supporters—including his son and members of CityWell—blockaded the vehicle from leaving. Eventually, local law enforcement officials arrested his supporters and Oliver-Bruno was driven off by ICE. For almost a week, he was detained within the immigration system. Advocates said he was "kidnapped."
The family of Oliver-Bruno now believes this was a "trap"; that USCIS and ICE were working together to detain him. Indeed, it took USCIS fewer than three days to deny Oliver-Bruno deferred action.
Considered a "sanctuary leader" in North Carolina, Oliver-Bruno was part of a groundbreaking group called Colectivo Santuario, an immigrant-led nationwide collective of people forced to enter sanctuary under the Trump administration. Oliver-Bruno was in sanctuary for 11 months before he was deported. Outside of his USCIS appointment November 23, the only other time Oliver-Bruno left his sanctuary church was in August to attend the final day of a three-day Durham convening for the leaders of Colectivo Santuario, where they filmed videos about their stories and developed their own deportation defense campaigns.
Sex. Abortion. Parenthood. Power.
The latest news, delivered straight to your inbox.
For his campaign, Oliver-Bruno chose to focus on deferred action rather than direct action, primarily because he thought the latter would be too hard on his wife, Julia Perez Pacheco. As Rewire.News reported, Perez Pacheco has pulmonary arterial hypertension, an "aggressive and progressive" condition caused by lupus, a diagnosis she received at 15. Oliver-Bruno himself is diabetic and takes several medications as part of his treatment. Post-deportation, Oliver-Bruno and Perez Pacheco are still trying to sort out how to reconfigure their family.
Often in immigration reporting, deportation is framed as the end of the story, as if the person ceases to exist because they are beyond the confines of the United States. Oliver-Bruno wants people to know that he is still committed to fighting back. The sanctuary leader is known in his North Carolina community for being  a man of great faith and he told Rewire.News that deportation is not the end. For him, "justice" is family reunification and he is certain that he will be with his family again one day.
This is the story of what the U.S. immigration system subjected Samuel Oliver-Bruno to, in his own words:
That morning I was nervous, but I still wasn't feeling like anything was going to happen. I thought because I had an appointment, this was just the next step in the process for me to stay in the United States. It was immigration who invited me; I didn't just leave the church and show up. That is why I feel like they tricked me—and not just me, but my whole family.
I knew something was wrong after a few minutes when I was inside [USCIS] and all of a sudden a man sitting behind me stood up. That's when I knew.
They said my name and then said, "You are under arrest." Then the officer that was behind me hugged me from behind and another one came and threw me to the ground. They put me in handcuffs. It happened very fast.
I believe they mistreated me. They shoved me out the door and and into the van like a sack of potatoes, like I wasn't a person. Like I was nothing. The handcuffs were too tight; they were cutting into me. On the inside, I just remember being in pain. My arm was hurting from where they threw me to the ground and my wrists were hurting very badly. For days, there were marks from where they cuffed me.
When I was inside the car, I was fearful of the officers. I knew they could do whatever they wanted to me. The people singing outside the car, I saw them getting treated roughly with ugly words. I saw ICE agents put their hands on members of the church who were singing. I was afraid for them.
If [USCIS and ICE] were not working together, ICE would not have been waiting for me inside when I got there; they would have been forced to wait outside. The officers were dressed in regular clothes and all the doors in the room were closed, but when the two main men had me, other officers came out from behind closed doors in other parts of the office. How did they get there if [USCIS] didn't help them?
[ICE] officers also provoked my son. When we were inside the building, my son was with me and when they pushed me down to arrest me, my son would not let go of me. I'm his father—he did not want to see this happen. They were rough with me and my son was afraid. Once I was in the van, my son would come up to the van to try to talk to me, but they would push him away or turn up the music in the car so that I couldn't hear what he was saying to me. At one point I heard a slam and a lot of voices yelling. That's when I knew they arrested my son.
Once [in custody], I never knew where I was going. They would just tell me to pick up my things because I was being transferred. When I would ask them where I was going, they refused to answer. From Raleigh, North Carolina, I was transferred to Charlotte with a group of other men. I was only in Charlotte for one hour or so before I was taken by car by myself to Columbia, South Carolina. I was there for a few more hours before I was put on a bus with other people. I don't know why I was transferred around so fast, sometimes with people, sometimes alone. Maybe I'll never know.
From South Carolina to Georgia, I was in a bus with a group of other men. All of them were sitting down in their seats, but I was the only one they pushed inside this cage. I don't know how else to describe it. It was this cage-like thing, almost like a cage you would put an animal in. For the six hours to Georgia, I was in this cage. The cage was placed directly below an air conditioning vent; the air was freezing.
When I got to Georgia, I was taken to the Stewart Detention Center. By this point, we had been moved around so much I hadn't slept for about 48 hours. They just kept taking me from one place to another. I also didn't eat very much. They gave me a little water and a few slices of bread with cheese. I didn't have any medicine until I got to Stewart, but they only gave me insulin and not my other medicines. 
As I was moved around, no one told me I was going to be deported. Everything was done so fast. When I was with other men who were detained, they would eventually get sent somewhere different than me, sometimes to court. I kept thinking there was a process, and wondering why I wasn't experiencing the same process. I never saw a judge or a courtroom. There was no legal process for me.
My final night in Georgia, they didn't tell me I was going to Texas or that I was being deported. Again, they just told me to pack up my things, but I had a bad feeling. They had a big group of us handcuffed and they were putting us on an airplane. The officers were making everyone sign a form before getting on the plane. I told them I wasn't going to sign anything and they told me it didn't matter; they were going to take me anyway.
They were calling one person's name at a time, reading off of a list. When they said "Oliver-Bruno," I walked over, but then the officer said something was wrong and that I needed to sit back down. He said they weren't taking me. Another officer said, "No, I think he's going to go, let's throw him on the plane." They were laughing as they went back and forth like this, saying, "He's going," "No, he's not going." I believe they did this to traumatize me. To get my hopes up and make me think I wasn't going to be deported. It was like a funny joke to them.
On the plane, they told us we were going to Brownsville, Texas. Once we were there, there seemed to be real confusion this time. They said my name wasn't on some list, but they separated me from the group again. Others were put on a bus and I was taken by van to the Port Isabel Detention Center. I couldn't have been there more than a couple of hours when they put me in a van and drove me to the international bridge. The whole time I was in the van, I was praying to God. I was asking him for protection and to watch over my family.
When we got to the bridge, they told me to get out. The way they deported me was they had me walk across the bridge into Mexico. When I was halfway across the bridge, a Mexican couple was passing me, walking to the United States side. The man stopped me and said, "You know that God loves you." I don't know who he was or why he said that, but it brought me great comfort.
There were people on the Mexico side from an organization called Casa del Migrante that helps people who get deported. They just wait there all day and take people in. They took me to their office and helped me call my wife. Hispanic pastors in North Carolina were also in touch with members of the Methodist church in Mexico, so a person from Casa del Migrante gave me a ride to the bus station, where a pastor from a Methodist church in Mexico was waiting for me. From there, we immediately drove back to the international bridge to meet with my son Daniel and Pastor Ernesto Barriguete. Because of the church, I was able to see my son Daniel after just a few hours of being deported. It felt so good to see him again.
I learned that elected officials tried to help me at the end, but I wish they would have used more of their authority and influence with ICE to help me. When I was in sanctuary, all I wanted was to get out of the church. But not like this. Not to be deported. I want to tell the [lawmakers] to do more for the others in sanctuary. They should be using their power and authority to negotiate with ICE.
For so many of us in sanctuary, we can't think of deportation. It's the worst thing to think about. You need to remain hopeful. I was hopeful. I went to my appointment [with USCIS] choosing to believe deportation would not happen to me because I needed to go there that day, it was the next step for my [deferred action]. All of those months of work for that appointment have been undone. I don't want that to happen to the others. I think maybe they wanted to make an example [of me]. Maybe to scare other people, maybe because there was press there that day. This is another thing I will maybe never know.
My wife and I have not talked about what we will do as a family. Right now, we are just communicating through video chat. God has been merciful to Julia so far, but I know she is in a lot of anguish and that can make her very sick. I am always thinking of my wife and hoping for the best.
Enemies always try to test your faith. They want to defeat you and trample your spirit. They try everything they can to do this. That is what ICE tried, but nothing can erase my faith. Nothing can take the happiness I have in my family. I think of the months I spent in sanctuary as preparation. During that time, I grew in my faith, and my faith has never been shaken. Not even now, not even after being deported. I truly believe in God's justice. I don't know when and I don't know how, but I know I will be with my family again.