This Week in Sex: Jill Scott's Masterclass in Fellatio
In a video that went viral, Jilly from Philly put playing air guitar to shame.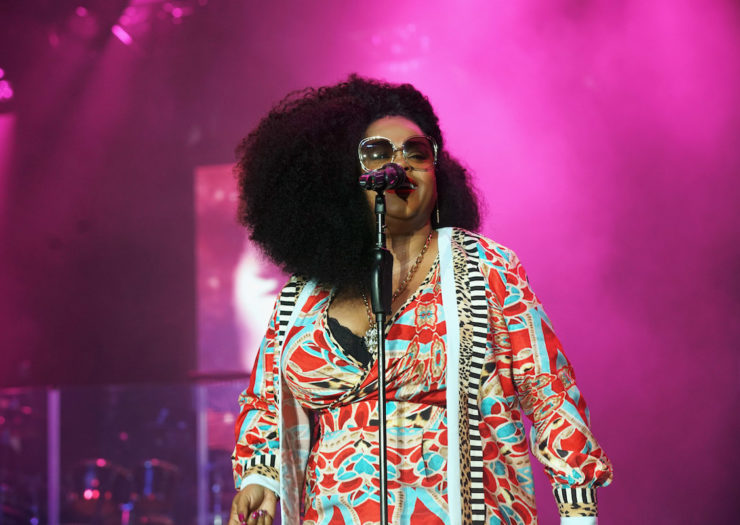 This Week in Sex is a weekly summary of news and research related to sexual behavior, sexuality education, contraception, STIs, and more.
Jill Scott Blew Up the Internet—and Her Mic
We wouldn't be doing our job here at This Week in Sex if we didn't mention what EVERYONE was talking about this week (or at least everyone on Twitter). A video of singer-actress Jill Scott and her microphone went very viral.
In the NSFW clip of an old concert that just surfaced, Scott simulates oral sex on her microphone. And not in the vulgar, tongue-poking your cheek, hand-jerking-up-and-down way an 8th grade boy would pretend. No, the soulful singer's performance is slow, sensual, and sensational.
And she owned it, tweeting this after the video leaked:
Hi. I sing/act out all kinds of stories. You should cum to my shows. After a Jill Scott show, most people get splendidly laid by whoever they came with😁👍🏽🎶🤪🎉 #iftheydontFitup #stopfrontinusuckdicktoo
They also usually go on 2happier, more productive, focused, wealthy lives.

— ⭐Jill Scott⭐ (@missjillscott) November 13, 2018
We have no reason to disbelieve her; we know the power of good music and good sex. We may be looking up tour dates as we type.
Will the State Department Restrict Key Sexual Health Terms?
Earlier this week, five House Democrats sent a letter to Secretary of State Mike Pompeo expressing their outrage over leaked plans to prohibit U.S. diplomats from using the key phrases "sexual and reproductive health" and "comprehensive sexuality education."  The lawmakers write, "We urge you to reject any policy that censors American diplomats, undermines global health, and threatens the tremendous progress that has been shepherded by U.S. global health assistance."
The letter stems from media reports of internal memos within the State Department proposing changes to language and policy regarding reproductive health. According to Foreign Policy, which reported the story last month, one of the memos expressly forbid diplomats from using these two phrases, arguing that such language encourages abortion and normalizes sexual activity for young people. Politico spoke to sources outside the administration who said that the memos instructed U.S. officials to instead use phrases such as "reproduction and the related health services," though that language is probably still a work in progress.
The memos have not been made public and the State Department has not announced anything official, but it would not be surprising as these changes are in line with some of the department's recent decisions. The department removed language about reproductive rights, and specifically, women's access to contraception and abortion, from its annual human rights report. And, at a recent meeting at the Global Conference on Primary Health Care, held in October in Kazakhstan, the United States initially demanded that the phrase "sexual and reproductive rights health" be eliminated from the final report. The United States delegation backed down from that demand, but only after inserting a footnote into the report which read: "in no case should abortion be promoted as a method of family planning."
In the letter, the lawmakers write that they "strongly object to such censorship," and go on to say that "to suppress such language is to signal to the world that the U.S. deems ideology more important than facts in determining America's foreign policy priorities. That is particularly alarming with respect to global health, as U.S. leadership and global health assistance have helped save millions of lives and protect Americans from infectious threats."
The letter was written by Democratic Reps. Eliot L. Engel and Nita M. Lowey of New York; Rep. Barbara Lee (CA); Rep. Jan Schakowsky (IL); and Rep. Lois Frankel (FL).
New Way to Get Birth Control Online
Last week, the Trump administration made new moves in its attempt to make birth control harder to access—or at least pay for—by announcing rules that would allow more employers to opt out of the Affordable Care Act's (ACA) birth control mandate. While we're waiting to see if or how our own insurance coverage will be affected, some companies are offering new ways to get pill packets each month.
This month, the entrepreneurs behind the men's health website, Hims, launched Hers to provide direct access to oral contraceptives and other women's health drugs, including Addyi, which is designed to treat low sex drive in women.
The original website dedicated to men's health launched last year selling skin care products, hair-loss drugs, and generic versions of erectile dysfunction (ED) medications. The site's founder, Andrew Dudum, told Forbes that Hims racked in $1 million in its first week and sales have only gone up since then. Now the site is turning its attention to women's health.
The two sites work similarly. Customers can make a recurrent order for a product. When ordering a prescription medication, like birth control, customers will be asked to fill out a medical history form that is reviewed by doctors who may write a prescription based on this information. They may also initiate a back-and-forth conversation with the customers over a secure messaging system first. Prescriptions for sexual dysfunction drugs—ED drugs and Addyi—require this kind of discussion so the doctor can make an official diagnosis.
Hers is currently offering ten of the most popular generic birth control brands for $30 per month. The site does not take health insurance, which means all expenses come out of a customer's pocket. For some who are getting their birth control pills with no co-pay under the ACA, Hers may not be necessary (yet), but the site's leaders feel that their service is important. Hilary Coles, brand lead for Hers, said that they are closing gaps in access by allowing customers to get birth control without taking time off to see a doctor or having the prescription show up on their family's insurance statement.
Hers is not the only site offering contraception over the internet; other providers including Nurx, HeyDoctor, the Pill Club, and even Planned Parenthood offer similar services, but state rules about telemedicine may limit who can participate in any of these.
The Trump administration's war on birth control seems likely to continue, so it's good to keep track of all of the ways we can access our favorite contraceptives.
Taste in Porn Changes With Age
Since the internet brought pornography onto our phones, we are more likely to admit to watching it. But what exactly are we watching?
A new survey asked more than 1,200 admitted porn viewers ages 18 to 64 to rank their top five porn categories. The results are, well, not particularly surprising.
The survey was conducted by BodyLogicMD, a network of doctors specializing in a kind of hormone replacement therapy they say eases aging for both men and women. The published results are mostly broken down by men and women but do not note whether they asked participants for their biological sex or their gender. The results also do not note whether participants were asked about their sexual orientation.
"Amateur" porn was the most popular variety for men, topping 50 percent in all age groups. And men ages 35 to 45 also included homemade porn in their top five though it's unclear from the findings how exactly that is different from the amateur category. Either way, it seems like men prefer their porn less polished.
For young men ages 18 to 24, amateur porn was followed by teen, blow job, threesome, and lesbian porn. Teen porn dropped out of the top five for men 25 and older (which is reassuring). Instead, they chose hardcore and anal to round out their top five. The oldest group of men also added MILF, which came in at number two for those 54 to 64. (We're pretty sure our readers are familiar with the term, but in case you've watched neither porn nor a sitcom in the last decade, that stands for "mothers I'd like to fuck.")
Women also preferred amateur porn in their teens and 20s but for women older than 35, pornography depicting threesomes was the most popular. Lesbian porn took second place with those 18 to 24, dropped to third place for those 25 to 34 and 35 to 44, and fell off the top five entirely for women over 45 (the study does not include results for women 55 and older, because there were fewer than 20 respondents in that age group). Though the exact ranking changed slightly for each age group, for the most part women chose the same categories as men—blow jobs, hardcore, and anal.
We suppose that some may be surprised that women like lesbian porn given the myth that all lesbian pornography is really made for the pleasure of straight men. Others may be surprised that women like to watch blow jobs and anal sex given the myth that all blow jobs and anal sex are done for the pleasure of straight men.
But none of these findings were new to us. We're also not the least bit surprised that six in ten respondents who were in a relationship said they watched porn with their partners because porn is not just for masturbation anymore.