How Jewish and Muslim Women Are Working to Save Our Democracy
We are motivated to vote more than ever before because of the misogyny, Islamophobia, and anti-Semitism plaguing our nation. We will defend our bodies and our rightful place in the religious fabric of the United States.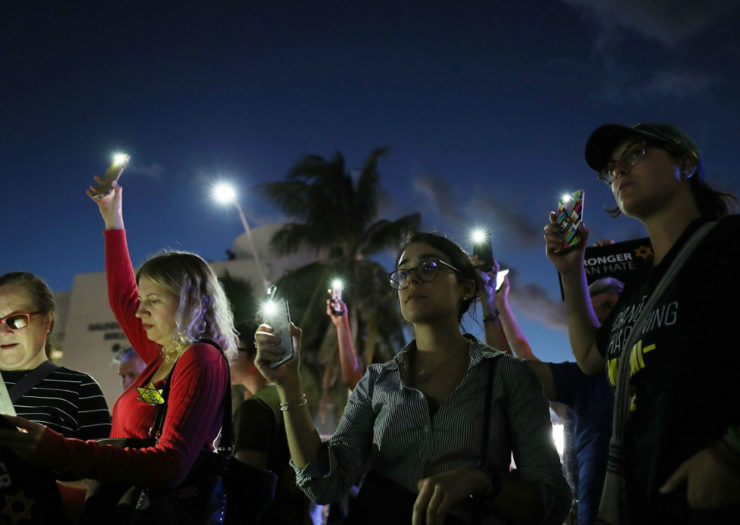 Muslim women throughout the United States, and from as far away as London and Toronto, are reaching out to their Jewish sisters and bringing them meals, reciting prayer together, sending cards and email messages, calling on the phone to check in, and just sitting together and holding hands.
Why? Because these are the sisters of the Sisterhood of Salaam Shalom and when one of us is hurt, we are all hurt. This weekend's barbaric massacre at the Tree of Life synagogue in Pittsburgh didn't just personally touch those sisters in the Pittsburgh chapter; it affected all of us. These women know that the same people who hate Jews often hate Muslims, and vice versa.
The Sisterhood of Salaam Shalom is the first and only North American grassroots organization of Muslim and Jewish women dedicated to relationship building and fighting hate toward one another. What began after an emotionally overwhelming trip to Poland in 2010 has turned into a movement of others who want to ensure that history does not repeat itself. The existence of the Sisterhood signals that the Muslim and Jewish communities are officially joining together to fight our common enemies of hate, racism, and bigotry.
Since the Sisterhood began just five years ago, we've experienced rapid growth across the country and in Canada. We now have 160 chapters operating in 32 states and teen chapters starting throughout North America, and these women are empowered to make change like never before.
Roe has collapsed in Texas, and that's just the beginning.
Stay up to date with The Fallout, a newsletter from our expert journalists.
Saturday's massacre came at a time of unprecedented activism by Muslim and Jewish women.  The swelling of the #MeToo movement calling attention to sexual misconduct has been concurrent with a rise in religious bigotry and hate that is endorsed at the highest levels of the federal government. We are motivated to vote more than ever before because of the misogyny, Islamophobia, and anti-Semitism plaguing our nation. We will defend our bodies and our rightful place in the religious fabric of the United States.
This fall, our chapters have focused on voter registration drives and are now mobilizing to make sure everyone turns out to vote. Carrying signs that read "Muslim and Jewish women come together to vote," Sisterhood chapters across the United States have organized voter registration drives in their local communities. Some focused on helping new citizens, for whom this may have been their first opportunity to vote; others set up weekly registration drives at mosques, churches, synagogues, grocery stores and farmers markets. Never before, to our knowledge, has there been an organized national voter registration effort by Muslim and Jewish women.
Beyond our own efforts, we rejoice at the historic number of women and Muslim candidates running for office. More than 90 Muslims have run for office during this election cycle, according to NBC News, and 476 women ran in Democratic or Republican primaries for Congress.
Some of the most high-profile races in the country have involved Muslim and Jewish women running for office. Rashida Tlaib and Ilhan Omar would become the first Muslim women elected to Congress, and Jacky Rosen's run for Senate in Nevada is one of the most closely watched races in the nation.
Rosen, while in Congress, stood up for her Muslim sisters by denouncing the president's Muslim ban executive order after the Supreme Court ruled in its favor: "Denying individuals entry to the U.S. based solely on religion or nationality is wrong and out of touch with our American values. This travel ban won't help keep us safe, and I will continue to stand up against this Administration's ignorant and xenophobic policies."
In Tucson, Sisterhood of Salaam Shalom member Alma Hernandez is running for the Arizona House of Representatives. Hernandez would be the first Mexican-American Jewish woman to hold elected office in the state. Hernandez was recently featured in InStyle magazine for being one of the ten worthy candidates who are seeking to effect change and advance bipartisanship progress.
This election means much more to Muslim and Jewish women than just doing our civic duty. And, after this past weekend, it takes on even more meaning. We face two open questions: Will America continue to welcome people of all religious backgrounds? And, will our sisters penetrate our country's mostly male leadership?
We answer these questions with definitive affirmation and we will raise our voice louder than ever and pray with our feet to cast our votes accordingly.
This Sunday, we will gather outside Philadelphia for our fifth annual conference. Muslim and Jewish women from across the country will come together for fellowship and strategic planning for our movement. We will not ignore or erase our differences, but instead embrace the richness found in them—and claim our spot in our society to live safely and proudly as Muslims and Jews. We have created a movement that is coming out strong to crush the hate that surrounds us.  And, we'll again see firsthand how Muslim and Jewish women are coming together through the Sisterhood.
Then we will return home and do the same at the ballot box.