Conservative Federal Judge Nixes Indian Child Welfare Act
The ruling, if left in place, could tee up the decades-old law for U.S. Supreme Court review.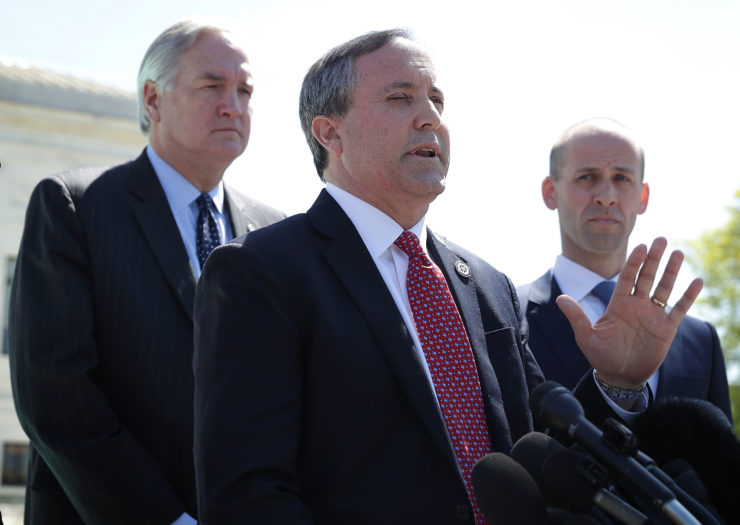 A federal court last week struck down a federal law intended to keep Native American children from being separated from their families. 
The decision came in a case filed in October 2017 by Texas Attorney General Ken Paxton (R) on behalf of Texas, Indiana, and Louisiana, along with a non-Native American family in Texas that wanted to adopt a Native American boy in their foster care. The plaintiffs argued that the Indian Child Welfare Act (ICWA) unconstitutionally mandates racial and ethnic preferences and infringes on a state's right to govern its child welfare proceedings. 
On Thursday Judge Reed O'Connor agreed, holding the law was a "race based statute" that violates the Equal Protection Clause of the Constitution and the Tenth Amendment because it "commandeers" state courts to enforce a federal law. O'Connor has a lengthy history of siding with conservative legal challenges. 
The Indian Child Welfare Act was passed in 1978 in response to abusive foster care and adoption practices that resulted in large numbers of Native American children being separated from their families and tribes. The law places a preference for adoption and foster care placements of Native American children first with a member of the child's extended family, then with other tribal members, other Native American families, and lastly with non-Native placements. 
Roe has collapsed and Texas is in chaos.
Stay up to date with The Fallout, a newsletter from our expert journalists.
Conservatives have launched legal challenges to ICWA over the past 40 years, but Thursday's decision is the first time a federal court has ruled the law unconstitutional.
O'Connor has issued nationwide injunctions to block Obama-era laws such as Section 1557 of the Affordable Care Act, which prohibits discrimination on the basis of sex in health care, as well as the Department of Education guidance that would have allowed transgender students access to restrooms that correspond with their gender identity. Thursday's decision did not result in such an injunction, but if it stands it could have devastating effects. 
Paxton praised the decision in a statement, saying it "protects the best interest of Texas children."
"ICWA coerces state agencies and courts to carry out unconstitutional and illegal federal policy, and decide custody based on race," Paxton said.  
Louisiana Attorney General Jeff Landry (R) also praised the decision. "I applaud the court for ruling this egregious law unconstitutional on multiple grounds, and I commend Attorney General Paxton for his leadership in this fight," Landry said in a statement. "Together, we will continue to protect the rule of law and defend our states' citizens from federal overreach."
Tribal leaders, who intervened in the case to defend the statute, are reportedly exploring options, including asking for a stay of the decision while they appeal to the Fifth Circuit Court of Appeals.