Nicole Chung Captures All the Beautiful Messiness of Adoption in New Memoir
Chung exposes the raw pieces of her heart, allowing the reader to feel all the complex emotions that came with learning the details of her origin as an adult who still yearned to hear that her birth parents—her first parents, the ones who might look like her—wanted her, even if they couldn't keep her.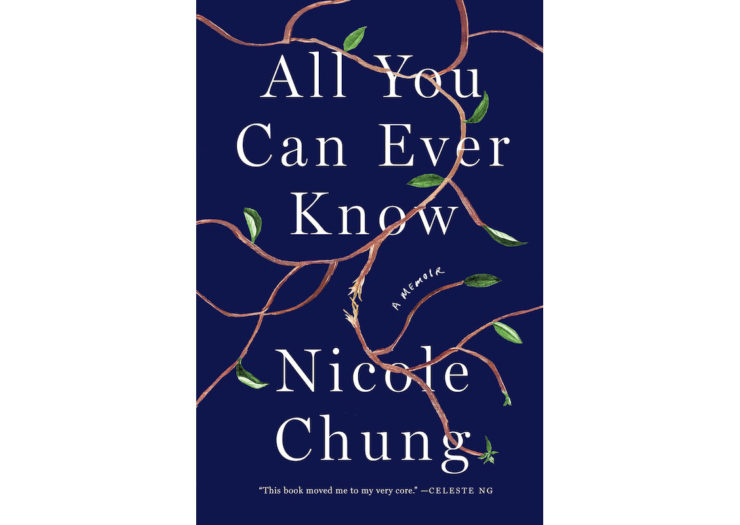 Every adoption creates numerous forks in the road and a trail of "what ifs" for the web of individuals connected when a child is placed with non-biological parents. Yet, as Catapult magazine Editor-in-Chief Nicole Chung beautifully articulates in her new memoir, All You Can Ever Know, out Tuesday, the stories that make their way into the public consciousness are simple, almost fairy tale endings that minimize or eliminate the complicated nature of constructed families.
Chung takes her readers through her life, allowing us even into the uncomfortable moments growing up with white parents who loved her completely but were unprepared to address the isolation she sometimes felt and the curiosity she expressed. Her Korean parents (recent immigrants to the United States) had feared they would be unable to give a severely premature baby the expensive care doctors said she would need growing up, creating the circumstances for an atypical, domestic transracial adoption and laying the groundwork for her search for identity through biology.
"The story my mother told me about them was always the same. Your birth parents had just moved here from Korea. They thought they wouldn't be able to give you the life you deserved," writes Chung. "It's the first story I can recall, one that would shape a hundred others once I was old enough and brave enough to go looking."
My adoptive parents told a similar story when I was growing up, one I know now was heavily edited, but that painted my birth parents in the same initially comforting light. While my real story deviates from Chung's from the moment of birth, her eloquently honest feelings resonated with me throughout the book. I both saw pieces of my own story and learned so much about adoption issues that aren't part of my history.
Roe has collapsed in Texas, and that's just the beginning.
Stay up to date with The Fallout, a newsletter from our expert journalists.
The empathy with which Chung depicts the people in both her adoptive and birth families—seeking to understand their choices as she and her husband were starting to build a family of their own—provides a unique opportunity for the 98 percent of the U.S. population who aren't adopted to hear an unfiltered and at times messy story. Adoption isn't a fairy tale and it isn't an altogether joyous, simple option to dangle in front of either the biological parent or prospective adoptive parents. Writes Chung:
I don't try to convince my daughter that the way I lost one family and entered into a new one is entirely natural, that it was an uncomplicated happy event. It was happy, in a way, but it has also been a source of grief for many. It meant years of wondering and confusion for me; for her, it means she will know less about Korean culture than many other Korean kids whose parents were not adopted. It's okay if she sometimes feels sad when she thinks about that, about everything we've lost.
And here is the intersection that makes Chung's book so important for supporters and advocates working in reproductive rights and justice: Choices don't have to be 100 percent happy to be valid. As advocates, we need to get more comfortable with emotional, complicated narratives that speak to real people's lives.
Although the Adoption Network estimates that six in ten Americans have had a personal experience with adoption, the current dearth of memoirs penned by adoptees themselves likely means most haven't had the chance to view the process through our eyes.
Chung describes how it feels to forever be the object, rather than the narrator:
In most published stories, adoptees still aren't the adults, the ones with power or agency or desires that matter—we're the babies in the orphanage; we're the kids who don't quite fit in; we are struggling souls our adoptive families fought for, objects of hope, symbols of tantalizing potential and parental magnanimity and wishes fulfilled. We are wanted, found, or saved, but never grown, never entirely on our own.
While reproductive rights advocates focus on ensuring bodily autonomy and agency, adoption as a topic can be understandable tricky for us because it's often used by anti-abortion groups as an "obvious" and "compassionate" alternative to abortion. But when more complete adoptee stories are told, as Chung has done, they touch on so many issues that are important to us: economic justice, racial justice, immigration, access to affordable health care, and support for those who want to parent.
As an adult adoptee, I'm hardly unbiased and have come to see my story as one that can counter many anti-choice tropes. I would love for All You Can Ever Know to prompt a wave of memoirs told by adoptees themselves, and for those of us in the reproductive rights movement to discover how these stories can enhance our work and make us better advocates.
Chung's experiences growing up as the only non-white child (or non-white person of any age, for that matter) in her Oregon town, and finding her way as an adult, provide powerful glimpses into the way those touched by adoption weave and re-weave our stories. She exposes the raw pieces of her heart, allowing the reader to feel all the complex emotions that came with learning the details of her origin as an adult who still yearned to hear that her birth parents—her first parents, the ones who might look like her—wanted her, even if they couldn't keep her.
"I had always intended to tell [my biological mother] she made the right decision," she writes, "that I understood why she had done it. Yet that pleasant fiction, that lie about parents who had loved me so much they had to give me away, had never been precisely true."
As she processes the stories of her biological parents and two older sisters, Chung comes to terms with the decisions (which I'll leave to readers to uncover) they make when faced with reconnection. Each of her biological family members has their own motivations and life experiences that they bring to the surprise return of a daughter and sister. Through her honest depiction of their individual histories and reactions to her return, she chips away a piece of the pedestal upon which our culture places mothers and motherhood.
"Maybe she was telling the truth now. Maybe she had wanted me," she writes. "Wanting to keep me did not make her a good mother. People were not so simple; people could be and think and want many different things at once."
Chung describes how, at the beginning of her reconnection journey, she thought about the ways in which her truth and others could make a concerted, substantial difference in the lives of other adoptees. She writes:
If families like mine were better understood, if more people knew that adoption was far more complicated than common media portrayals might suggest, maybe fewer adopted kids would have to answer the kinds of questions I had gotten, or feel pressured to uphold sunny narratives even they might not necessarily believe in.
It's my sincere hope that her wish comes true.
There are many, many reasons to read All You Can Ever Know—to laugh and cry and get lost in a story so eloquently told. In my heart, though, I selfishly wish the book success so that we can normalize the real stories of adoptees, adoptive families, and biological families who brought us into the world.