Anti-Choice Centers Targeted in California Billboard Campaign
So-called crisis pregnancy centers sometimes masquerade as abortion providers and attract patients with offers of free pregnancy tests, but most operate with the over-arching mission of preventing abortions.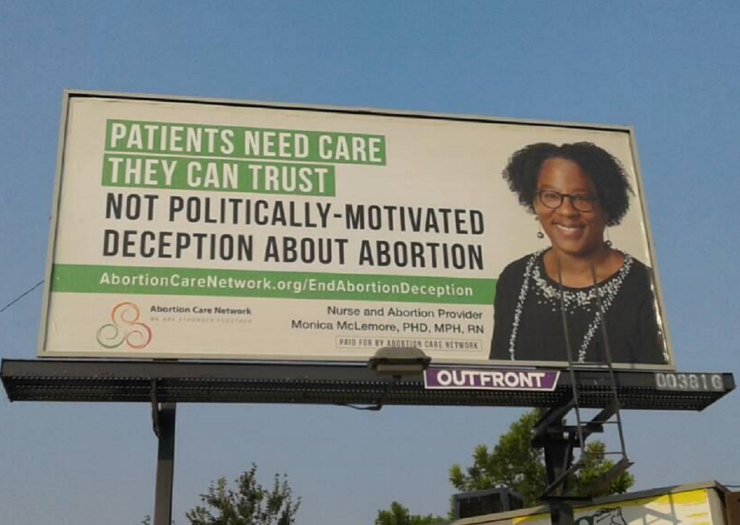 A new billboard campaign in Northern California aims to educate the public about the deceptive tactics of "crisis pregnancy centers," according to the campaign sponsors.
The five billboards went up in Sacramento and Fresno funded by the national Abortion Care Network. More are planned for Chico. Organizers said these locales are where anti-choice pregnancy centers have deliberately set up near independent abortion providers.
The timing of the billboards follows a recent decision, NIFLA v. Becerra, in which the U.S. Supreme Court sided with California anti-choice pregnancy centers that challenged the state's 2015 reproductive disclosure law. The Reproductive Fact Act required pregnancy centers to post a brief notice that described how to access all reproductive health options, including abortion, through state programs. Unlicensed facilities also had to disclose that fact.
Pro-choice advocates call the deceptive anti-choice centers "fake clinics."
"Now that the fake clinics are not going to be held accountable because of NIFLA v. Becerra, the real question is … how can we get patients to the services they need in a very transparent and easy way," said Monica McLemore, a San Francisco nurse and abortion provider whose face appears on the billboards.
Roe has collapsed in Texas, and that's just the beginning.
Stay up to date with The Fallout, a newsletter from our expert journalists.
With close proximity to abortion clinics and with names that mimic abortion facilities, anti-choice pregnancy centers have been known to confuse and mislead patients—when what patients need is "care they can trust," McLemore told Rewire.News.
These anti-choice pregnancy centers outnumber abortion clinics in this country, although by how much isn't clear. The facilities sometimes masquerade as abortion providers and attract patients with offers of free pregnancy tests, but most operate with the over-arching mission of preventing abortions. Federal and independent investigations have caught staff at such facilities misleading patients, exaggerating the risks of abortion, and delaying care.
"That's really what this campaign is about: Trying to get patients the care they need that is ethical, accurate, and without delay, shame, or deception," McLemore said.
The new billboards follow an outreach effort in the Bay Area earlier this year. That campaign sought to debunk claims that abortion pill "reversal" is sound health care, and it pushed back against a controversial decision last year by the state nursing board to allow training on abortion "reversal." Meanwhile, advocacy groups have targeted Google's Bay Area workers over the search giant's maps, ads, and results that direct people who Google "abortion clinic" to anti-choice pregnancy centers.
McLemore said the new campaign targets the cities of Fresno and Sacramento in part because of the area's prominent anti-choice billboards. With messages such as: "Pregnant? Scared? Call Us," the billboards funnel callers to deceptive anti-choice centers in the area.
"It's really problematic when those billboards are directing people to places that don't offer health services," she said.
The campaign's landing page includes resources to report an anti-abortion center and to find a legitimate abortion provider.
The billboards are expected to remain up for 30 days.
CORRECTION: This story has been updated to correctly identify the locations of the planned billboards.